ASTRA Best Toys for Kids 2018 Part 1
Published Saturday, December 1, 2018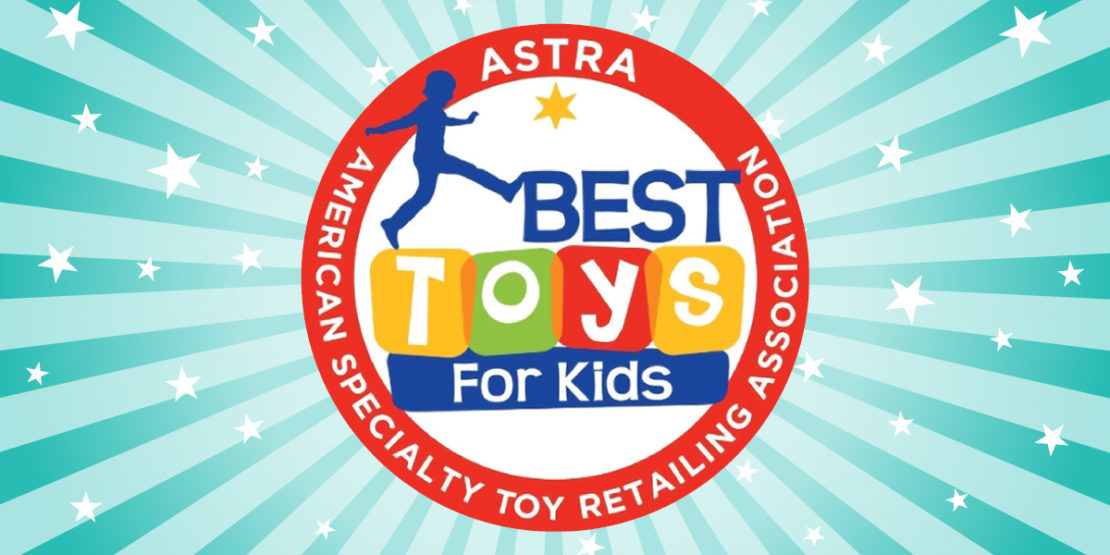 Every year, ASTRA (American Specialty Toy Retailing Association) member stores nominate, then vote, on their favorite toys and games. These toys tend to focus on open-ended, child-led play. They reflect the ethos of the ASTRA member stores: Play is Important for Everyone.
Happy Up, and other specialty toy stores like us, are proud to present the list for 2018!

Because the list is pretty long, we've broken it into two posts. The other is available here:
ASTRA Best Toys for Kids 2018 Part 2
Active Play
Stomp Rockets Stunt Planes
Ages 5 - 12 yrs
We love Stomp Rockets. 100% kid-powered, they're a blast. Literally, a blast of air! Stomp on the launch pad to force air through the hose, launching your rocket into the sky.
Stomp Rocket Stunt Planes are brand new this year. You get three planes that will fly and perform different "tricks". Experiment and play with aeronautics by changing the angle of launch.
Bots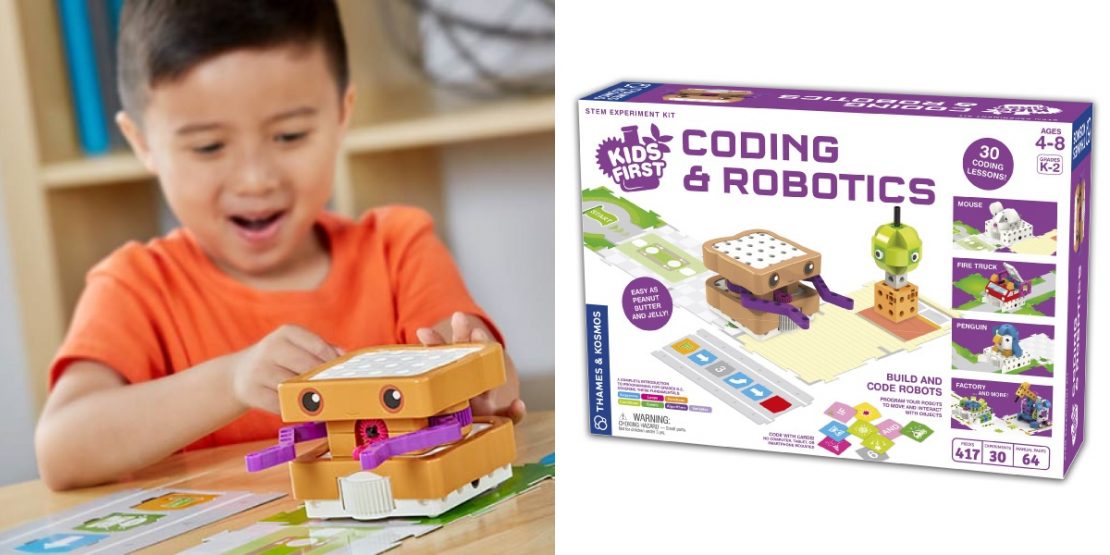 Thames & Kosmos Kids First Coding & Robotics
Ages 4 - 8 (K-2nd Grade)
Learn coding principles without a tablet, smartphone, or computer! Create code by laying out a sequence of code cards. As the robot drives over them, it reads the instructions and executes the commands.
Choose which of the six robots to build, then work your way through the robot's story. Each robot has a different series of lessons hiding in the stories, so kids absorb knowledge while having fun.
Click the button to see more info!
Kids First Coding & Robotics
Classic Play Under 7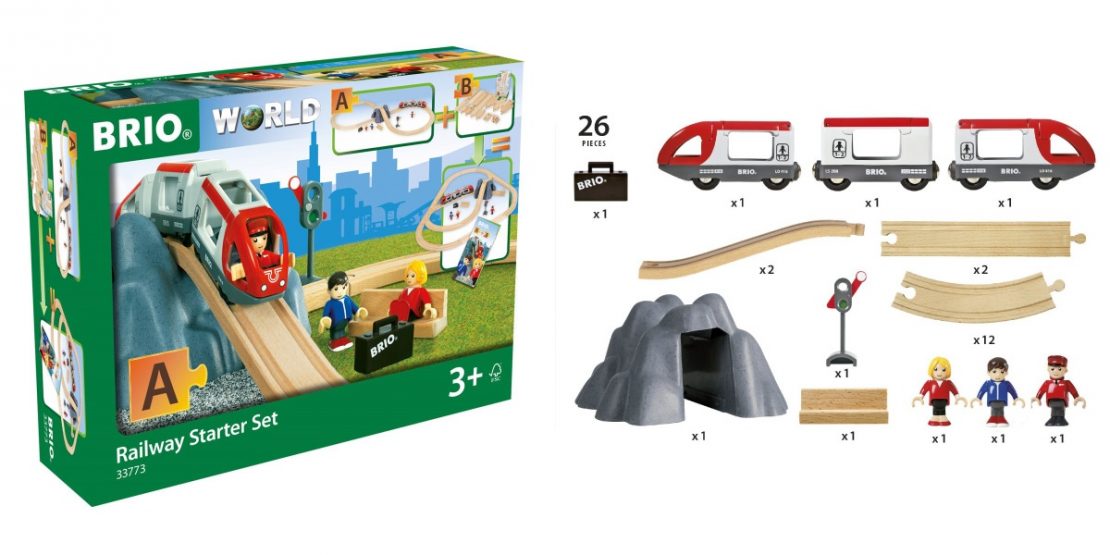 Brio Railway Starter Set
Ages 3 and up
Brio trains and tracks are timeless. And are truly made to stand the test of time. You'll give them to your kids, then pass them along to grandkids waaaayyyyy off in the future!
The Railway Starter Set has all you need to create a figure-8 track with a hill/tunnel. Add more sets and pieces to allow your kiddos to create and problem solve and pretend and … Play!
Click here for more BRIO tracks and trains
Brio Wooden Trains
Classic Play 7 & up
Crazy Aaron's Liquid Glass Thinking Putty
Ages 3 and up
Crazy Aaron's is a constant in the Happy Up stores. It comes in a zillion "flavors", each with it's own special ability. It's one of our favorite stress-busting boring-desk-banishing gifts for grown-ups and big kids.
Liquid Glass looks just like … liquid glass! It's amazingly clear! Mold it, knead it, twist, stretch, fiddle to your heart's content. Thinking Putty never dries out. And it won't leave any residue on your hands!
See more about Thinking Putty here:
Crazy Aaron's Thinking Putty
Constructive Play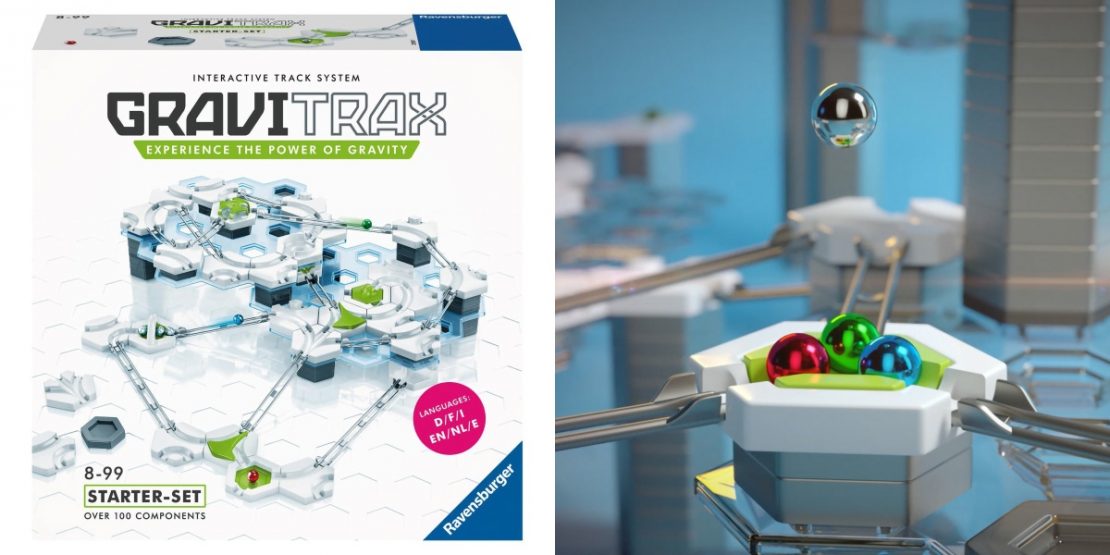 Ravensburger GraviTrax
Ages 8 and up
Who doesn't love a marble run? GraviTrax is like a marble run… on steroids. You use more than gravity to make your marbles move. There are magnetic pieces and other kinetic elements that propel your marble through the track in a truly epic manner!
More info on GraviTrax here:
GraviTrax Marble Runs
Note: As of this posting, the Happy Up stores are almost out of GraviTrax. They've been wildly popular nation-wide and we expect to sell out any day now. As always, we're happy to let you know when they are available again!
Creative Play 7 & Up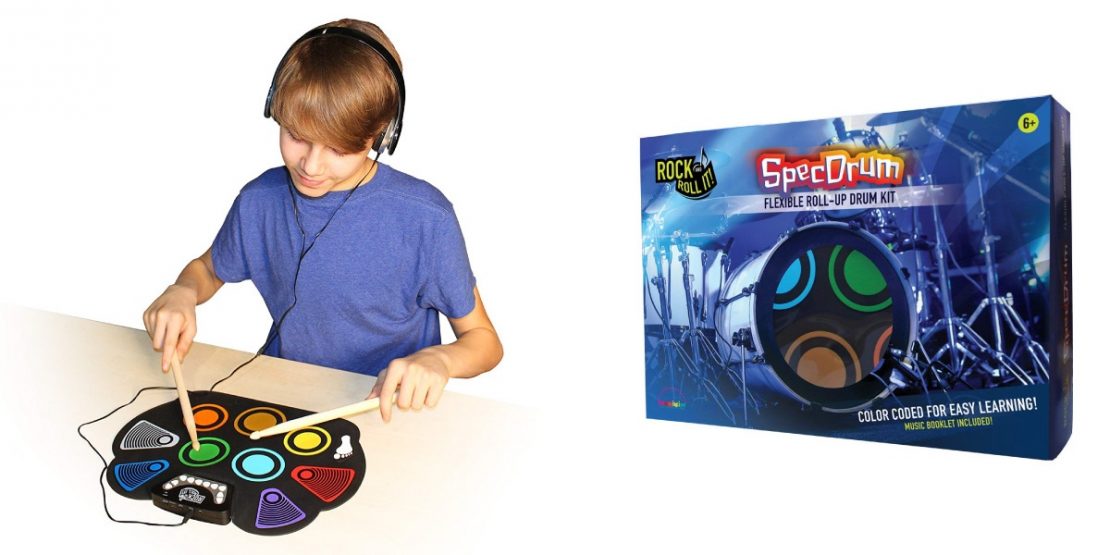 Mukikim Rock & Roll It SpecDrum
Ages 6 and up
Learn to play drums without that space-hog drum kit!
Rock & Roll It musical gear is flexible, so you can roll it up and stash it in your closet or under your bed when you need to put it away. To play, all you need is a flat surface. The Spec Drum has everything you need to learn to play the drums. It has a play by play color coded song booklet to get you started, record and playback abilities, headphones, drumsticks, and two foot pedals. It runs off USB or batteries (AAA).
Get ready to rock out!
Rock and Roll It Instruments
Creative Play Under 7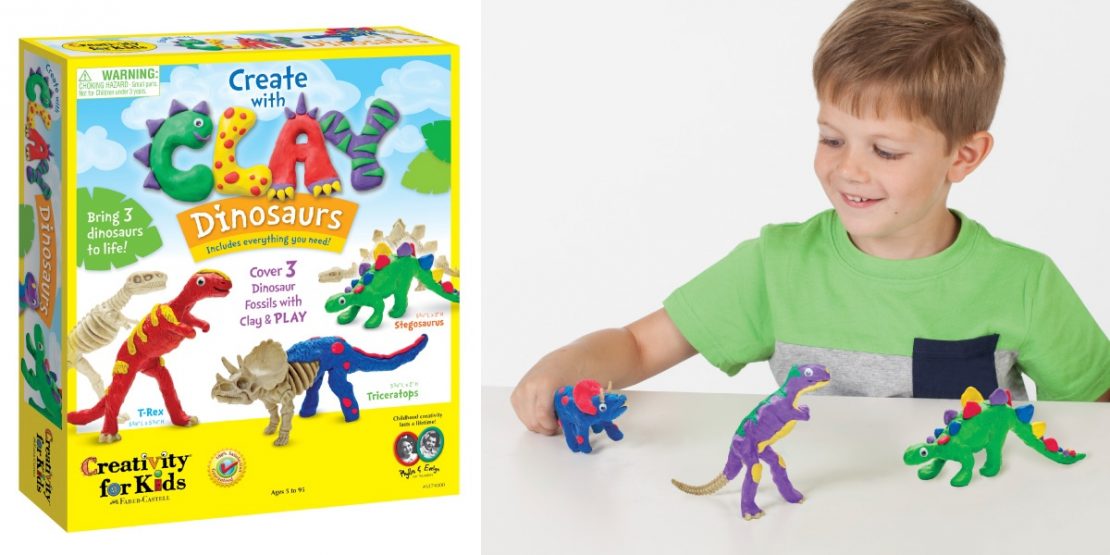 Create With Clay - Dinosaurs from Creativity for Kids
Ages 5 and up
Bring three dinosaurs to life! This art kit comes with three dinosaur skeletons that need you to flesh them out! Mold colorful clay to their bones and make a dinosaur all your own. Red with yellow stripes? Sure. Yellow with green spots? Why not! Blue with purple and green squiggles? Absolutely!
Kit includes 3 dinosaur "skeletons", 5 clay colors (Red, Blue, Green, Yellow, and Purple), googly eyes, and modeling tools.
Early Play - Infant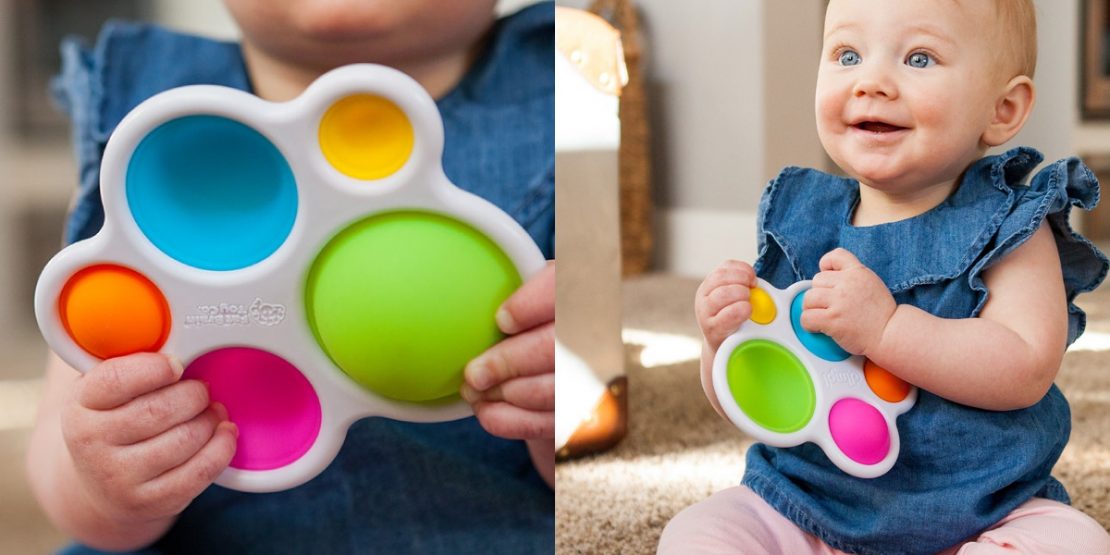 Dimpl from Fat Brain Toys
10 mo and up
All the joy of popping bubble wrap, but designed for babies! POP the silicone "bubbles" through the plastic frame. Flip it over, and pop them back through! Each "bubble" is a different size so each POP will sound slightly different. It's sensory play that is endlessly entertaining!
See more baby and toddler toys from Fat Brain here:
Fat Brain Baby and Toddler Toys
Early Play - Toddler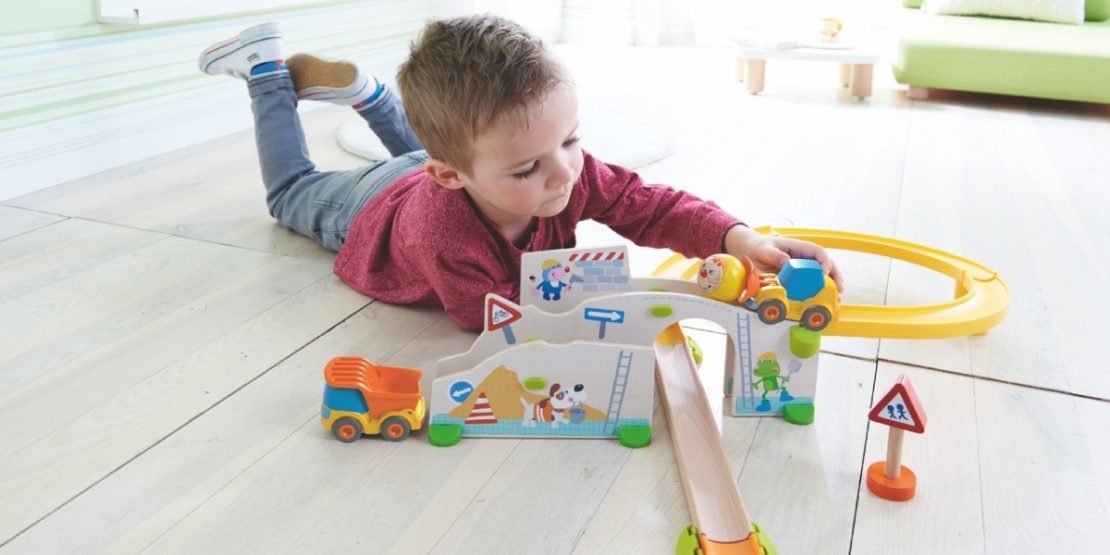 Haba Kullerbu Construction Set
Ages 2 and up
Take the momentum motored loader and let it push the boulder up the track. When it gets to the loading zone, the boulder rolls and falls into the waiting dump truck. The Construction Site is an excellent starter set… You'll want to expand your collection of Kullerbu vehicle/ball tracks to truly unleash the fun!
See more Kullerbu sets here:
Kullerbu Ball and Vehicle Tracks
---
Click here to see the rest of the ASTRA Best Toys for Kids 2018 list:
ASTRA Best Toys for Kids 2018 Part 2