Crazy Aaron's Thinking Putty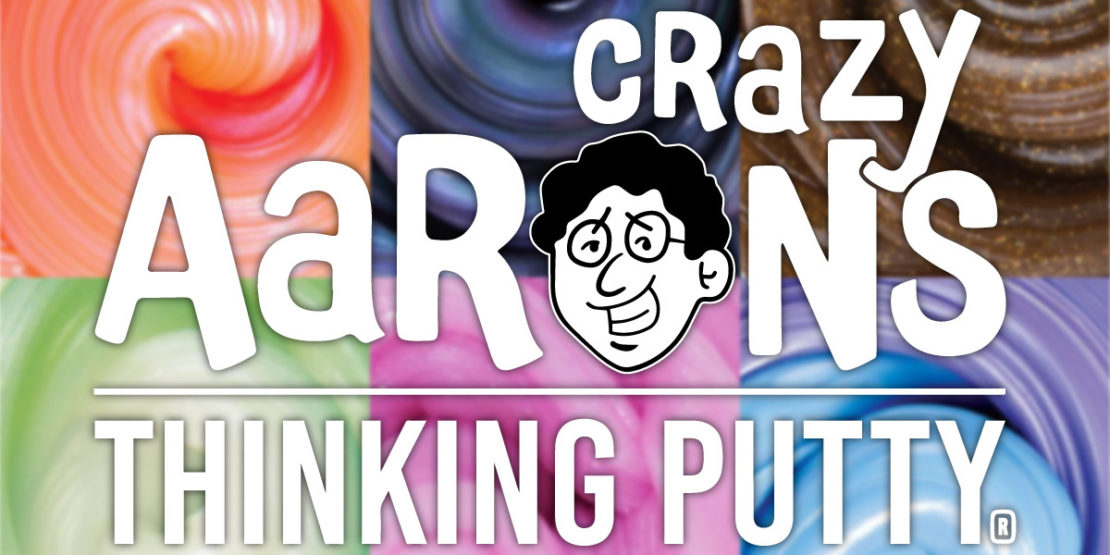 The Moldable, Kneadable, Stretchable Putty Like No Other!
Crazy Aaron's Thinking Putty is one of our all-time most-favorite items. It's moldable, kneadable, and stretchable. It works as a creative toy, a fidget toy, a desk toy, and a tool for physical therapy. It's made in the USA. And Crazy Aaron's has a wonderfully inclusive hiring policy. They employ people with special needs, tailoring jobs and tasks to fit their unique skills and talents. When we sell a tin of Thinking Putty, we celebrate the goodness that has been unleashed on the world!
Want to know more about Crazy Aaron himself? Click the button to see a spot from CBS Sunday Morning, April 9, 2017
A Sillier Putty
The Basic Types of Thinking Putty:
Thinking Putty, in general, comes in a 1/5 lb (3.2 oz) tin. It's a nice handful of putty.
Many seasonal varieties come in mini tins. It's a nice little dab of putty weighing in at 1/34 lb. (0.47 oz).
Mega Tins of certain styles appear from time to time. They're massive. A whomping 1 lb. (16 oz).
---
Scentsory Putty
3 yrs & up
New in 2019!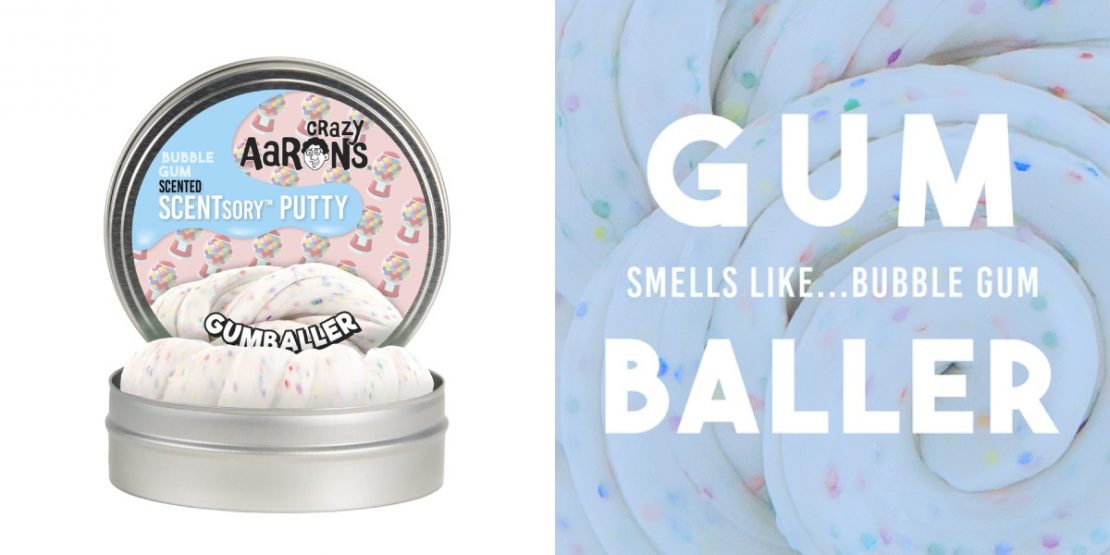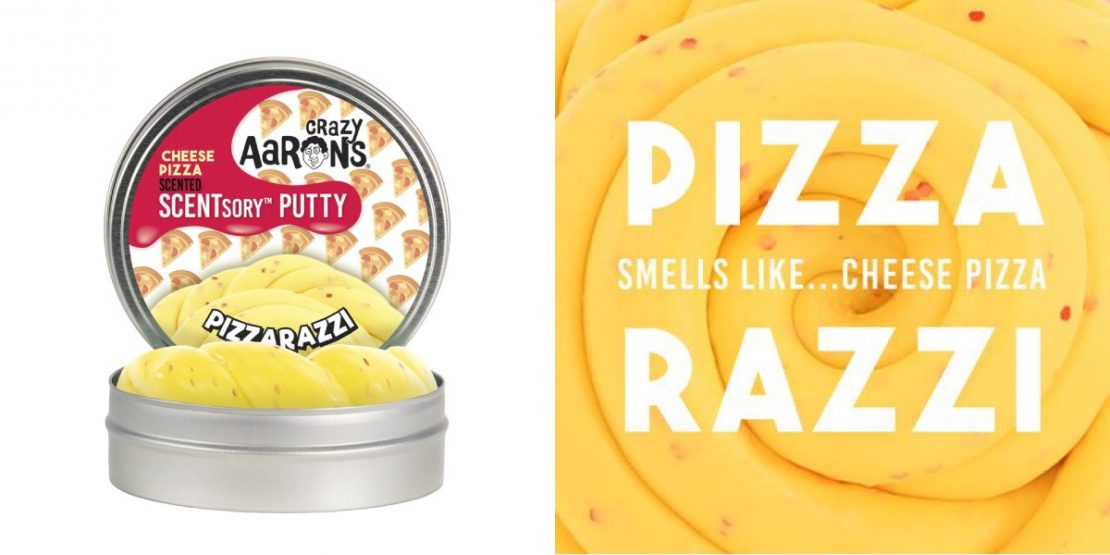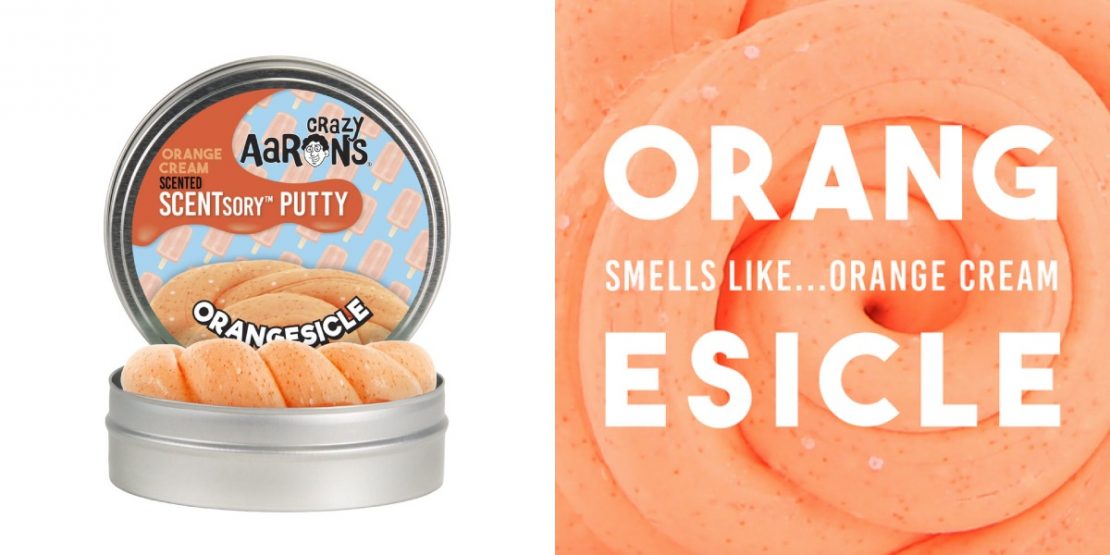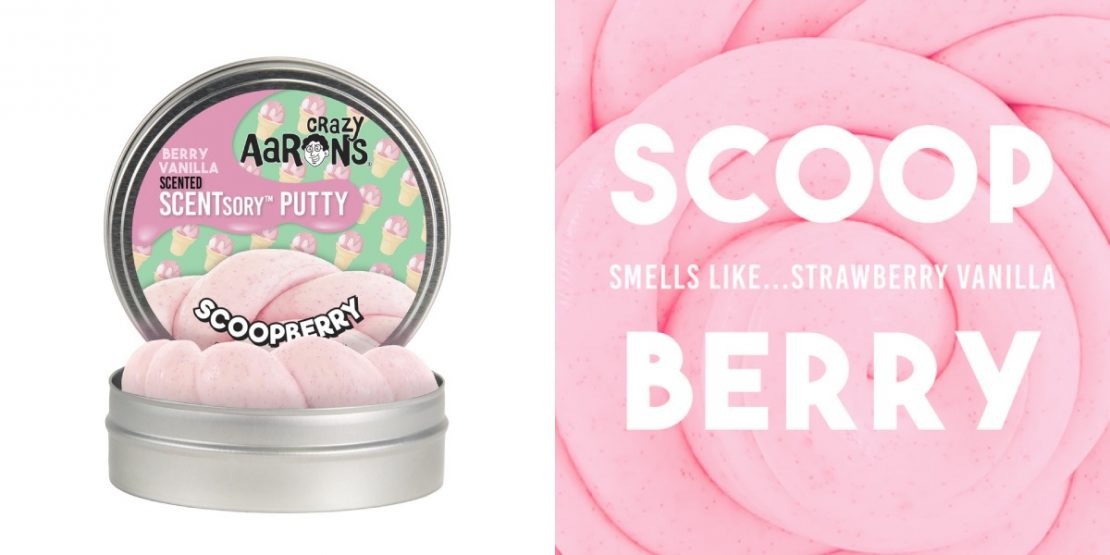 Thinking Putty gets a new feature... Scent!
These varieties have a slightly different texture than the regular Thinking Putty. It's a little softer, a little silkier, and maybe a bit ... stretchier. The rich aromas hearken back to the mid-80's, sure to trigger a grown up's memories (we had a heated debate over Gumballer... Was it HubbaBubba or Bazooka?). For kids, it's just an added element in their putty play.
The more senses you can get involved, the richer the experience.
Scentsory Putty comes in 1/20 lb. (.88 oz.) tins.
Note: No matter how good it smells, Scentsory Putty is Not Edible! Do Not Eat!
---
Liquid Glass
Ages 3 and up
ASTRA Best Toys for Kids 2018 Winner
Liquid Glass Thinking Putty is in a category all it's own. It truly is crystal clear. So much so, that you might think the tin is empty! It flows and moves a bit differently than the other Thinking Puttys. And because of the special formula, it can turn cloudy when handled. Put it back in it's tin and let it rest, the next time you get it out it'll be crystal clear again!
---
Magnetics
Ages 8 and up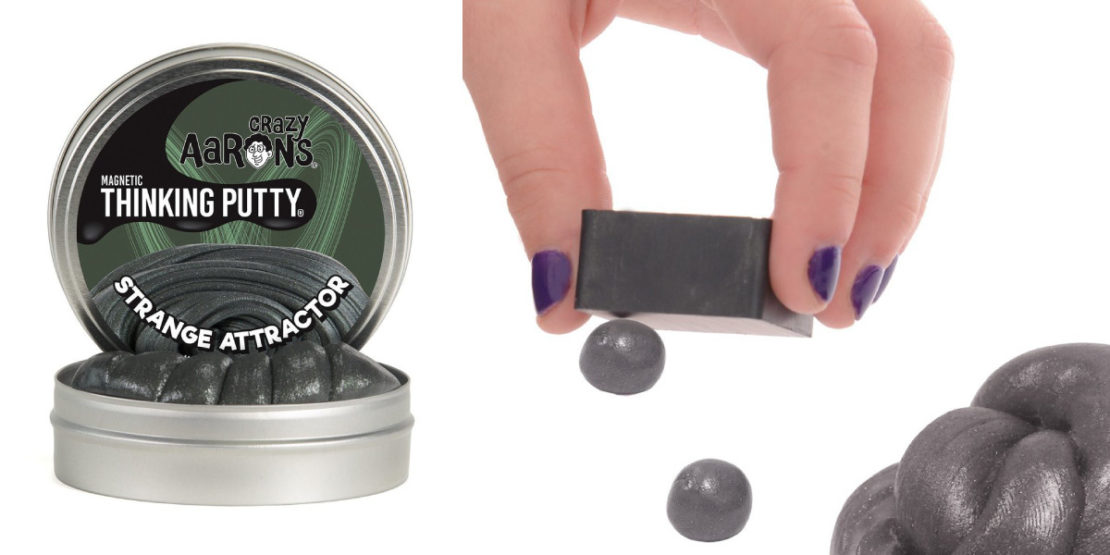 Magnetic Thinking Putty comes with a 1x1 ceramic magnet. Use it to "charge" the special abilities of the putty, creating a moldable, stretchable, mesmerizing substance. Shown here: Strange Attractor
---
Glows
Ages 3 and up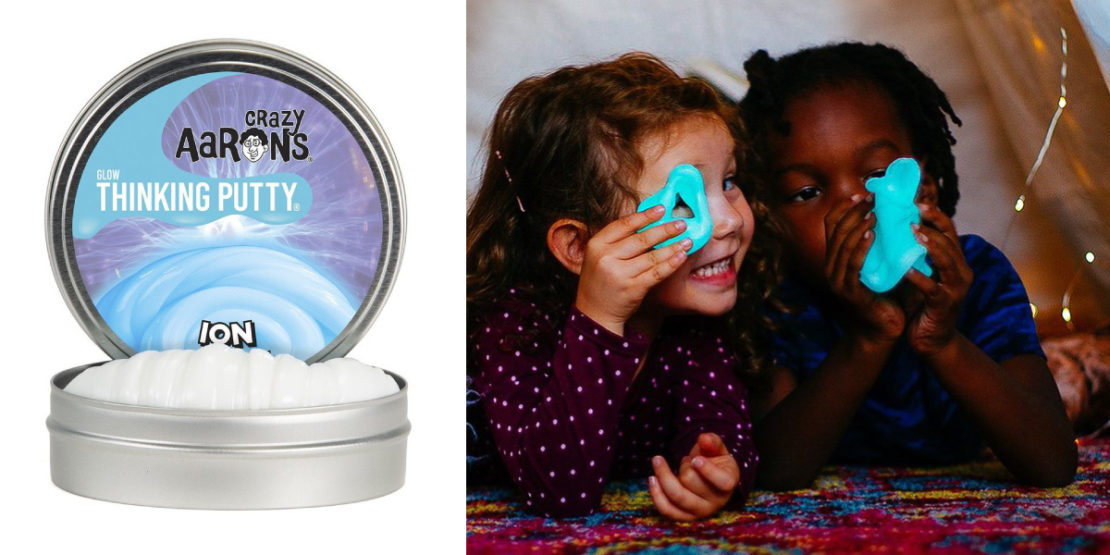 Glow Thinking Putty starts out a simple white by day, but by night they come alive in mesmerizing hues that glow for hours. Expose them to bright light to unlock their hidden potential. Shown here: Ion
---
Hypercolors
Ages 3 and up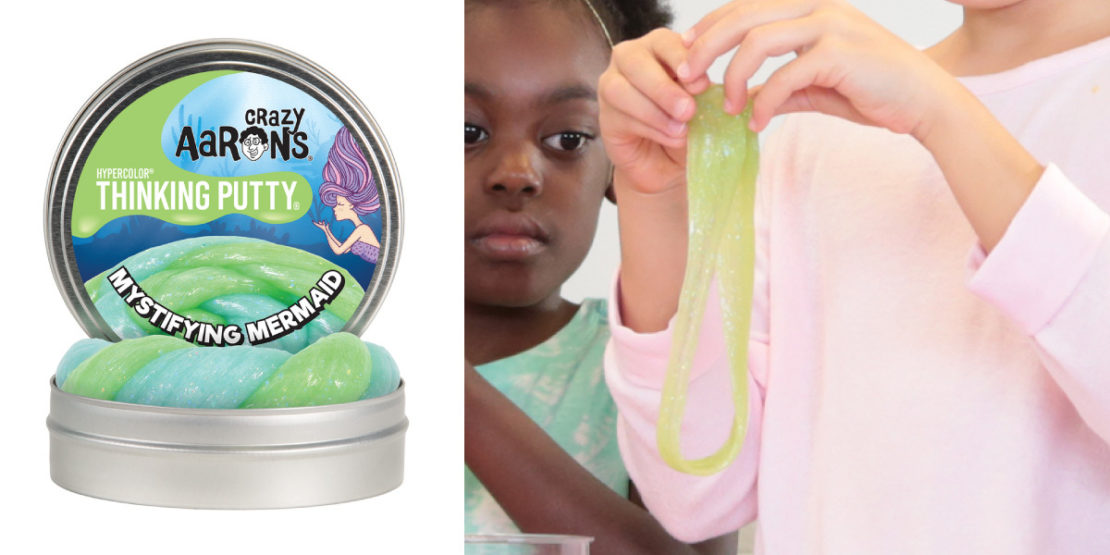 Hypercolor Thinking Putty is heat sensitive. It starts as one color and shifts to another as the heat from your hands unleashes it's special colors! Shown here: Mystifying Mermaid
---
Phantoms
Ages 8 and up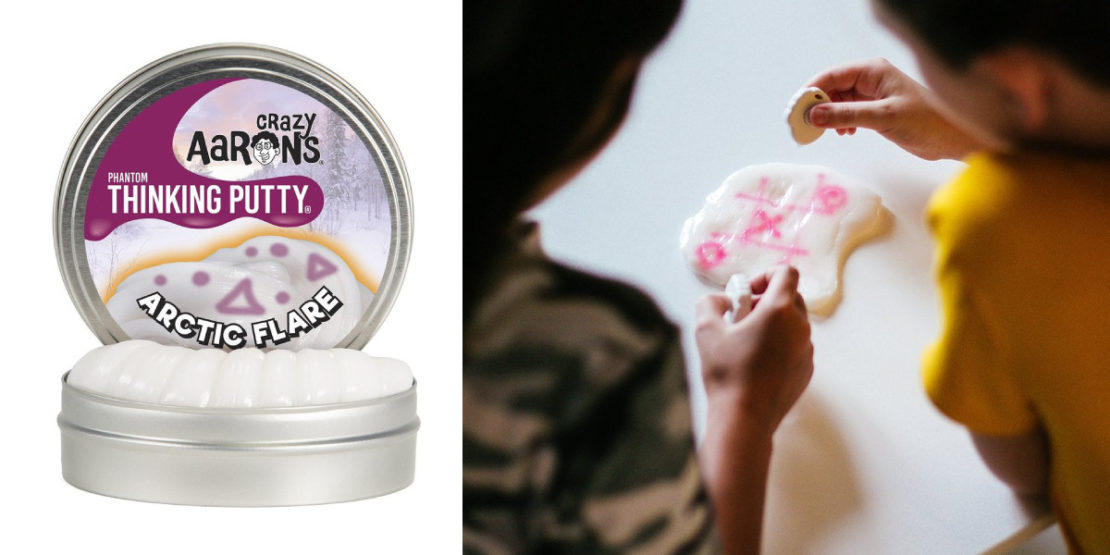 Phantom Thinking Putty are a color-changing wonder! They immediately change color in sunlight, glow a different color in the dark, and react to the included Glow Charger light pen in strange and mysterious ways. Shown here: Arctic Flare
---
Illusions
Ages 3 and up
Iridescence. Shifting highlights and colors. This illusion is caused by light waves that reflect and refract off of this putty's complex structure. But the fun and stress-busting abilities are very real! Shown here: Super Scarab
---
Mixed By Me Kits
Ages 8 and up

Create your own custom-colored mini tin of Thinking Putty. Each kit includes five tins of clear putty, three color concentrates, three special effects, and an instructional mat—everything you'll need to make something all your own! Use the included colored pencils to decorate and label your tin.
Available in Glow in the Dark, Holographic, and Hypercolor
Seasonal Varieties
Seasonal Thinking Putties are usually limited edition and come and go pretty quickly. Stop by to see what "flavors" we have in stock!