Kullerbü Ball and Vehicle Tracks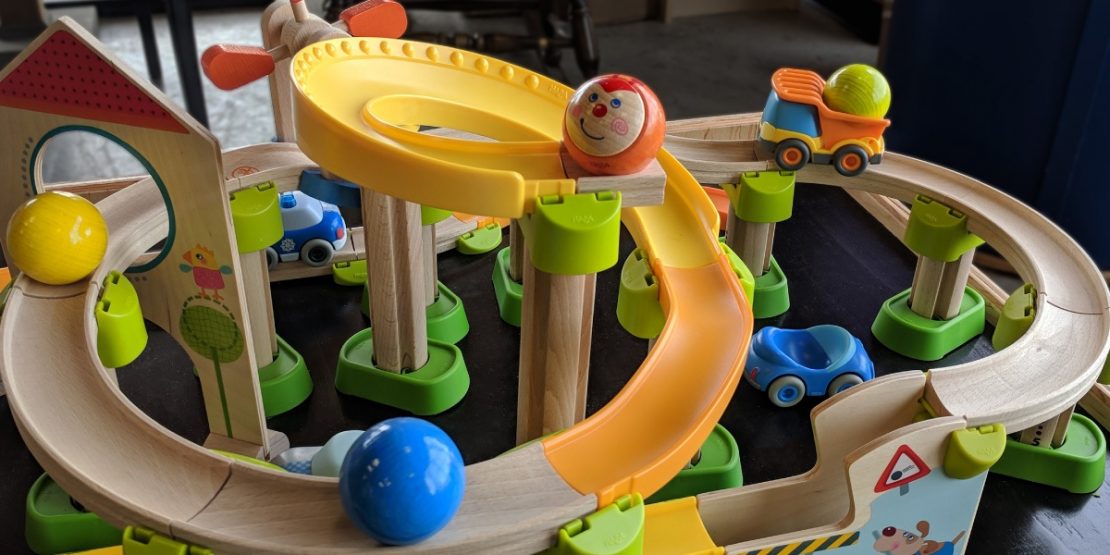 Let's Get Rolling!
Haba is one of the world's best known toy companies. Based in Germany, they create playthings that reflect their respect for traditional toys with an eye to the future. The woods they use in their toys are sustainably harvested. They use safe, water based stains and lacquers. And they keep packaging to a minimum. Their toys are designed to inspire hours and hours of play.
The Kullerbü tracks are a mix of wood and plastic. The parts snap together easily and all the sets combine to create an ever-changing, ever-expanding play environment. The tracks allow for balls or vehicles to travel at remarkable speeds!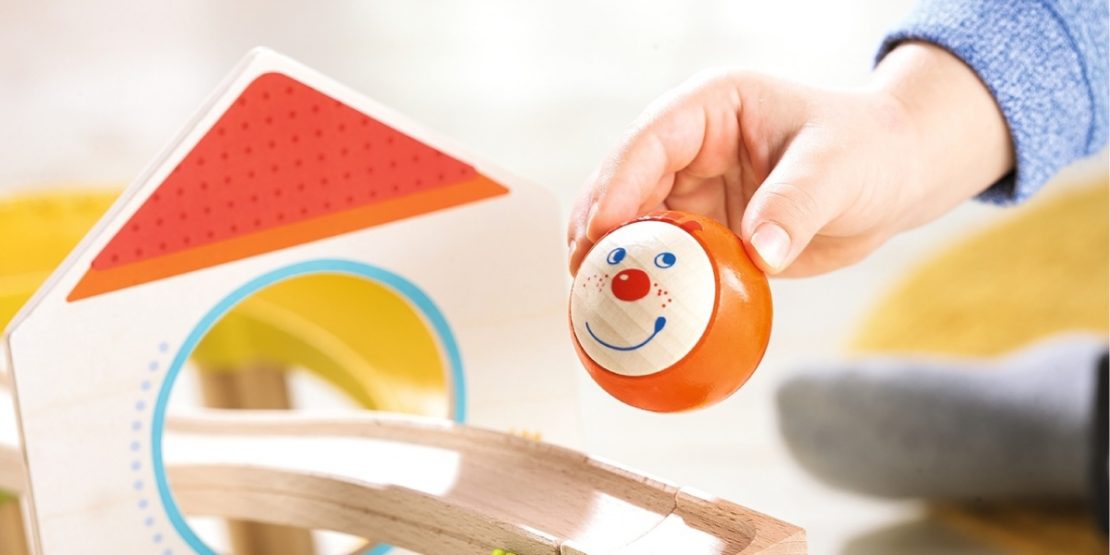 The vehicle tracks come with two types of vehicles: free-wheeling child-powered cars and trucks or momentum motored (also kid powered). Momentum motors require a slight push and the motor kicks in and propels the vehicle across the floor or around the track.
All sets are for ages 2 yrs and up.
Note: some ball track elements will not work with vehicles.
---
City Stroll Vehicle Track - 58 piece set
2018 Winter Holiday Catalog Item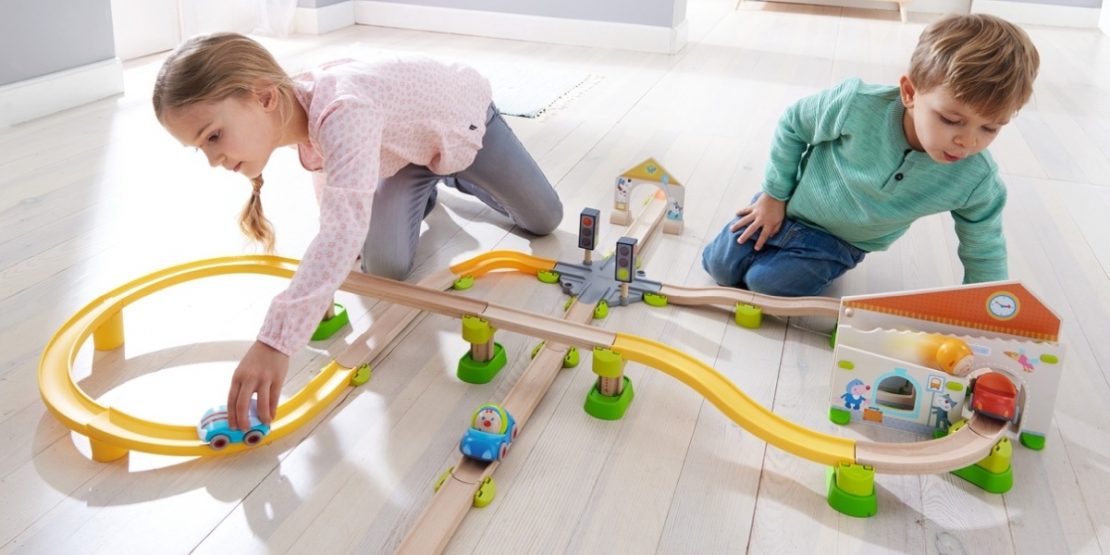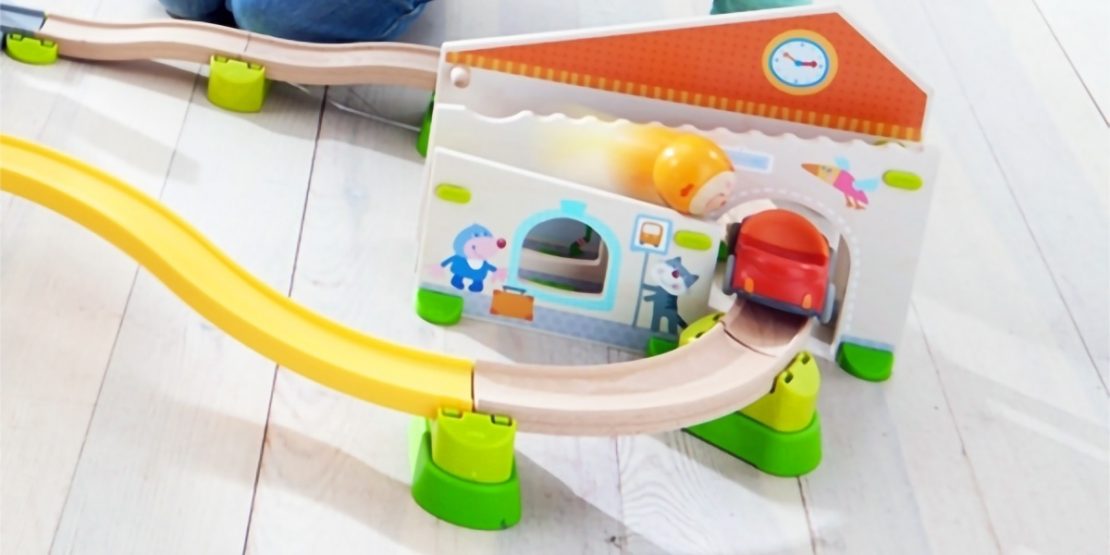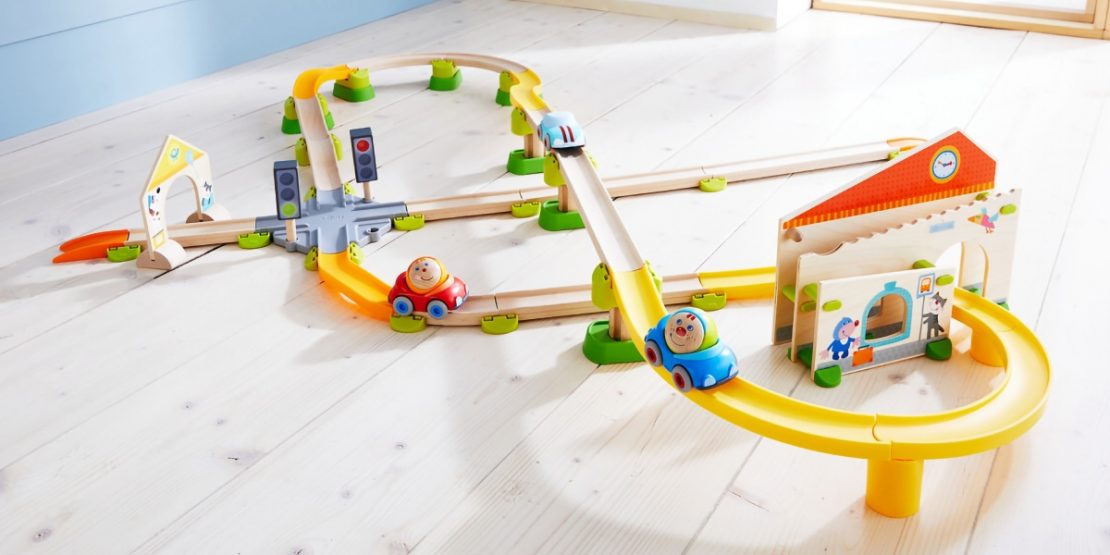 Set up your own city! Ramps, curves, and an intersection all combine to create roadways for the three vehicles. Roll the ball down the "stairs" of the house and it will drop into a waiting convertible.
Set includes 1 House ball ramp, 1 intersection, 2 traffic lights, 6 plastic curves, 3 wood curves, 9 straight wood tracks of varying length, supports and ramps, 2 convertibles and balls, 1 momentum motor speedster.
---
Construction Site Vehicle Track - 13 piece set
2018 Winter Holiday Catalog Item , ASTRA Best Toys for Kids 2018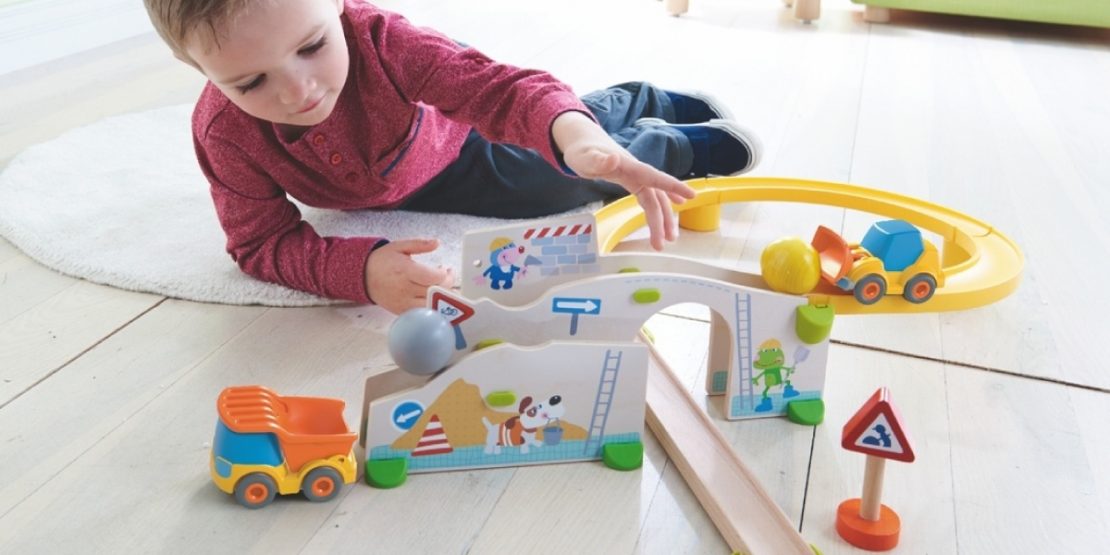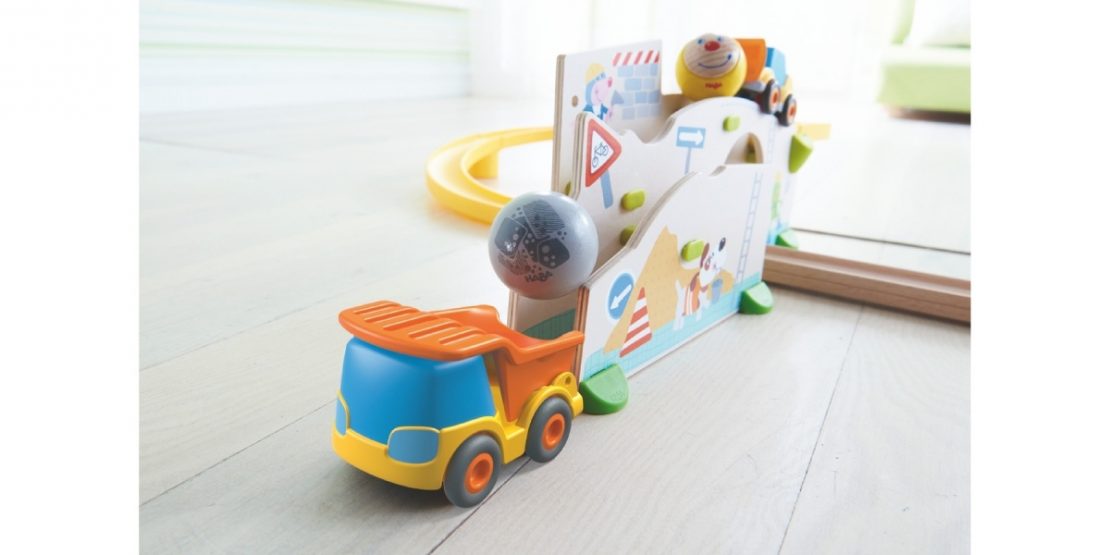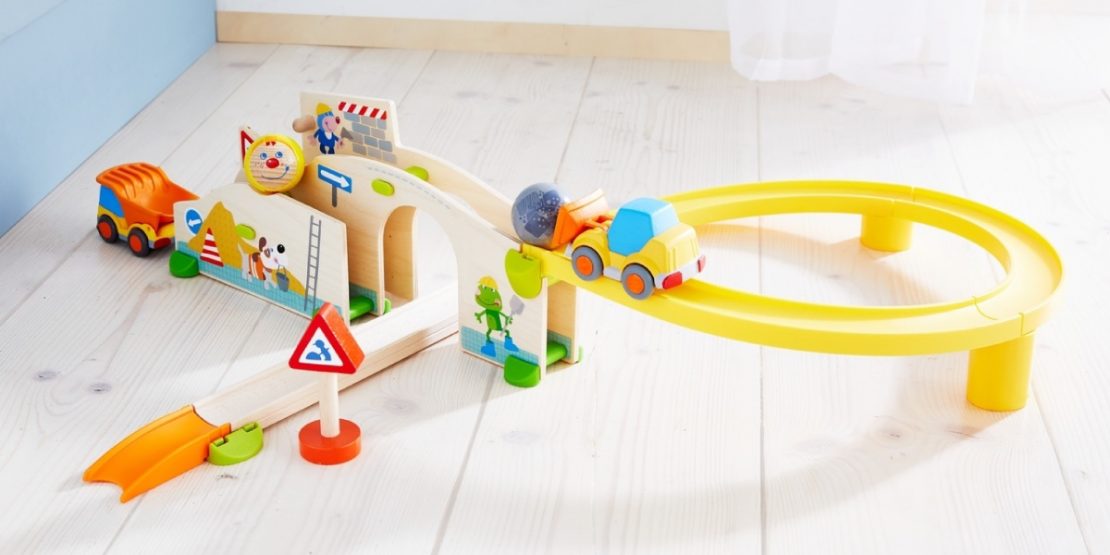 Take the momentum motored loader and let it push the boulder up the track. When it gets to the loading zone, the boulder rolls and falls into the waiting dump truck.
Set includes 1 ball loading zone, 3 plastic curves, 1 straight wood track, ramps, supports, and sign, 1 momentum motored loader, one free-wheeling dump truck, and 2 balls.
---
Windmill Ball Track - 25 piece set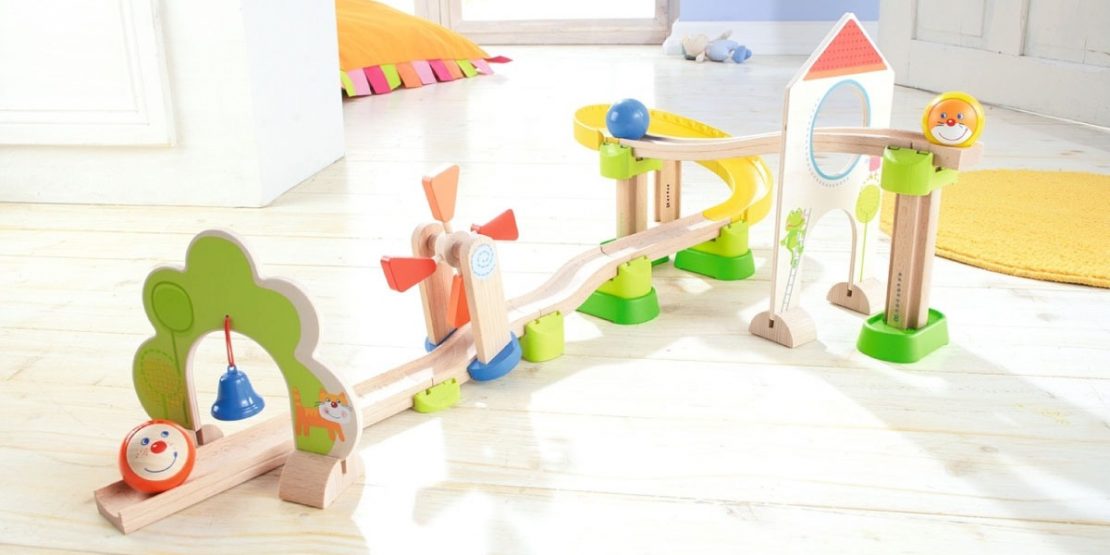 Start at the top and send the balls zipping around the spiral and along the track, spinning the colorful windmill as they go.
Set includes 1 tight plastic spiral, 5 wooden tracks, 1 windmill, 1 bell archway, 1 2-story "house," supports, starting block, and 3 balls. Note: spiral and windmill are for balls only.
---
Spiral Ball Track - 26 piece set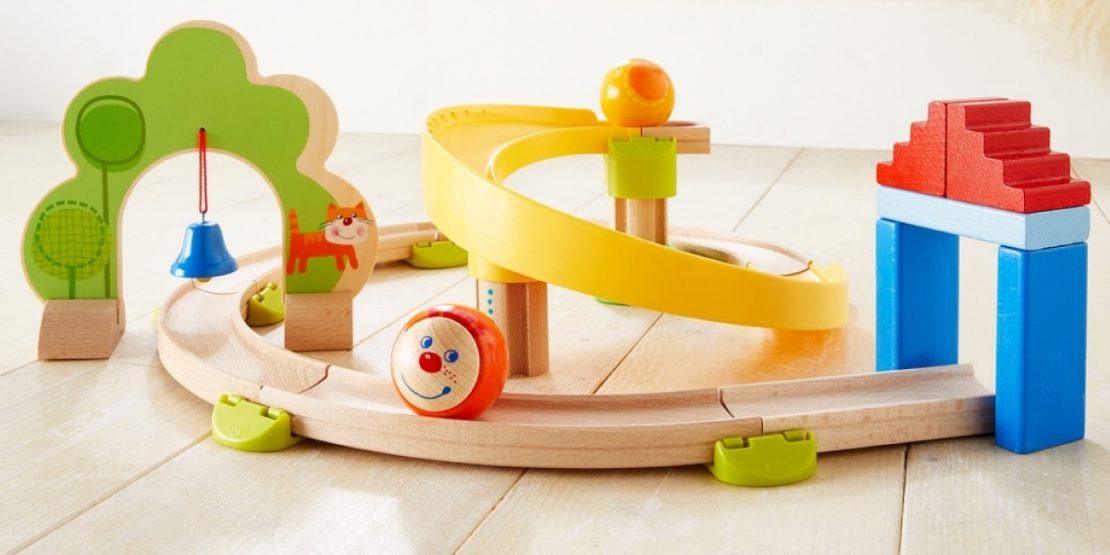 The balls spin around the track!
Set includes 1 bell archway, 1 steep plastic spiral, 5 wooden curve tracks, 2 wooden straight tracks, supports, connectors, starting block, 5 decorative blocks, and 3 balls. Note: steep plastic spiral is for balls only.
---
Curves & Friends supplemental set plus additional vehicles also available.