Little Adventures Dress Up

Mom Invented and Perfected
Little Adventures is a company created by two moms, Heather and Jenny. They were frustrated with dress up outfits. Dry clean only? Impossible for kiddos to put on by themselves? Scratchy and uncomfortable? Nope. That just won't do. They put their heads and skills together to create Little Adventures.

The company is absolutely dedicated to wearable, playable, machine washable costumes. Each princess dress, each cape, and all the other items in their product line are made for everyday play.
Click the button to view their size chart.
Little Adventures Size Chart
Be a Princess, Anytime, Anywhere
Classic Rapunzel Dress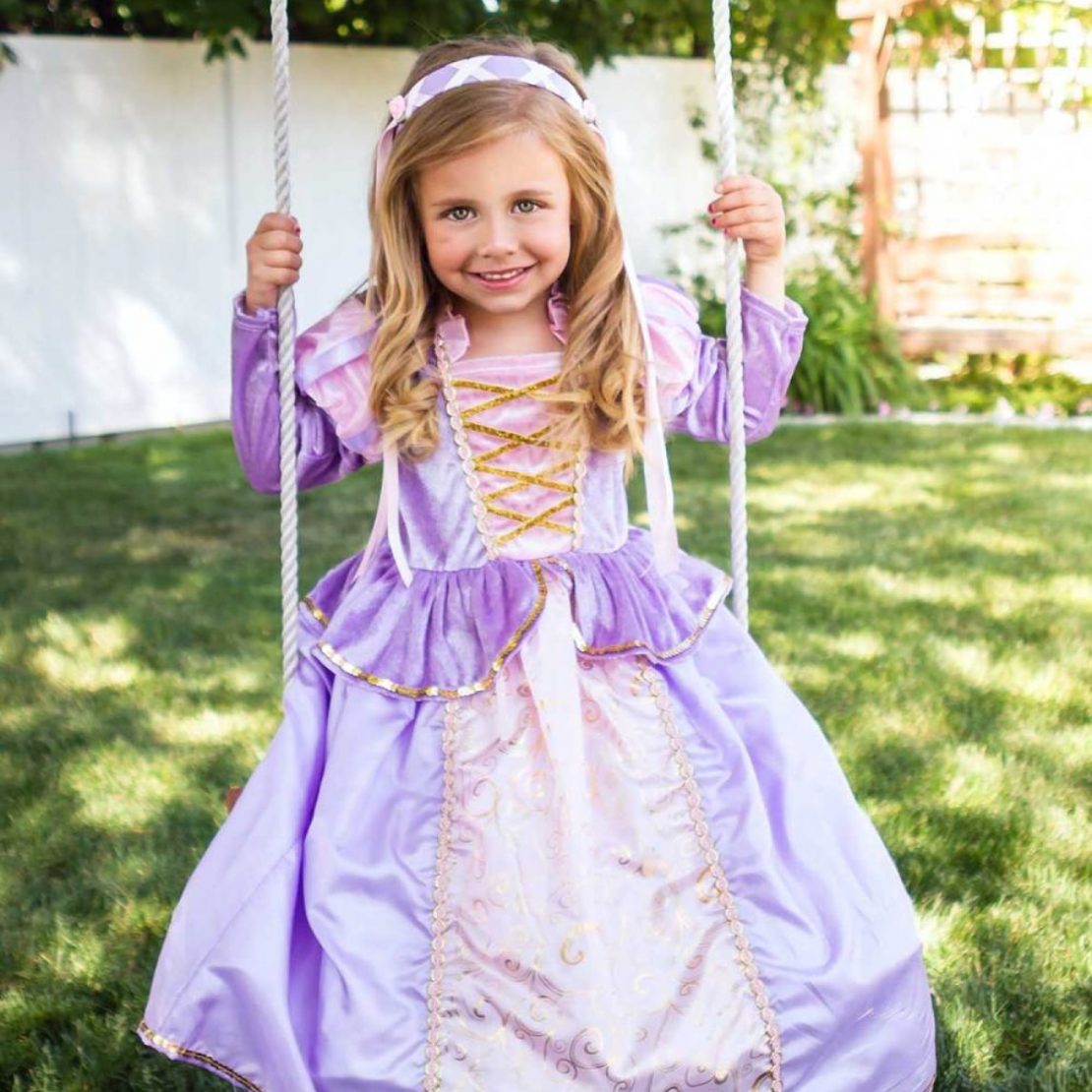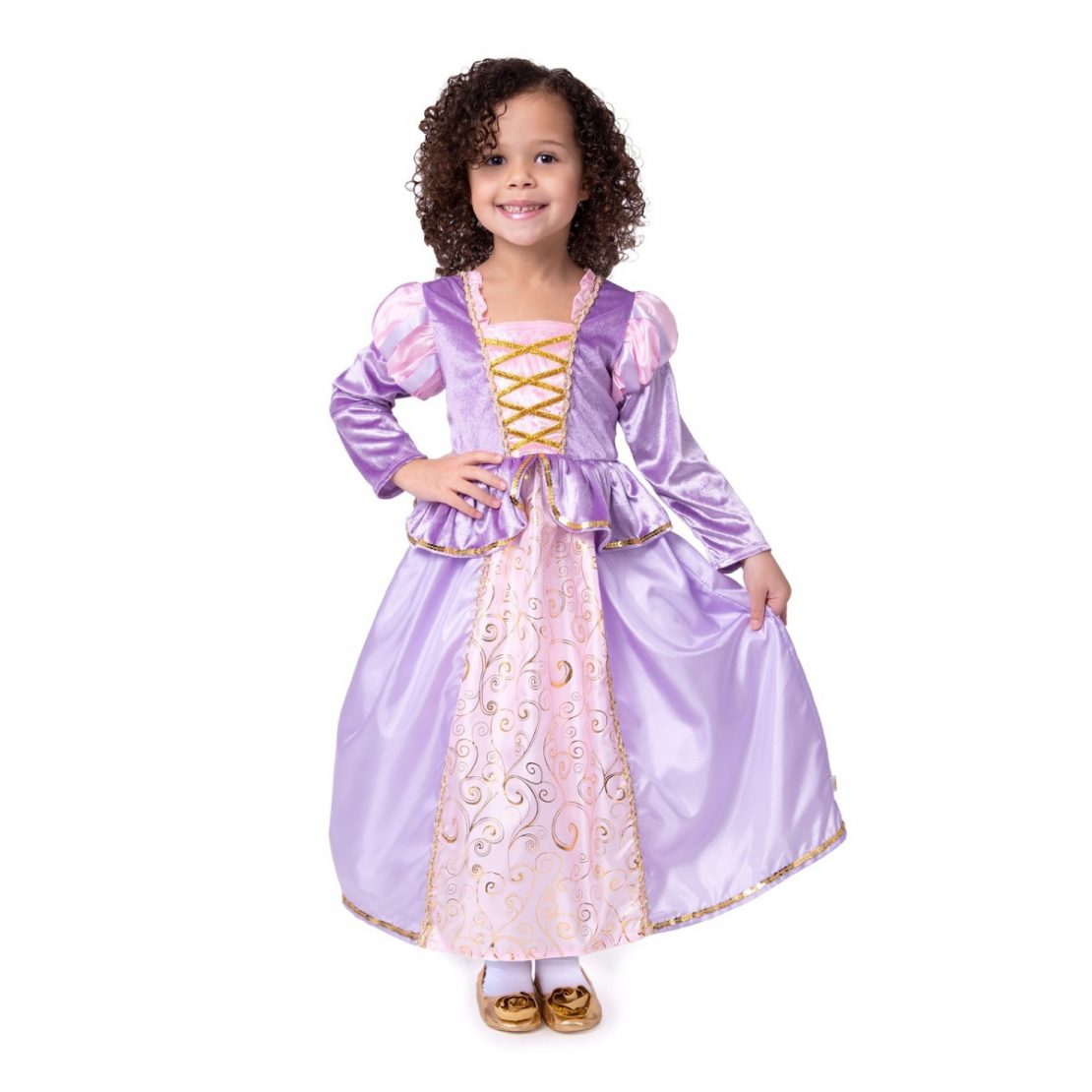 A sparkly crushed velvet bodice and amazing gold trims set this dress apart. The unique puffed sleeve cap with satin below is absolutely elegant, and the beautiful lavender skirt makes this dress perfectly elegant.
Available in Medium (3-5 yrs)
---
Snow White Dress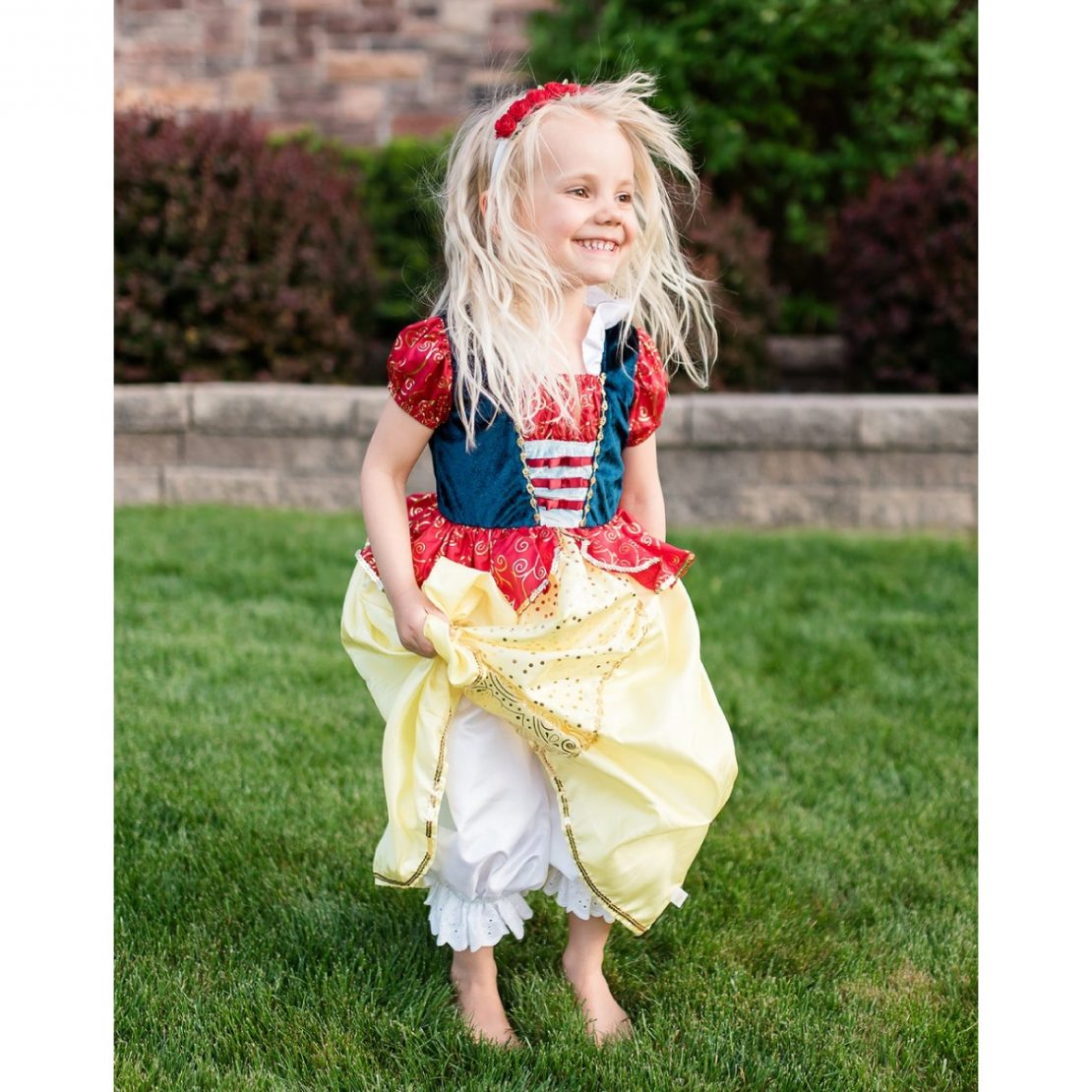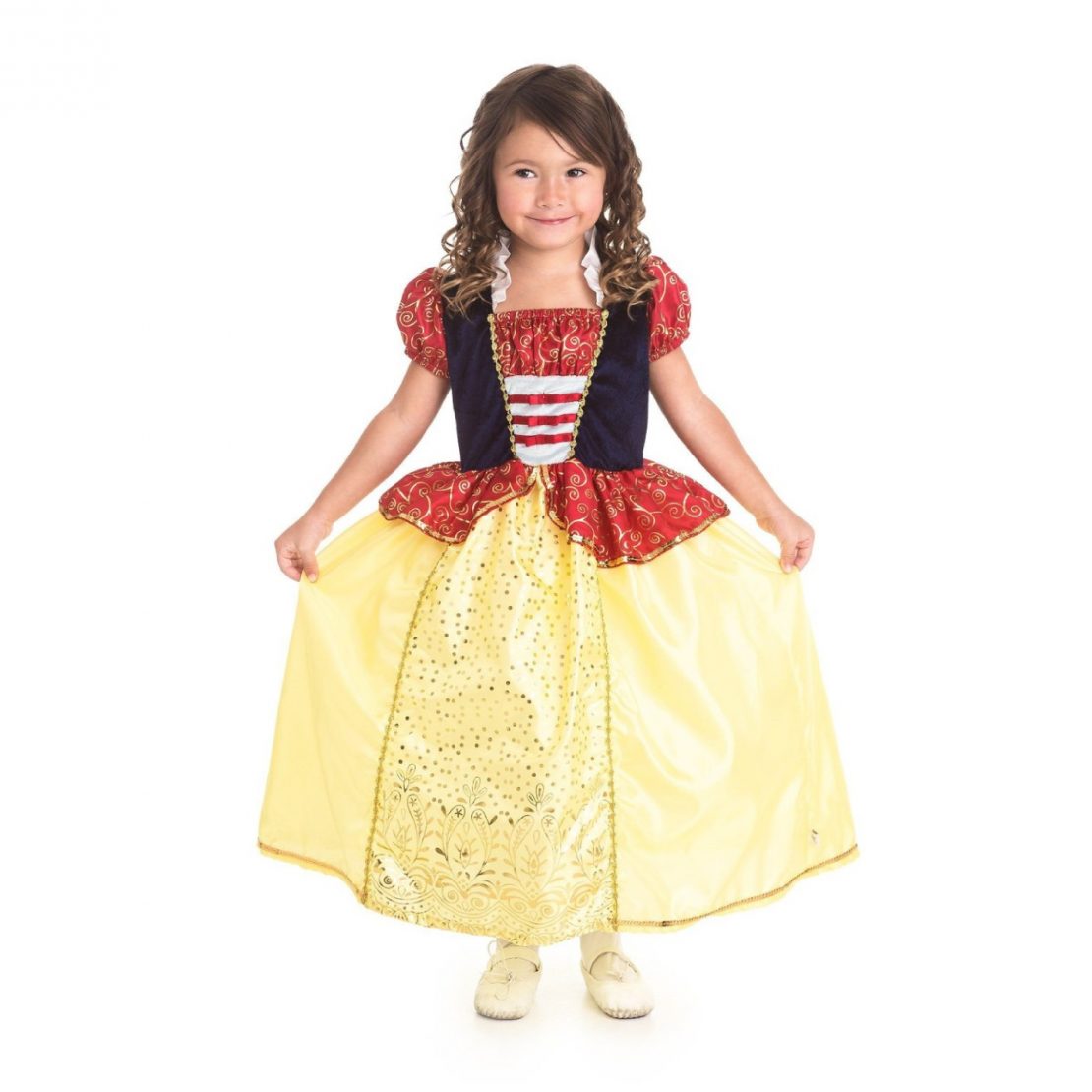 A fairytale classic! The navy blue crushed velvet bodice and red sleeves are adorned with intricate gold trim. The skirt is cheery yellow china silk wrapped at the waist with elegant red hip drapes to complete this timeless design.
Available in Medium (3-5 yrs)
---
Winter Beauty Dress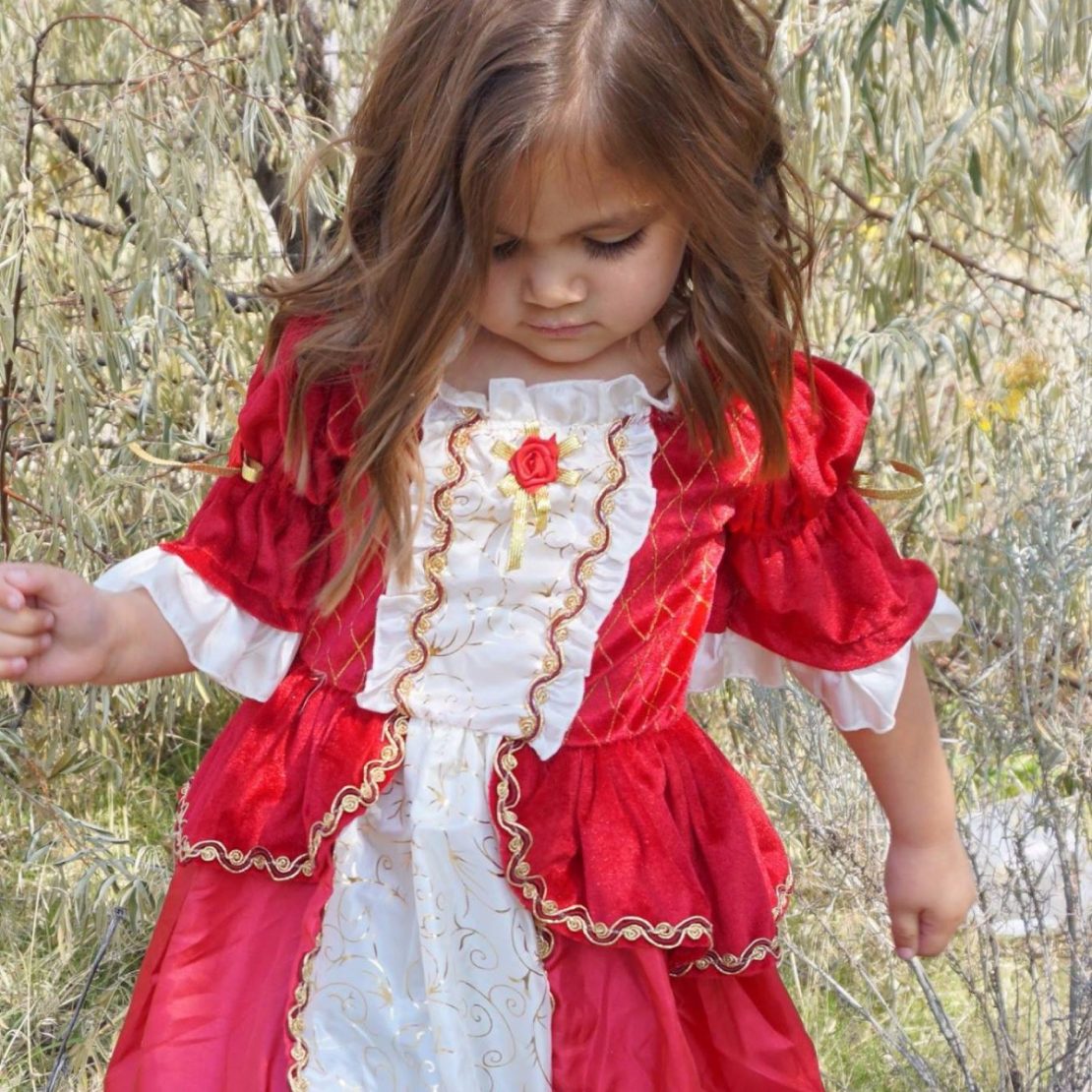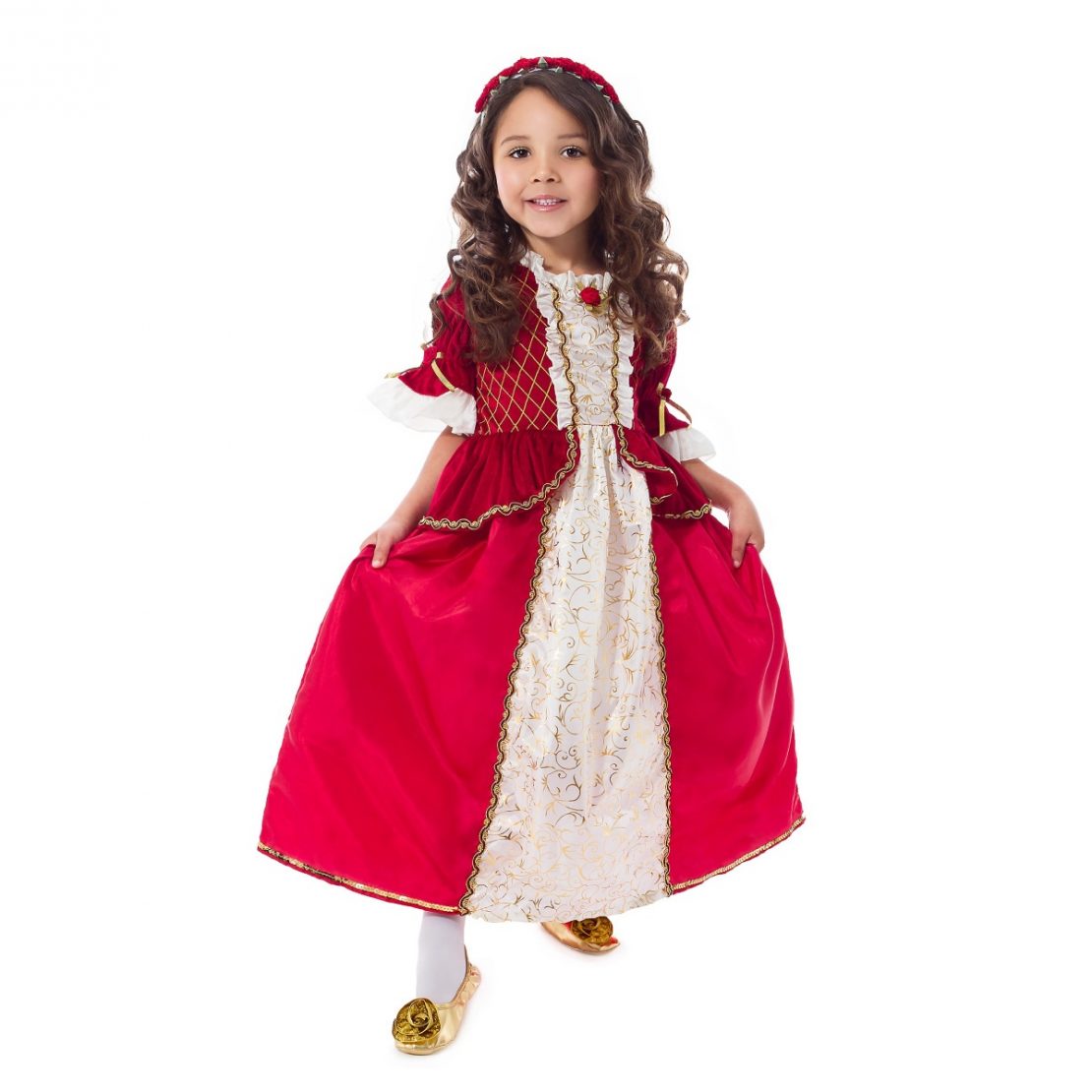 The deep red stretchy velvet bodice is detailed with a quilted print, golden trim and a red rose. The mid-length sleeves with gold trim end in a beautiful white gathered ruffle design. The red skirt finishes the luxurious look of this gown with the addition of an ivory panel in a glitzy gold swirl.
Available in Medium (3-5 yrs)
---
Deluxe Rapunzel Dress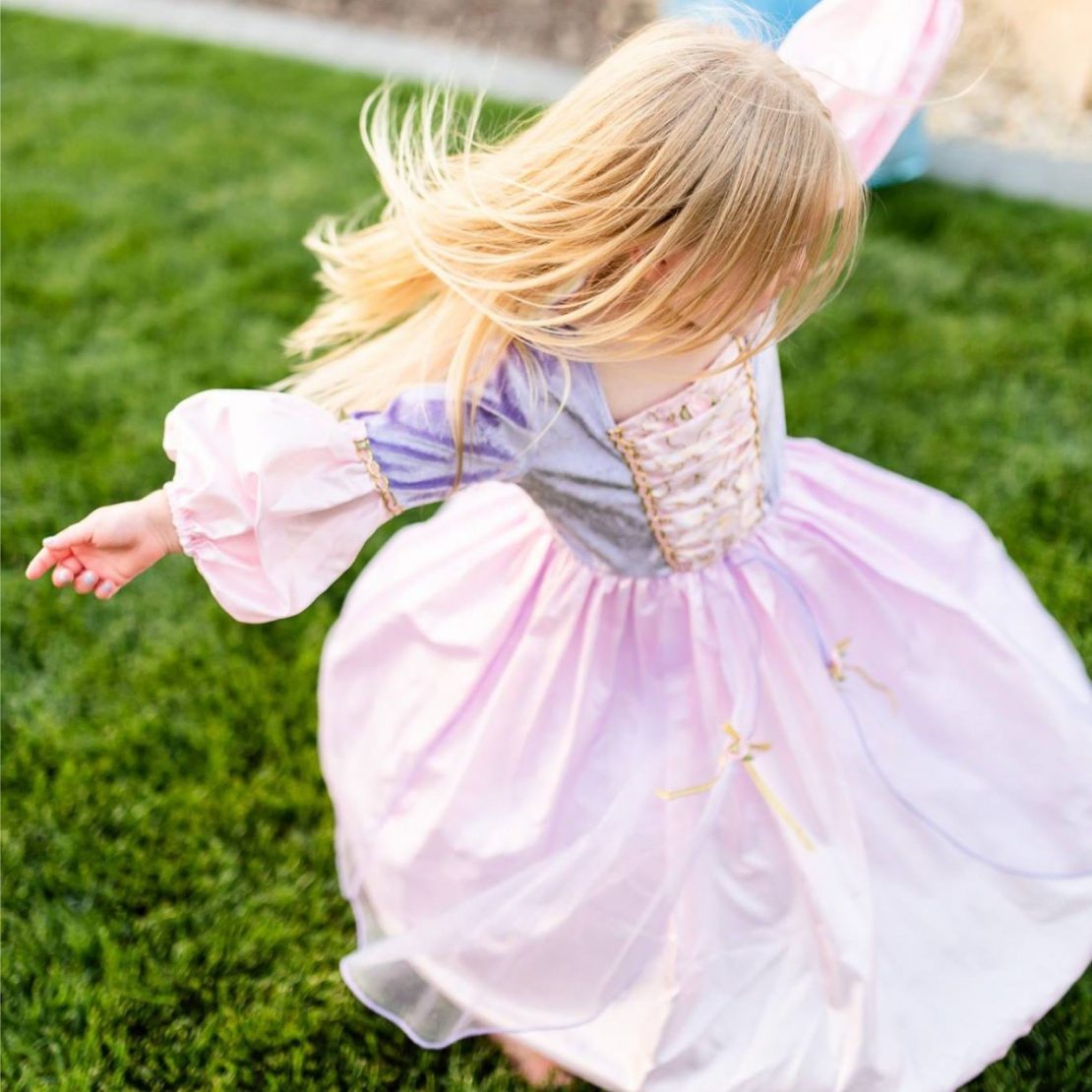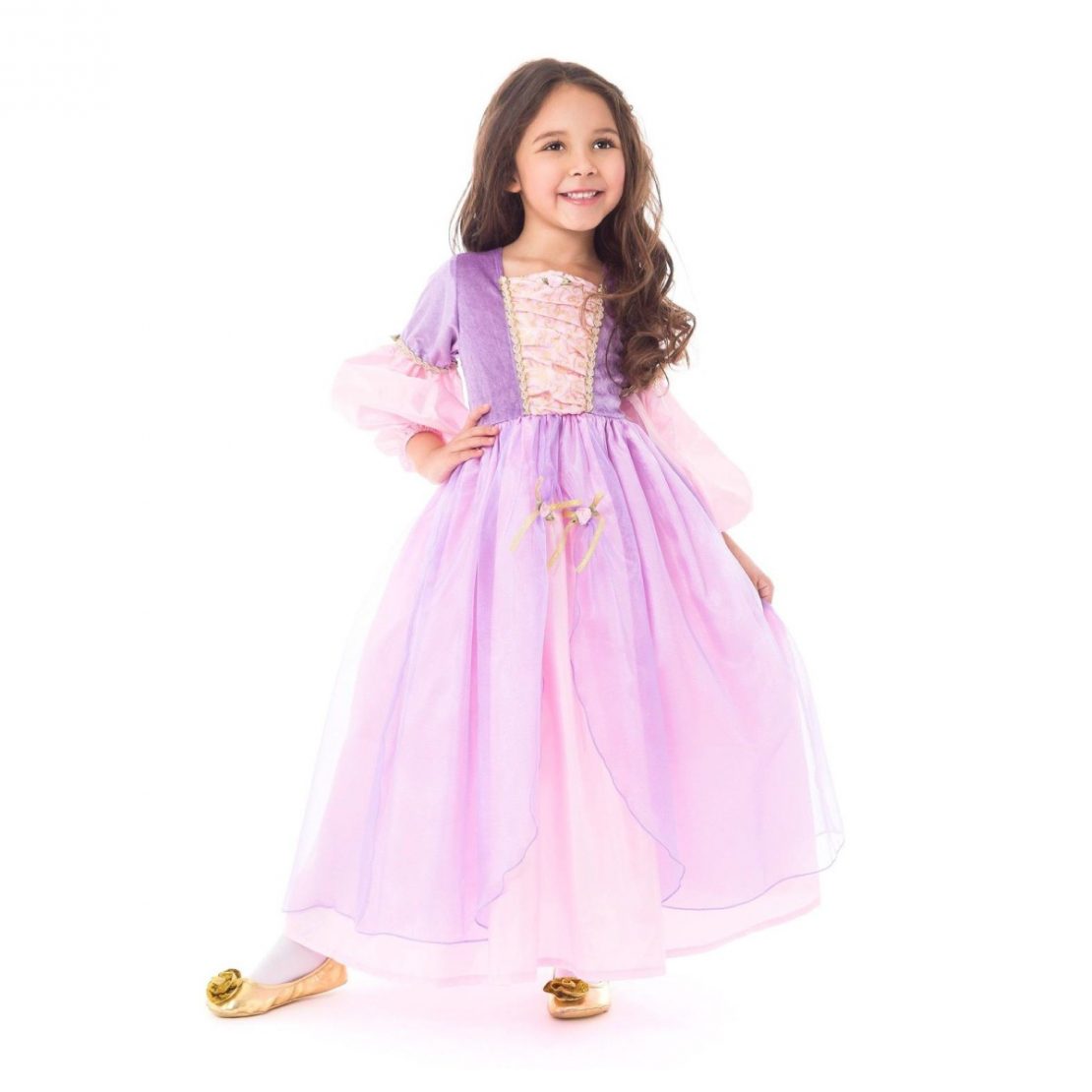 This deluxe gown is luxury, all around! A sparkly crushed velvet bodice and flowy organza overskirt set this dress apart. The puffed lower sleeves and gold trim are just dreamy.
Available in Large (5-7 yrs)
---
Cinderella Dress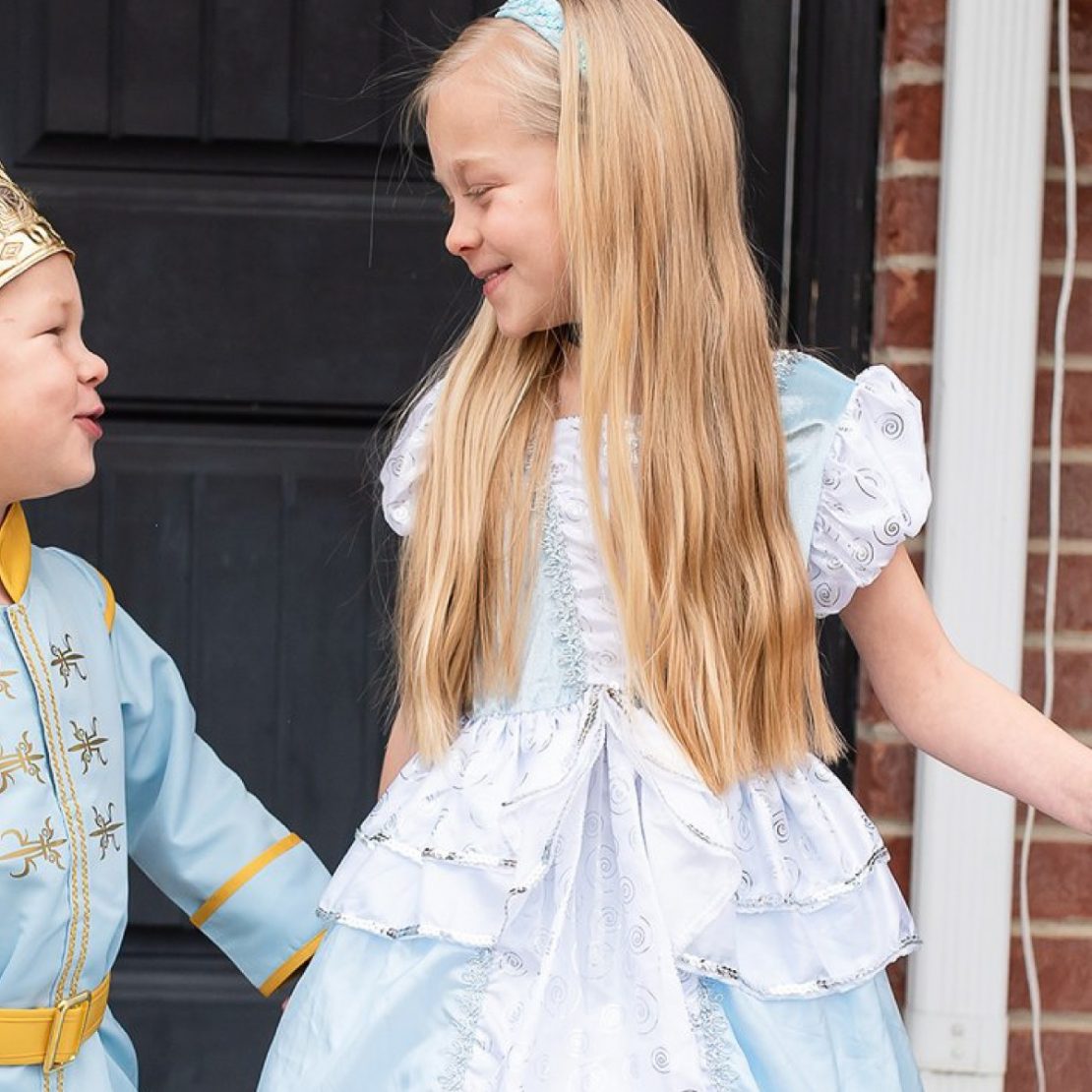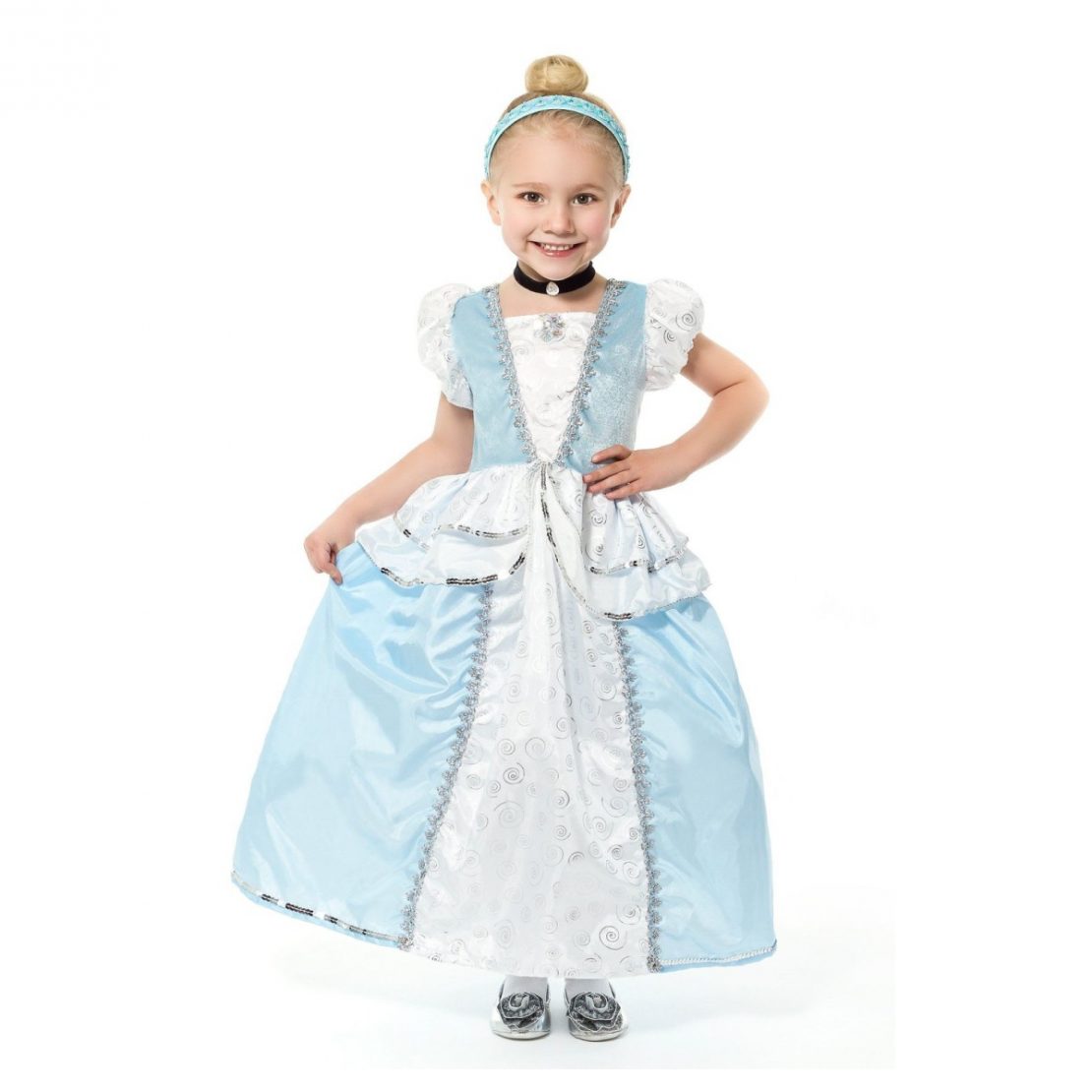 Fairy Godmother certainly delivered! This Cinderella inspired dress features a stretchy blue velvet bodice that is elegantly detailed with a gathered white inlay, sparkling silver trim and a beaded flower. The silver trimmed hip drapes and skirting completes the fairy tale look.
Available in XL (7-9 yrs)
(Headband & necklace not available)
Brrrr… Getting a little Frozen around here…
Scandinavian Princess Coronation Dress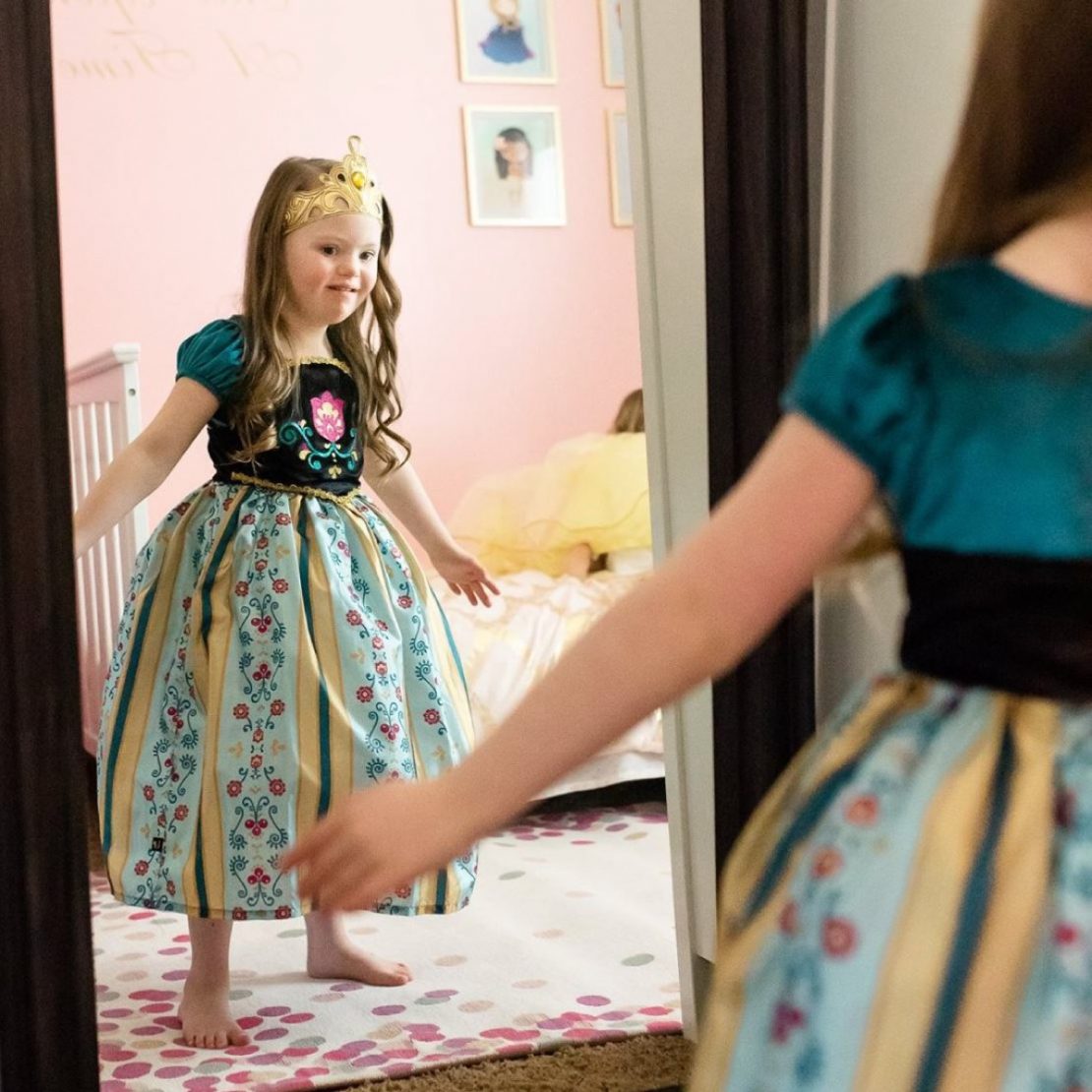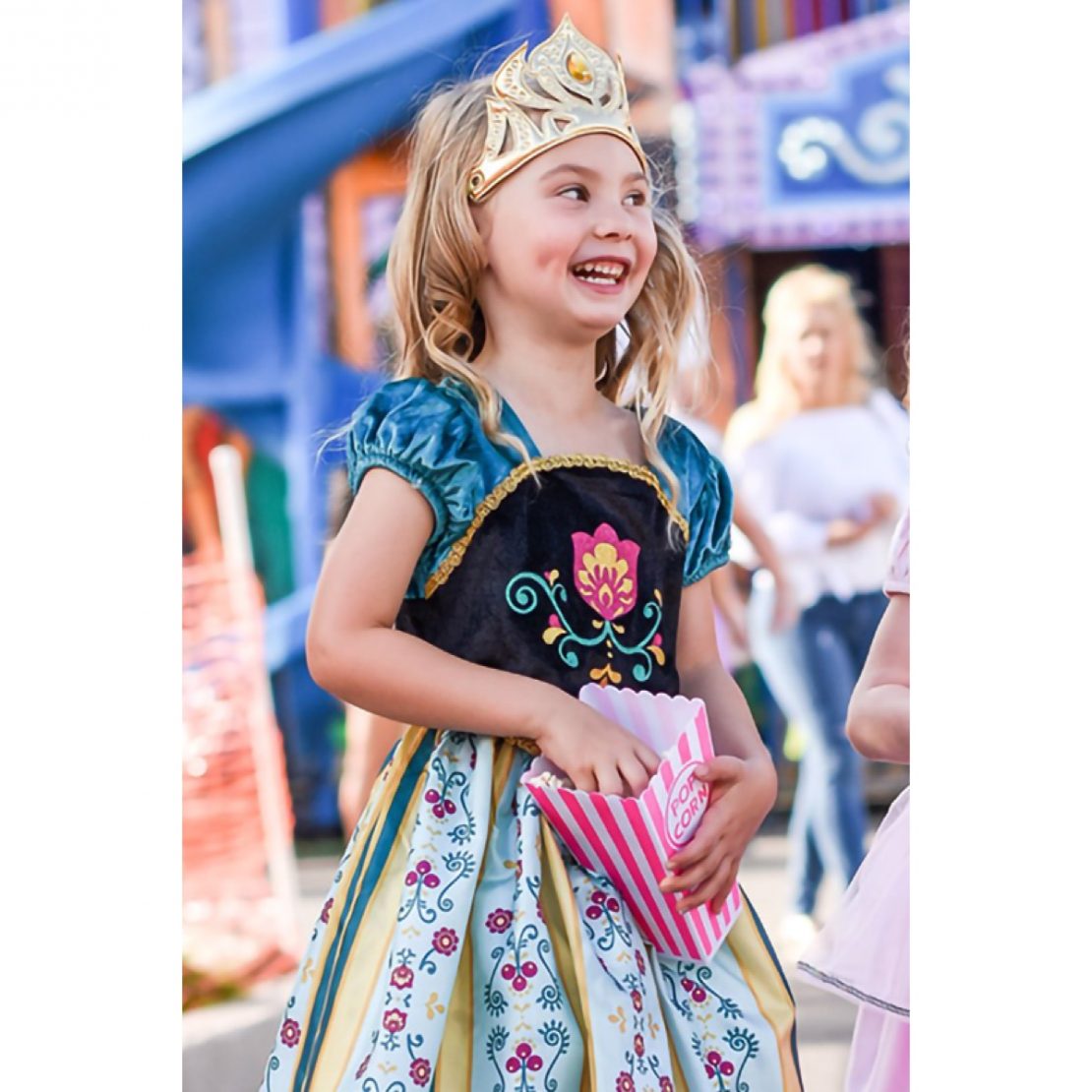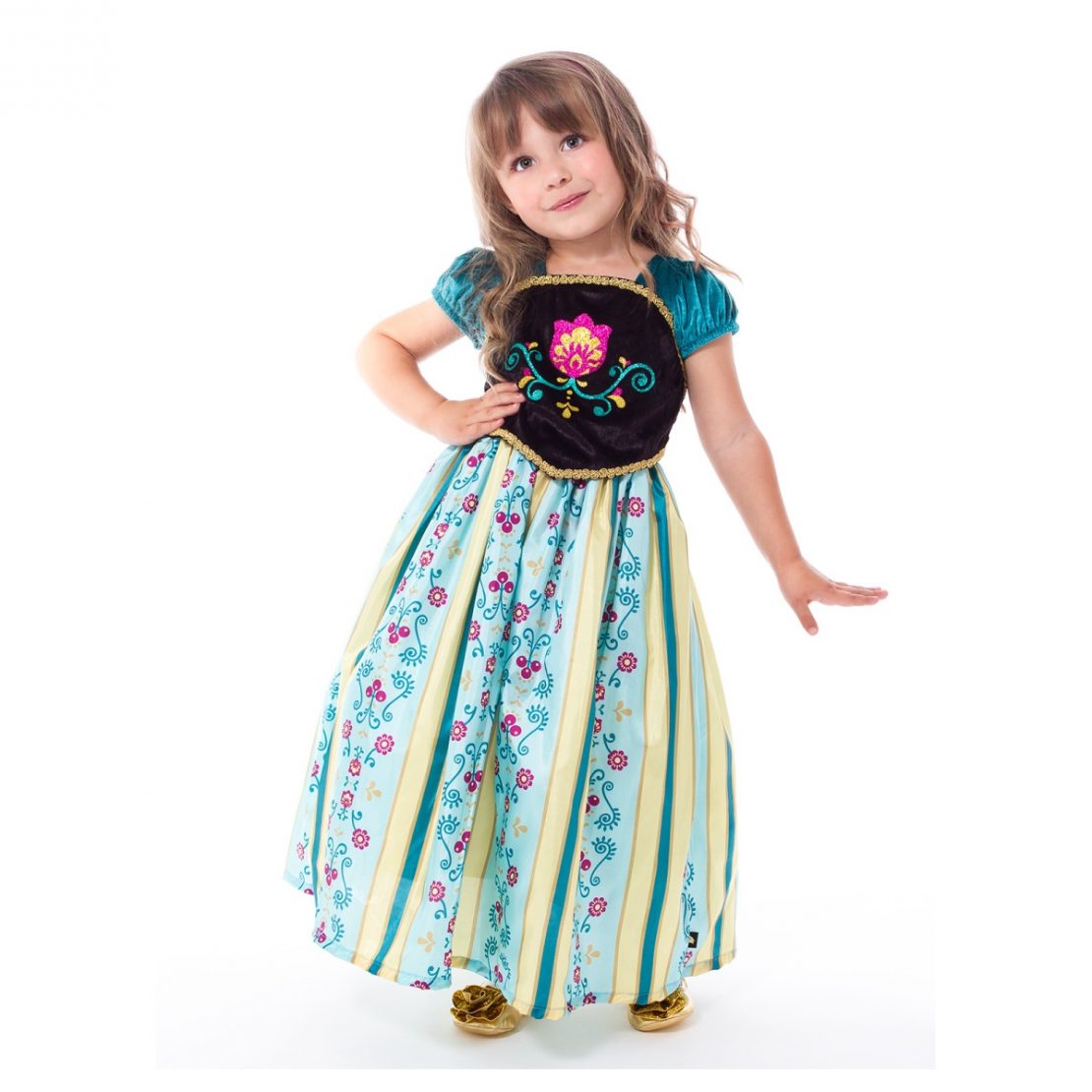 This dress features a china silk skirt with a beautiful custom print in a gold, teal and burgundy floral striped design. The intricate gold trim frames the black velvet bodice that is adorned with a sparkly Norwegian Tulip print. The dark teal velvet sleeves complete the design.
Available in Medium (3-5 yrs)
(crown sold separately)
---
Scandinavian Princess Dress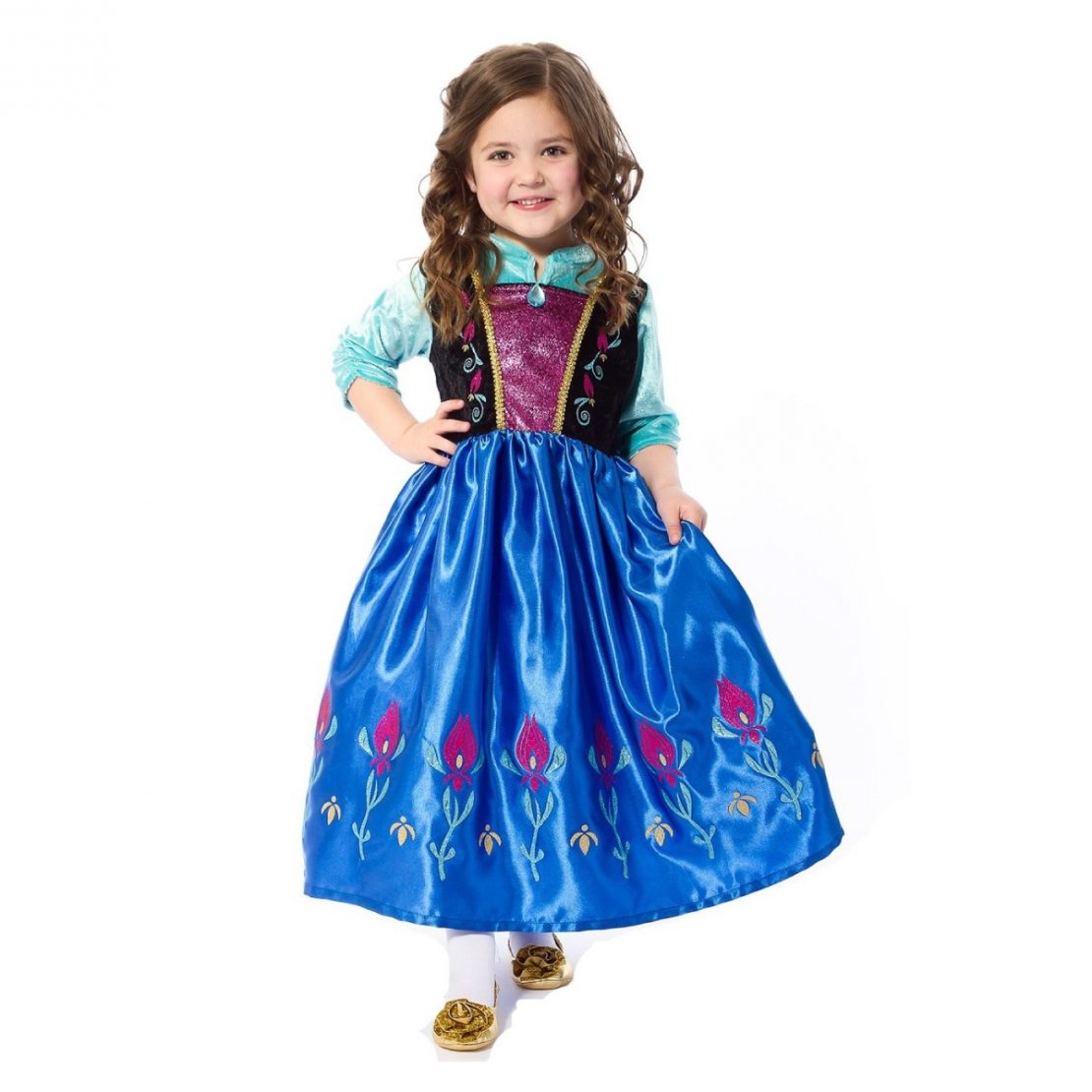 The rich stretch velvet sleeves and bodice are so elegant. The bodice also features a sparkly inset, embroidered flower motif, and bright jewel at the neckline. The silky skirt in deep blue boasts a repeating tulip motif around the hem.
Available in Medium (3-5 yrs)
(crown and cloak sold separately)
---
Scandinavian Princess Cloaks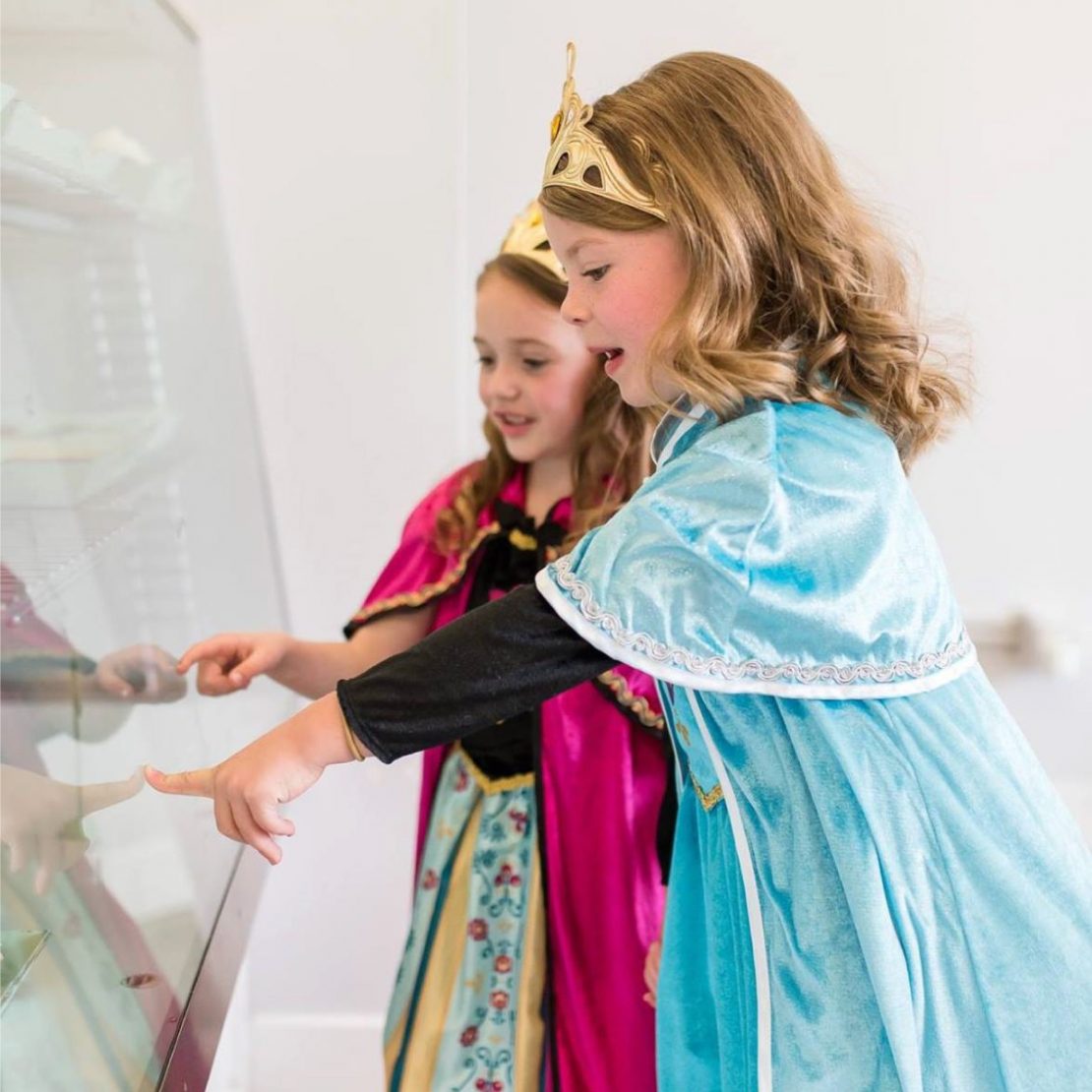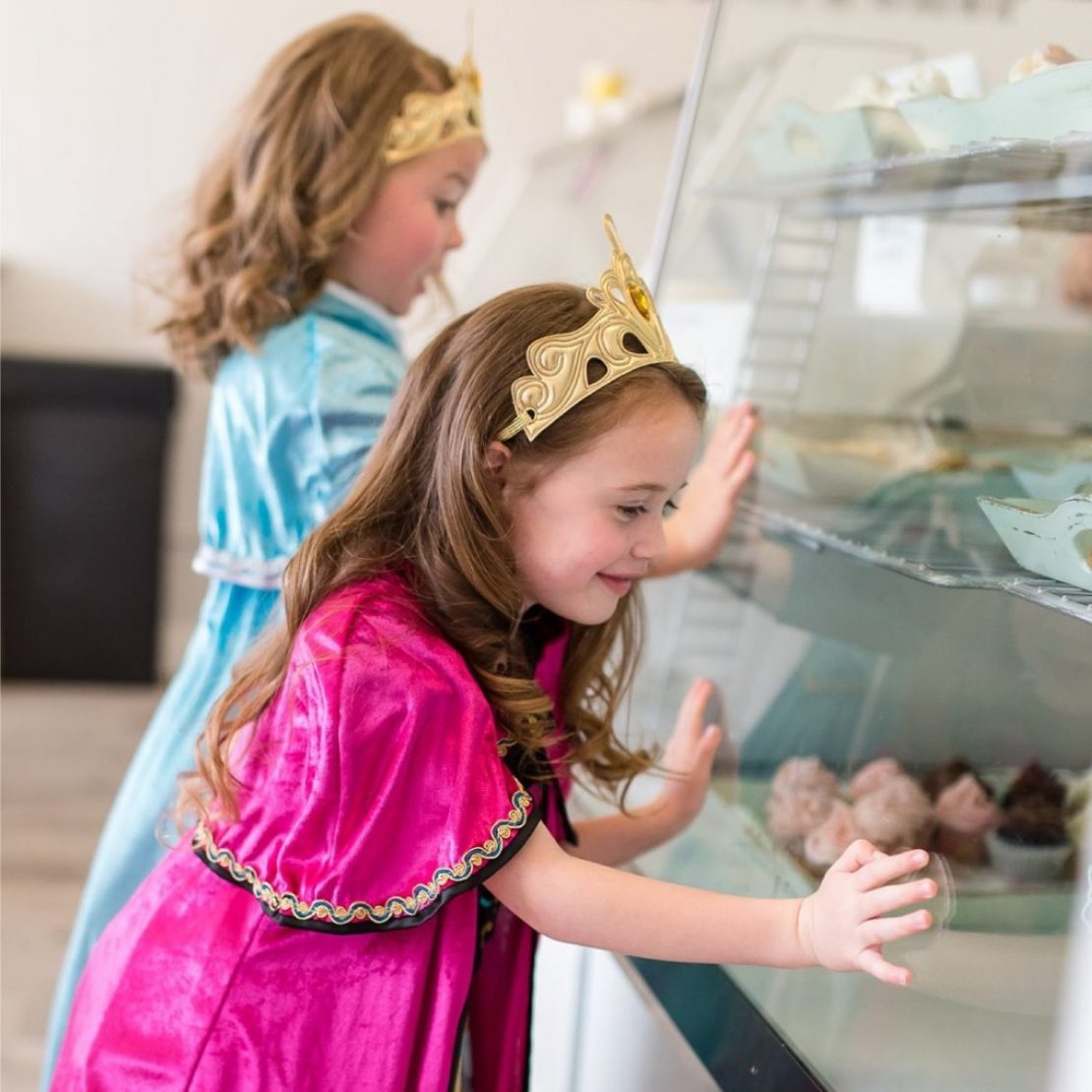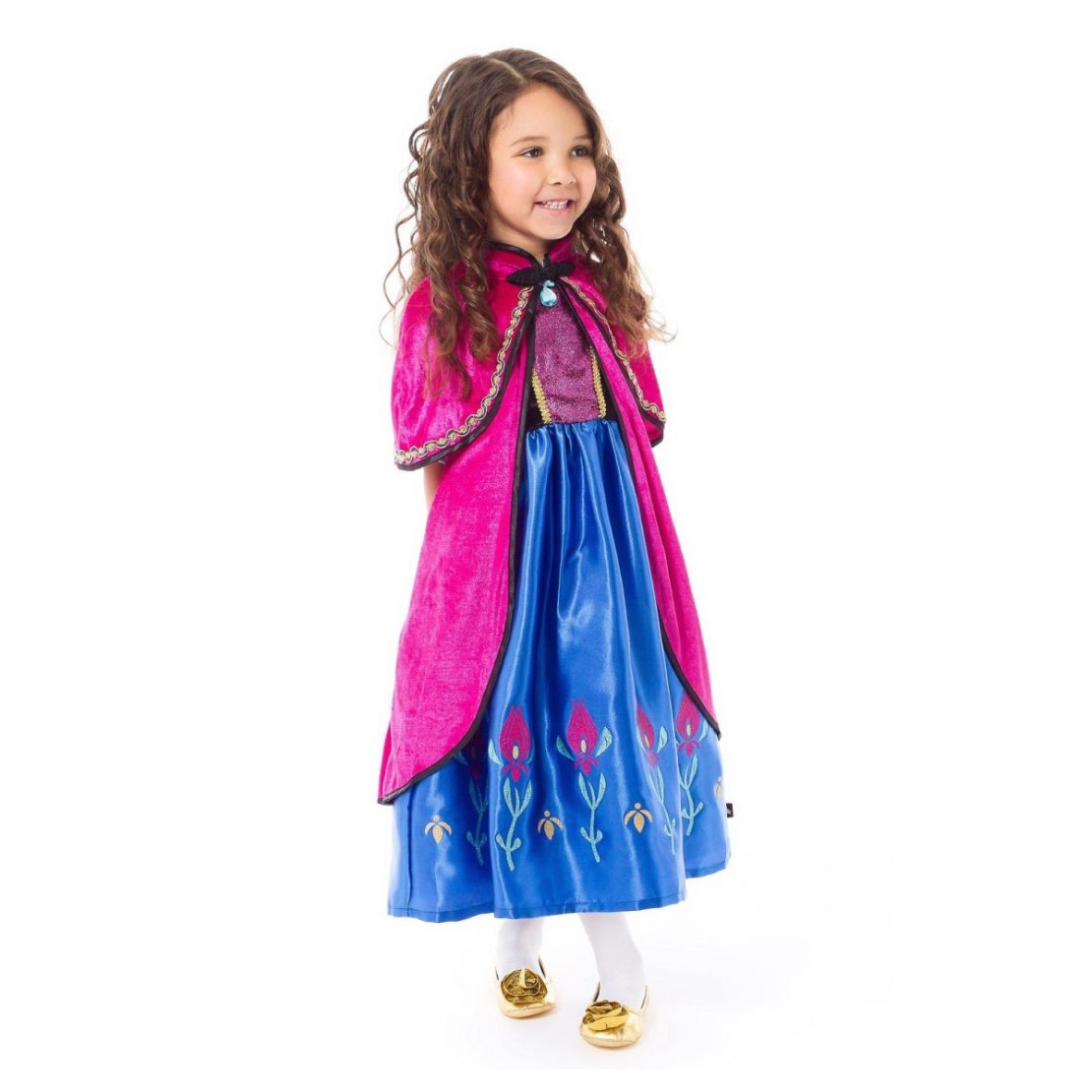 Smooth crushed velvet and the elegant trims complete a Scandinavian themed princess outfit. The hook & loop closures are easy for little hands to manage by themselves.
Available in Ice Princess (light blue) or Scandinavian Princess (Magenta)
Both sized Sm/Med (3-5 yrs) and measures 25.5" from neckline to hem
Presto Change-o!
One size fits most, unless otherwise noted.
Galaxy Cape and Galaxy Hat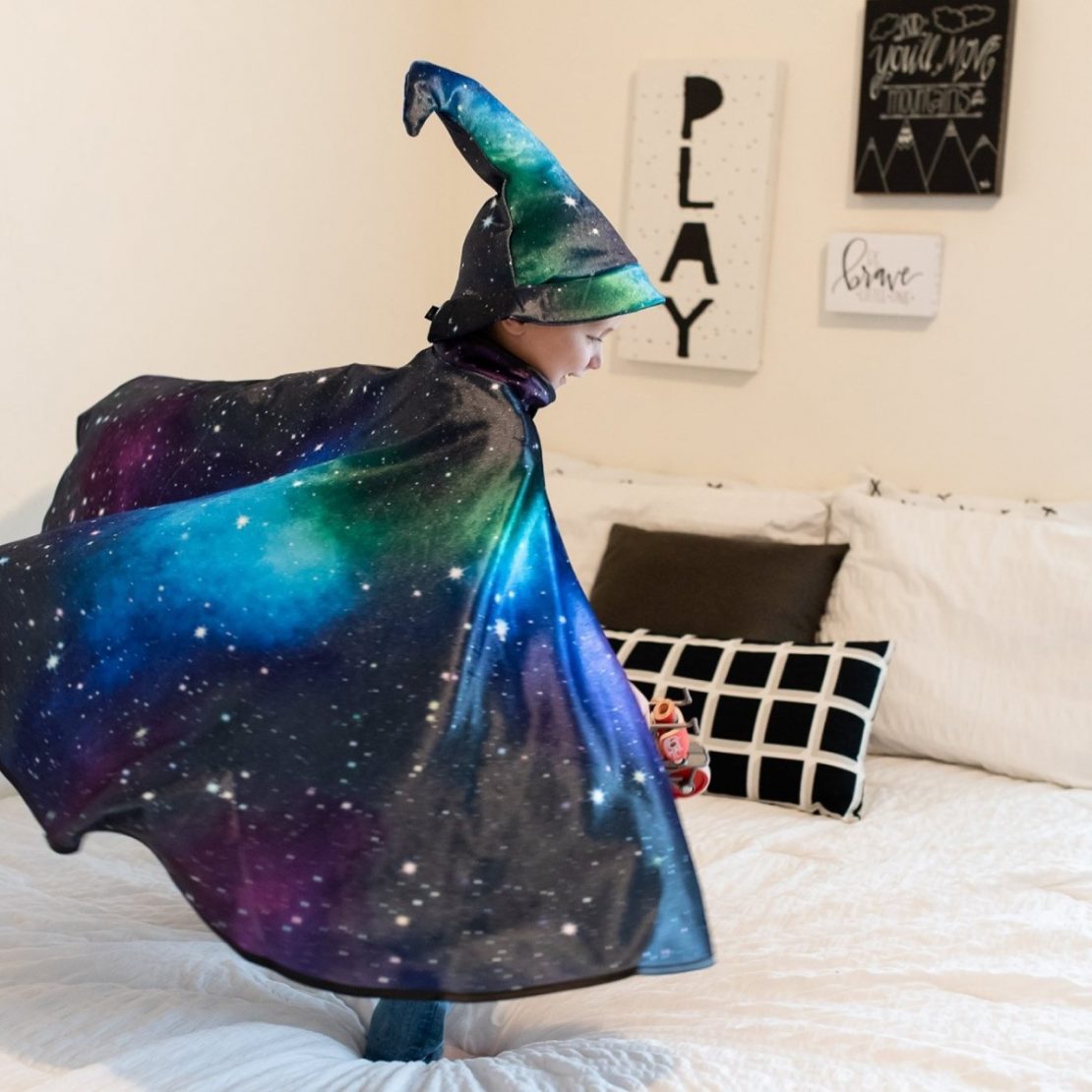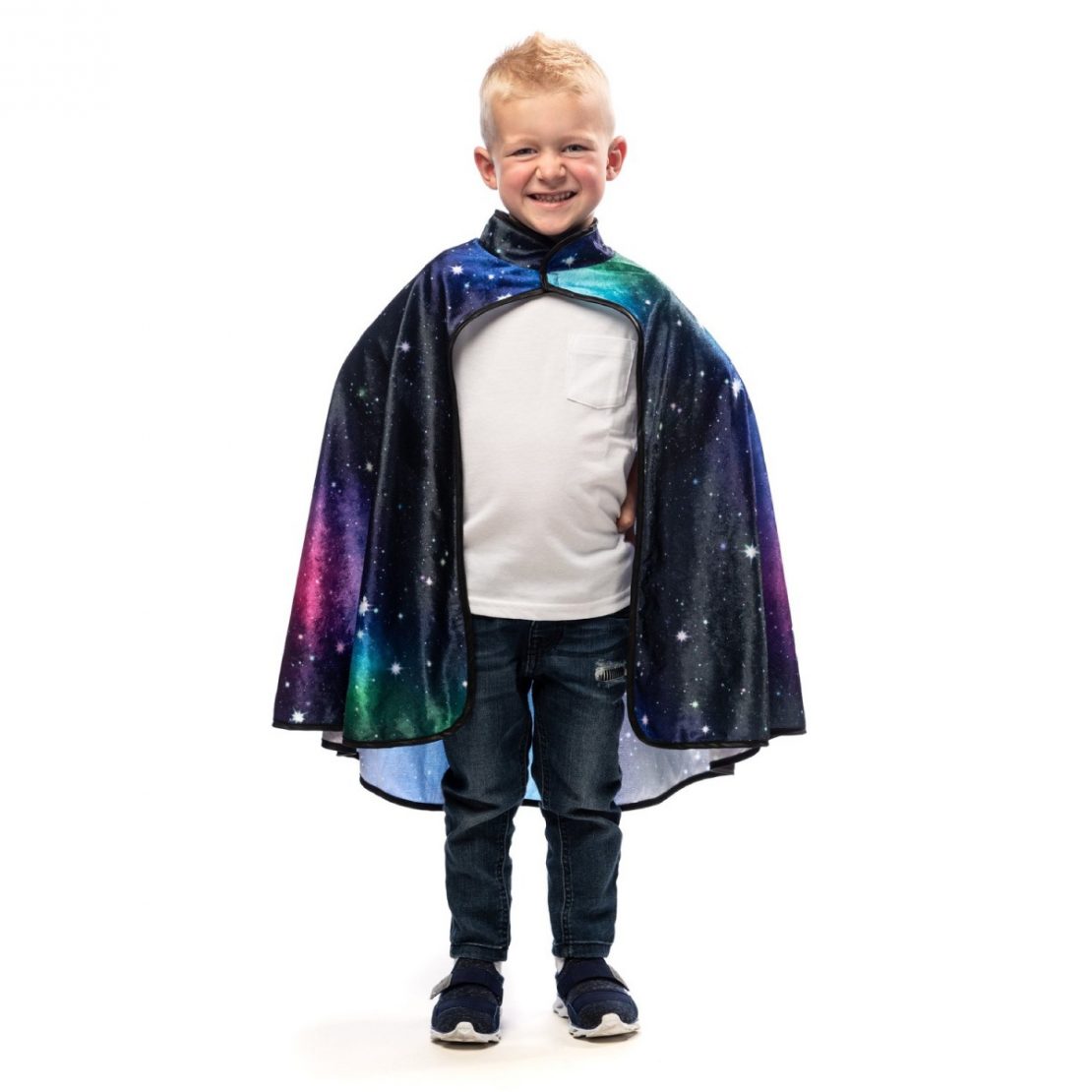 The Galaxy cape is crushed velvet, printed with a stellar outer space design. Add the hat to complete the look. Your little wizards and magicians will be ready to enchant and mesmerize!
Cape measures about 26" from neckline to hem.
Cape and Hat sold separately.
---
Deluxe Red Velvet Cloak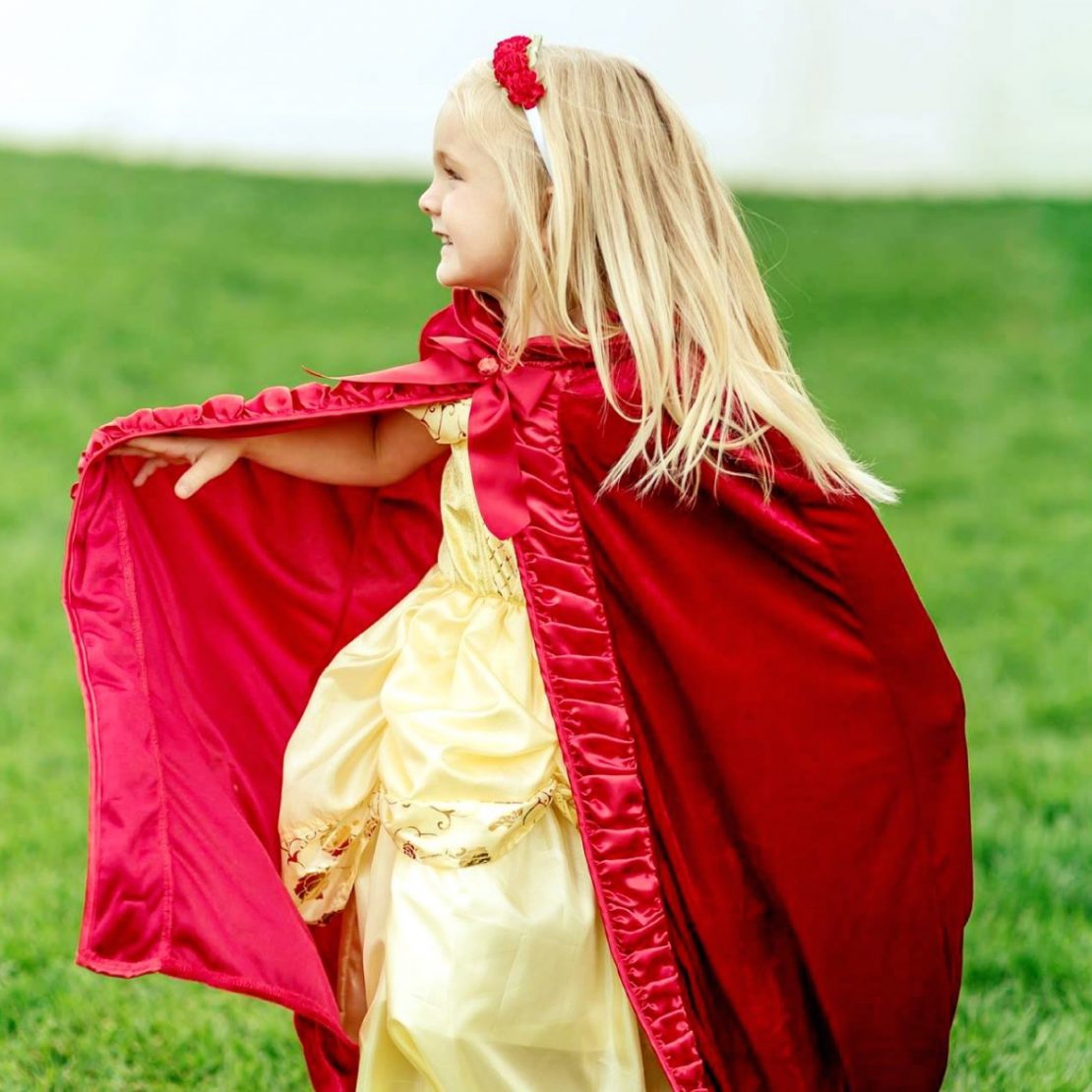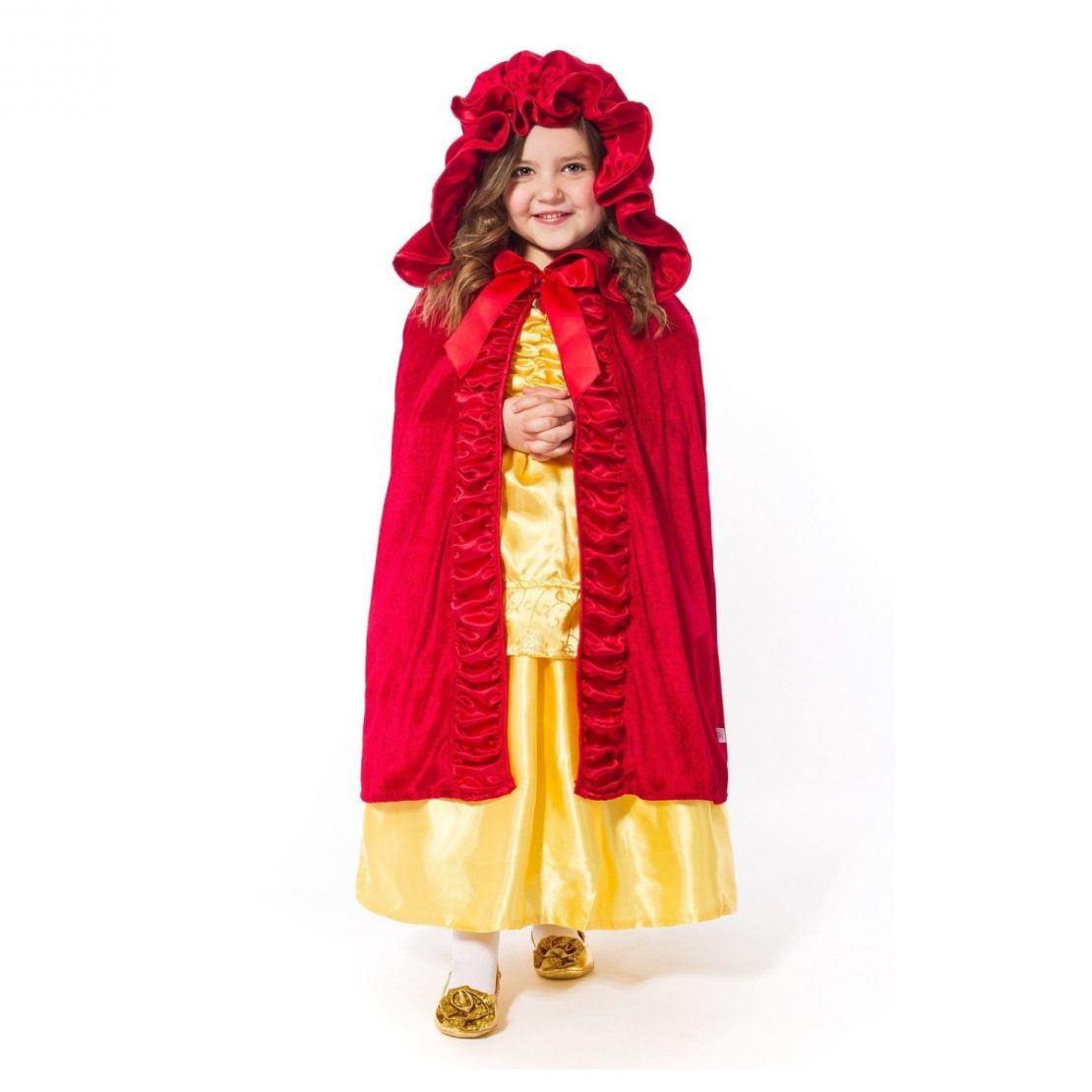 This smooth velvet cloak features an elegant ruffle along the hood, as well as down the front. Perfect for hours of imaginative fun.
Available in Sm/Med and measures 28" from neckline to hem
---
Hero Cape and Mask Set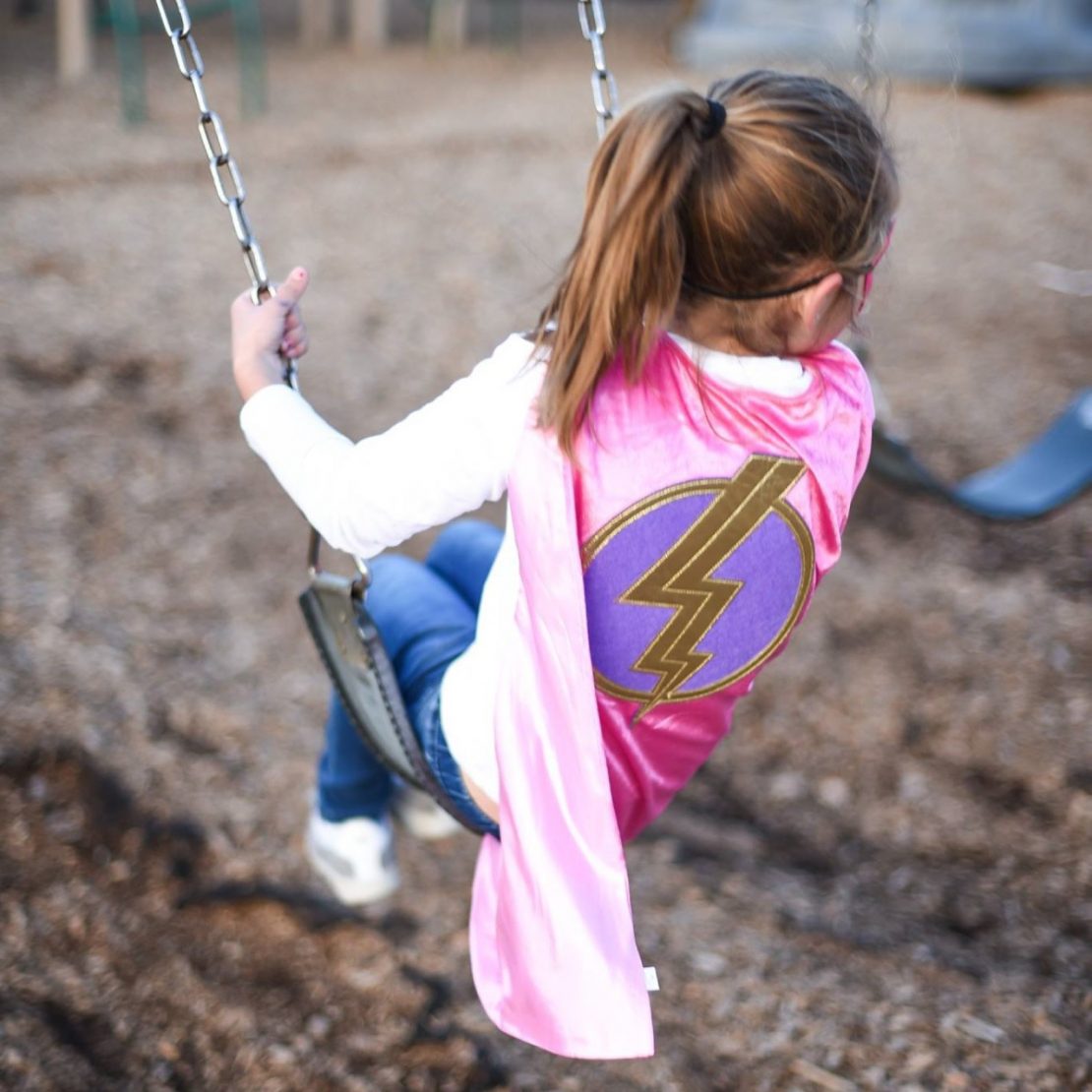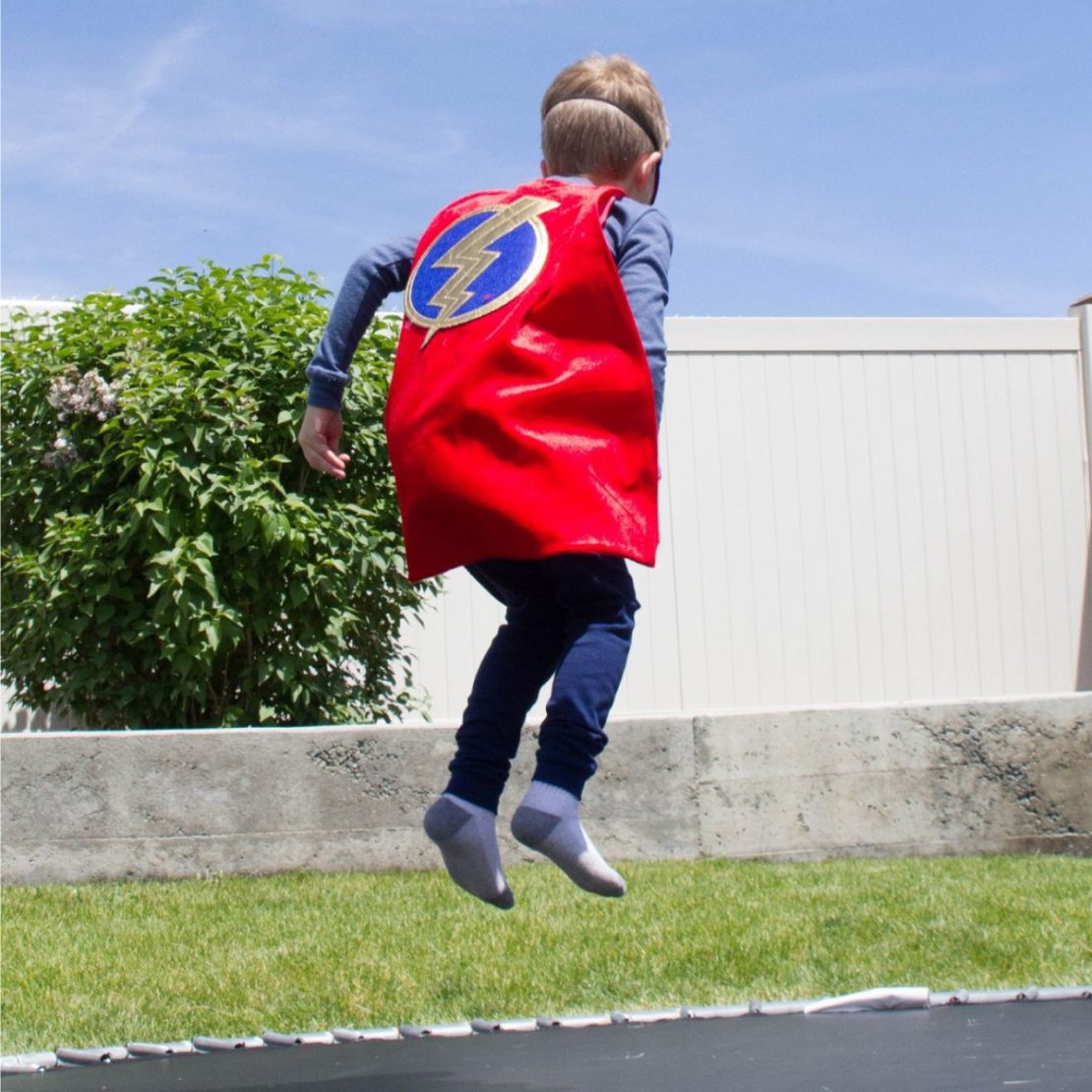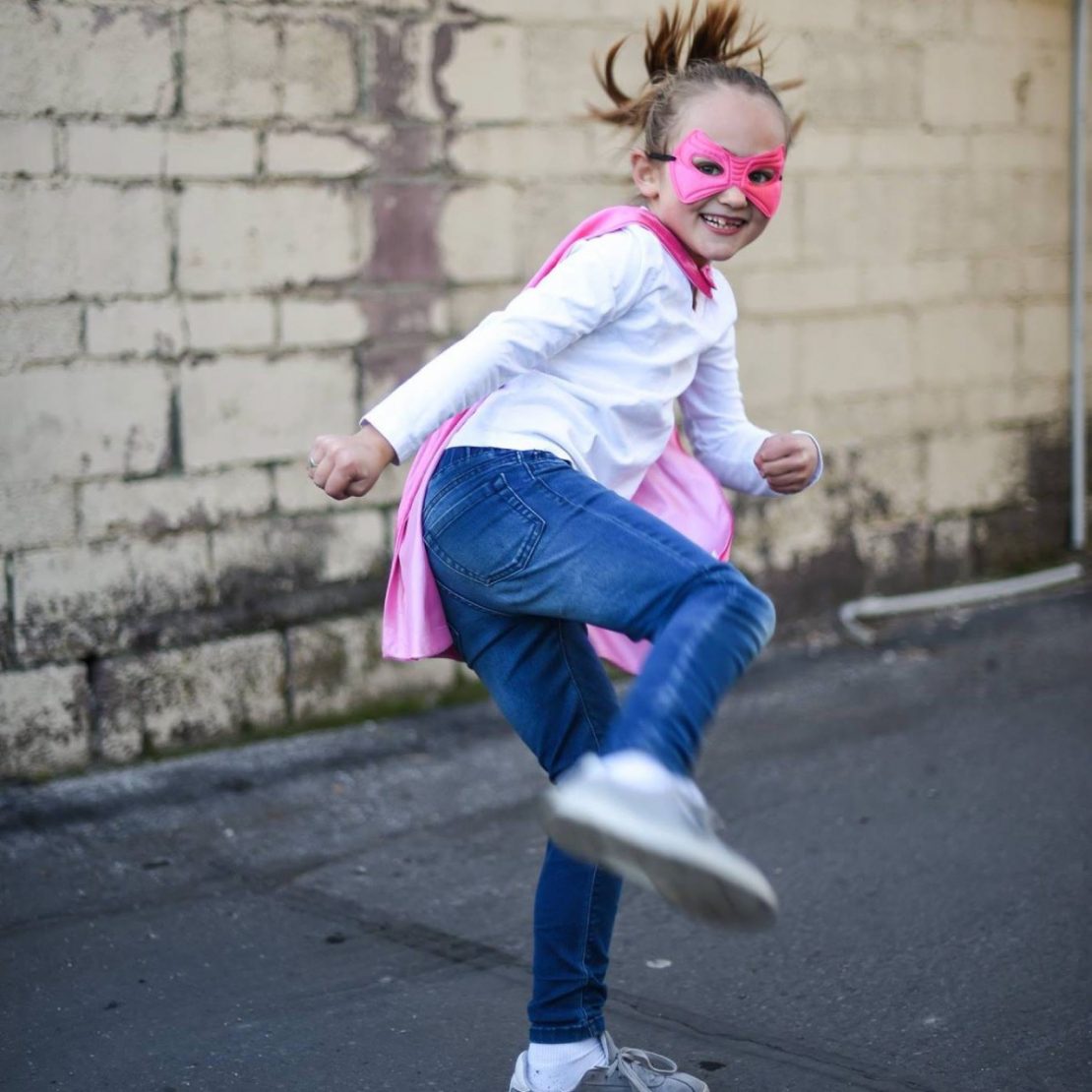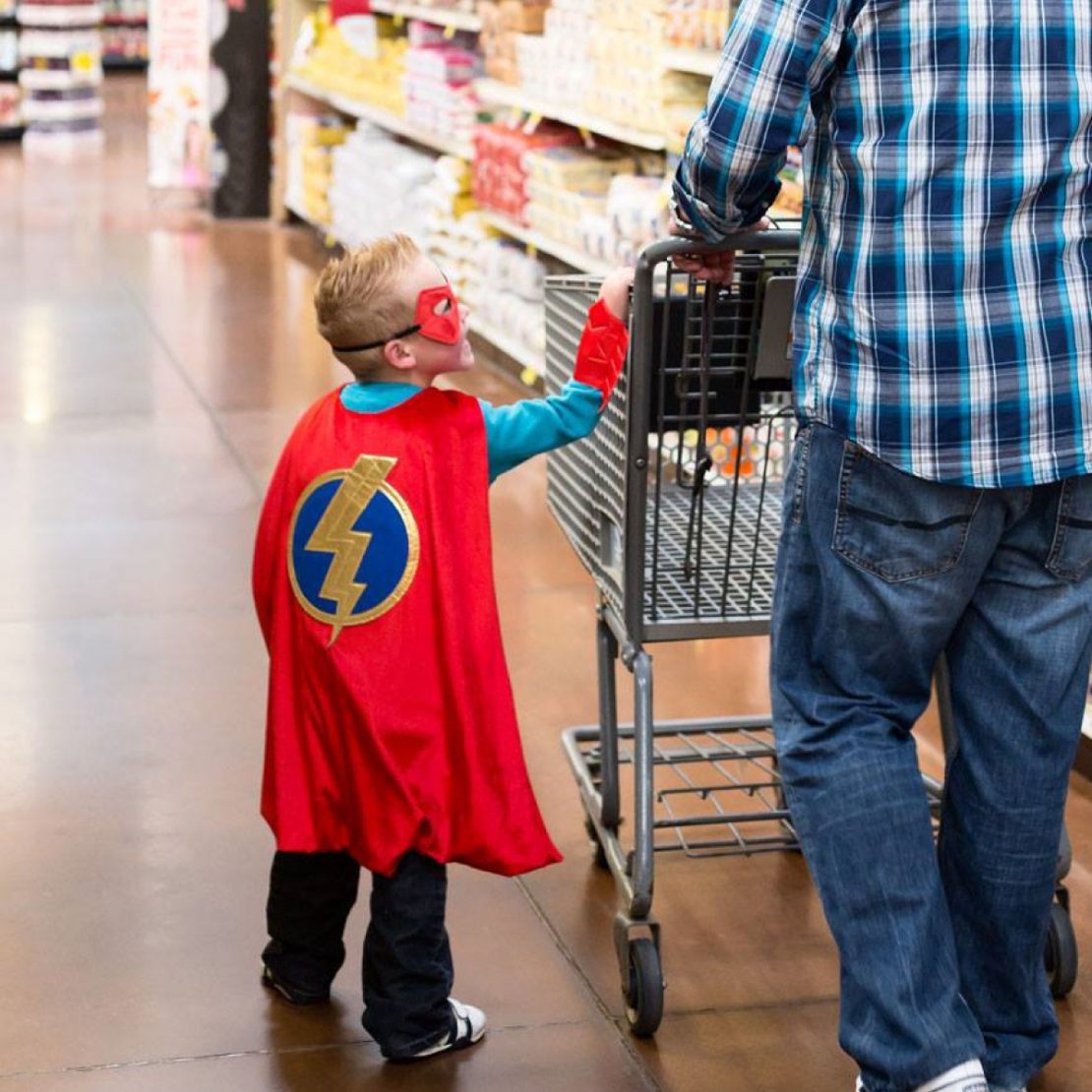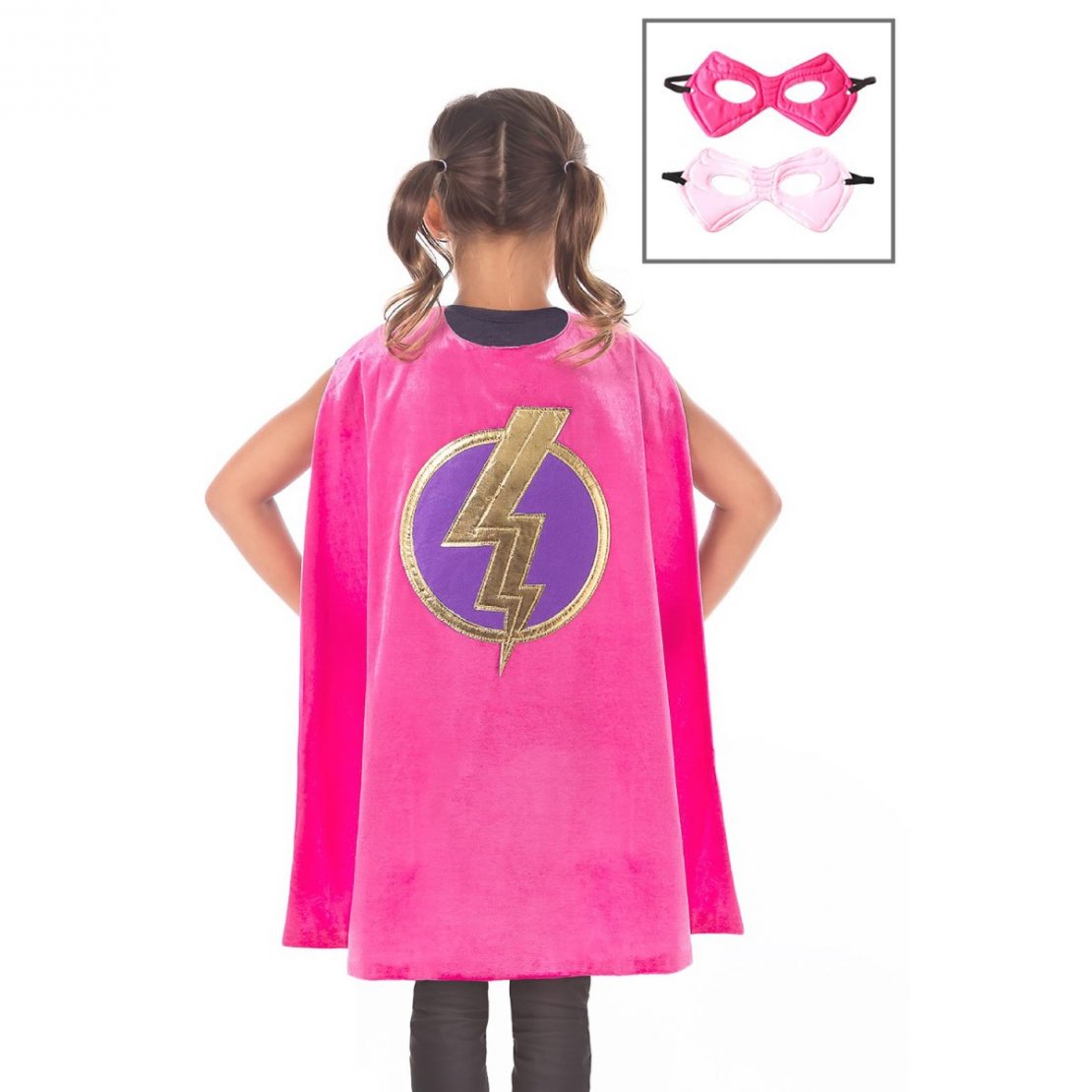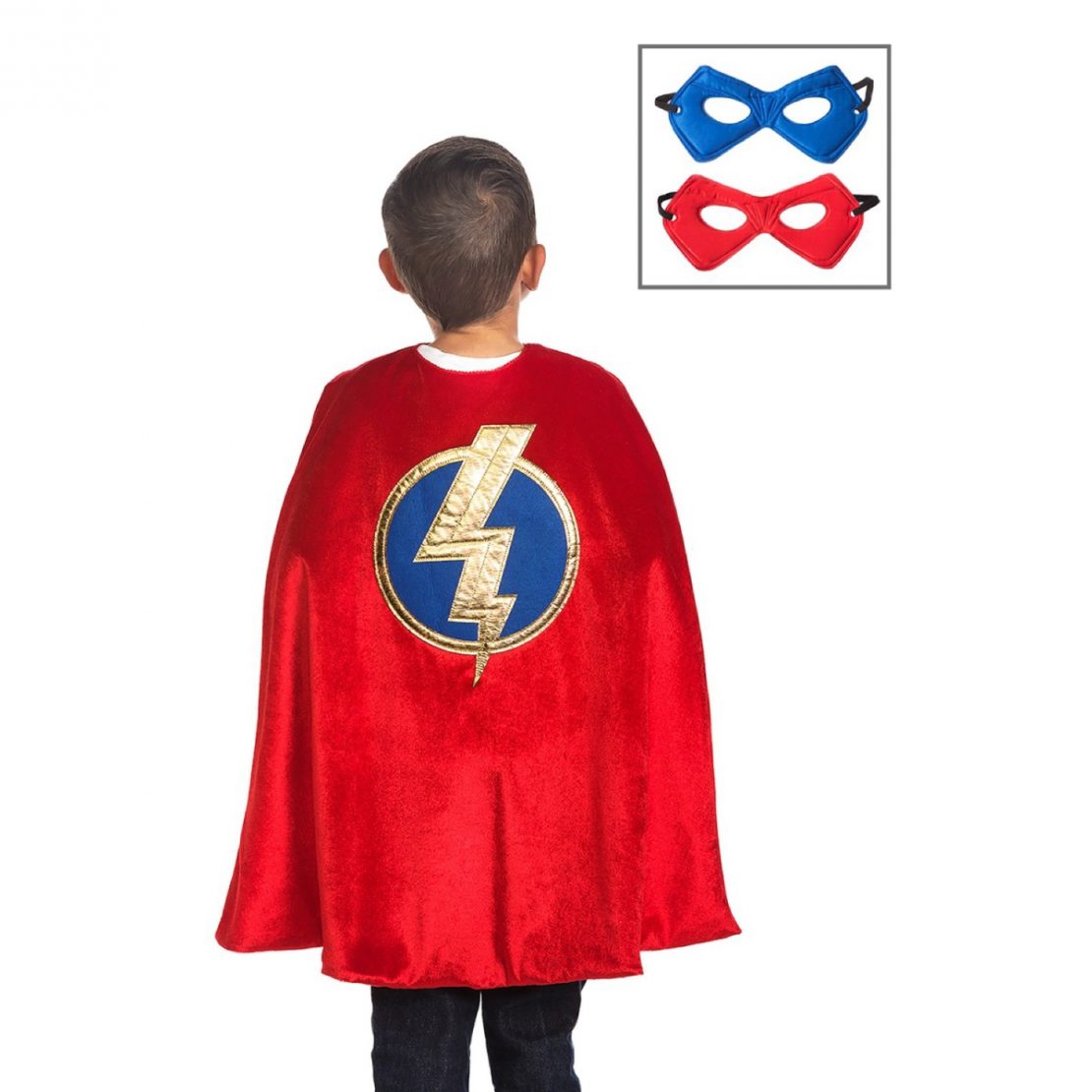 Be the hero of your wildest imaginings! These swishy flowy velvety capes feature striking emblems on the back. The capes have a hook and loop closure for easy off and on. Most importantly, don't forget the mask to hide your true identity!
Available in Pink or Red.
Capes measure 24″ from neckline to hem. Masks are reversible.
---
Dragon Wings & Mask Set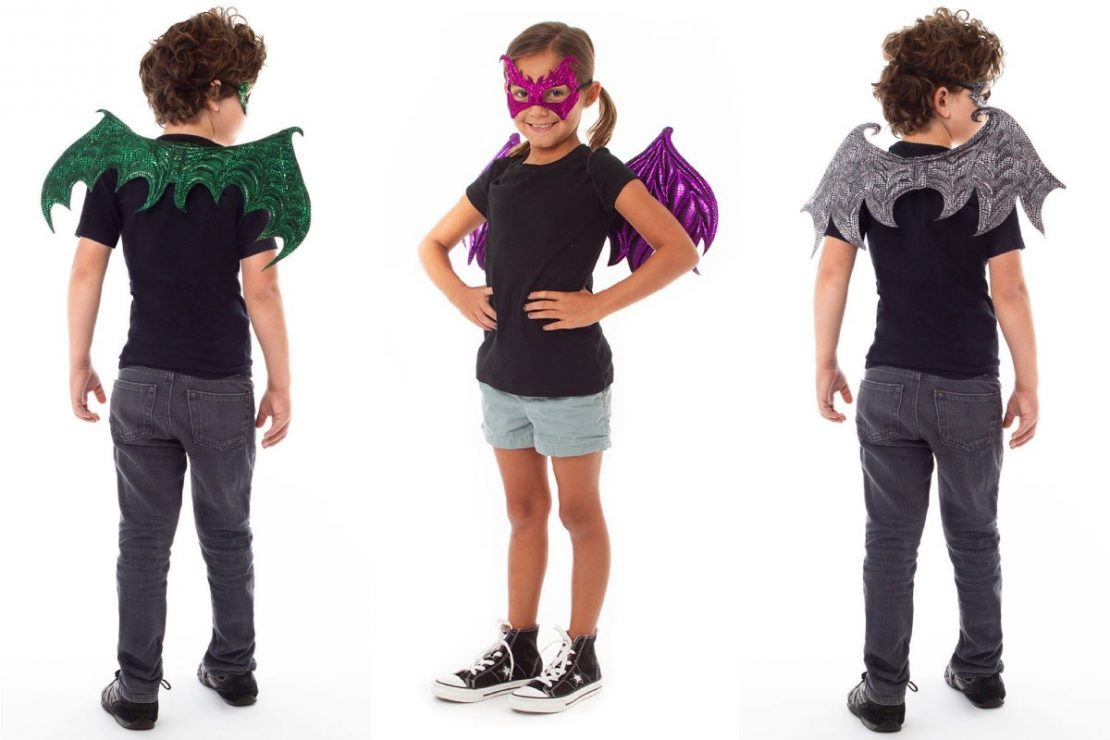 A favorite! Put on these wings and mask and you are instantly fierce. Made of soft foam, the wings have presence, but aren't over-sized for small frames. The covering fabric has an almost metallic sheen that makes the modeled details stand out. And they're reversible, too!
Available in Green/Black, Magenta/Purple, and Silver/Black
---
Dragon Cloaks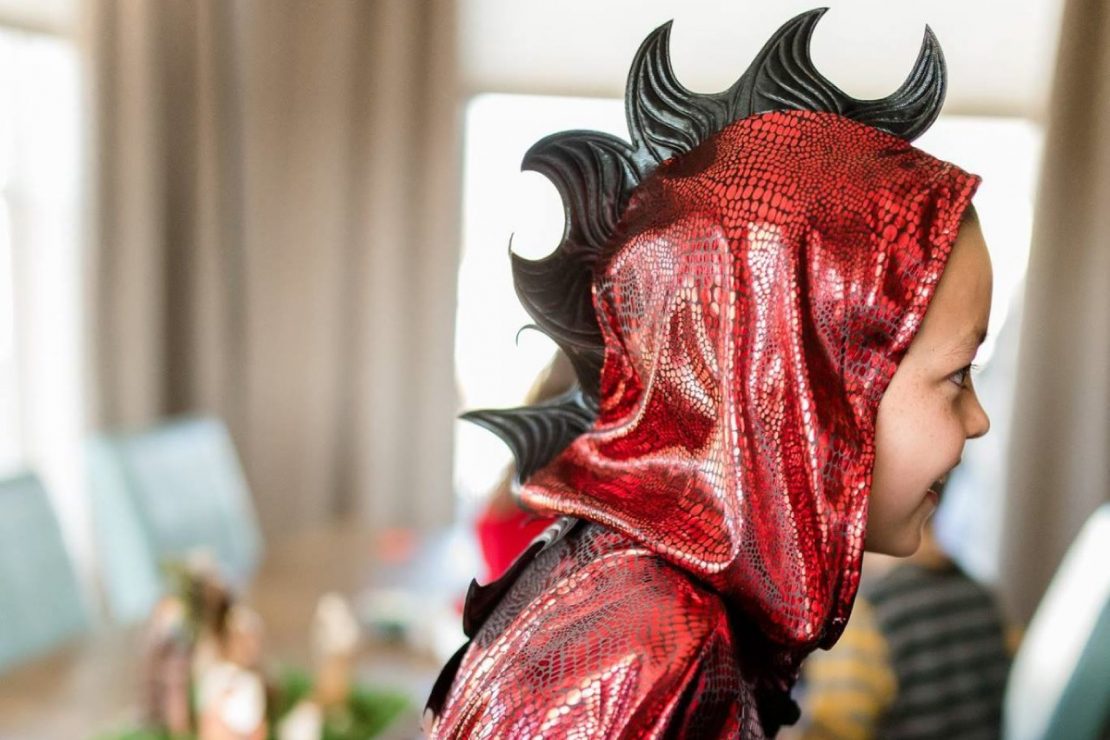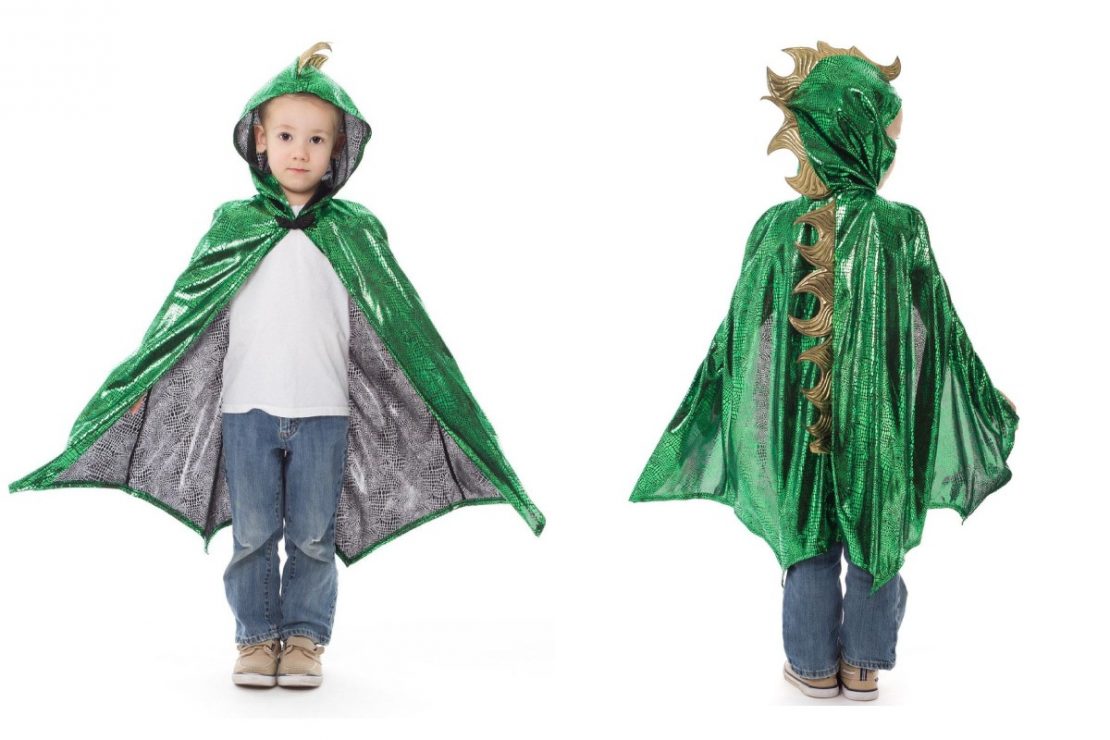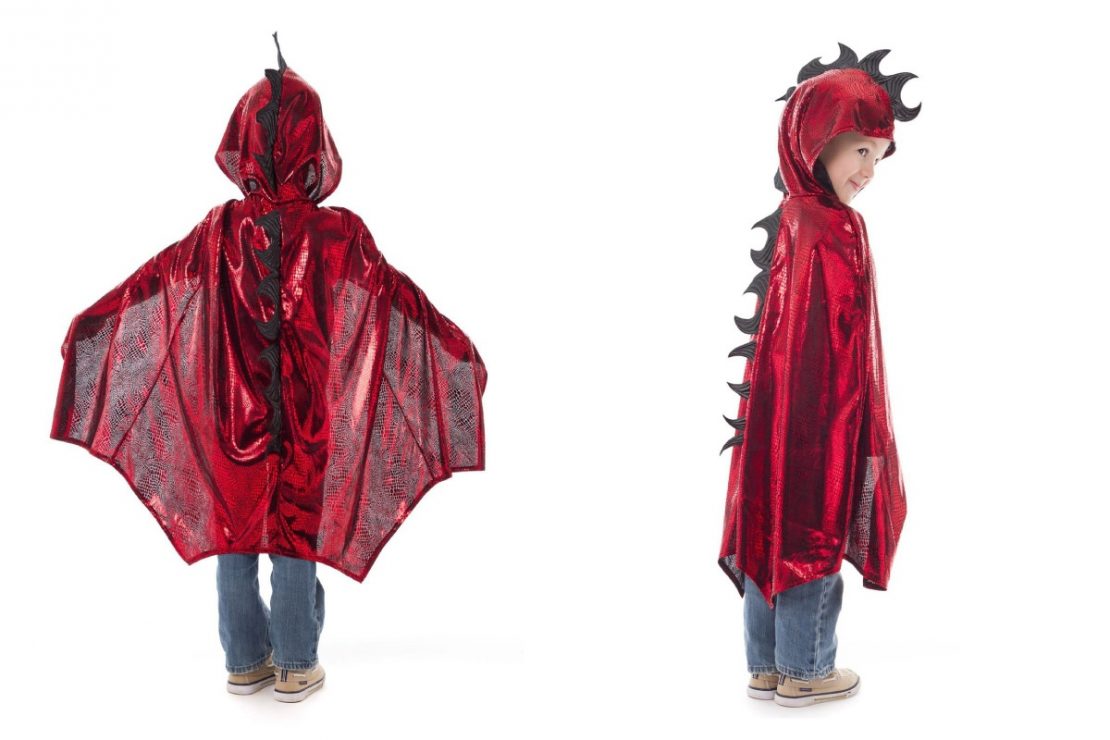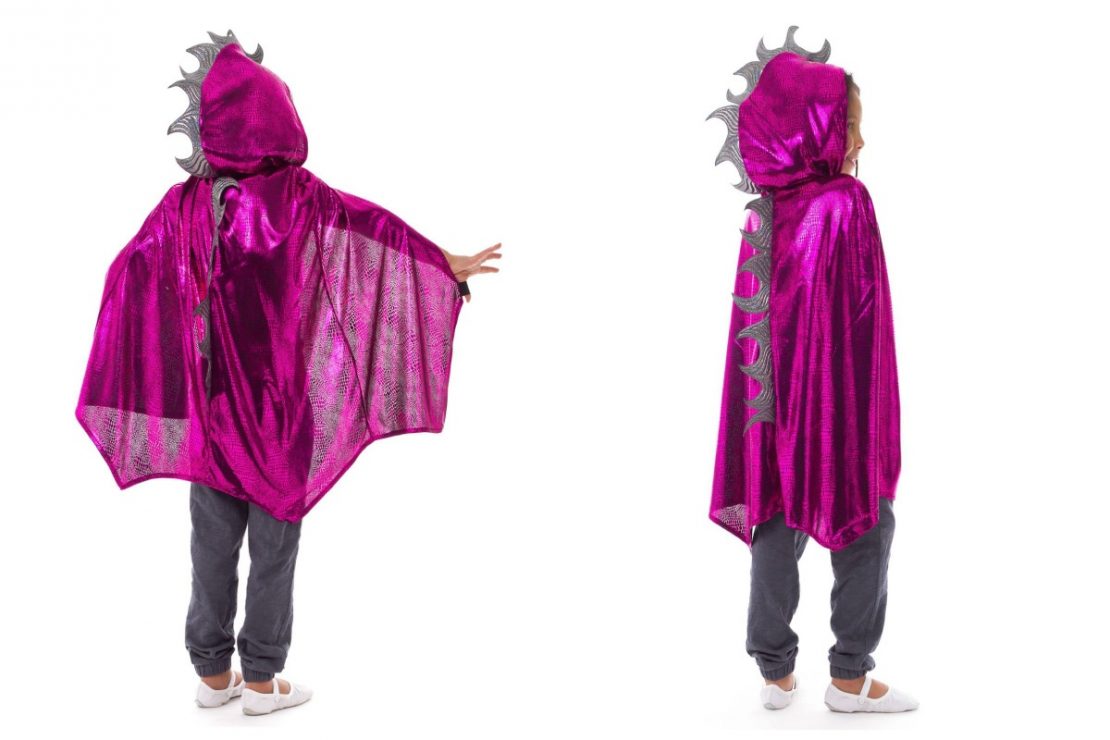 Sleek and edgy! These cloaks feature a dragon scale print and soft foam spikes along the hood and spine. The shimmery, almost metallic material swishes perfectly. The hook and loop closure makes it easy to put it on and take it off again.
Capes measure about 26" from neckline to hem.
Available in Red/Black, Green/Gold, and Magenta/Silver
---
Also available from Little Adventures:
Tutus, wands, crowns, swords, and other accessories!