Hello, Yoto!
Published Wednesday, October 26, 2022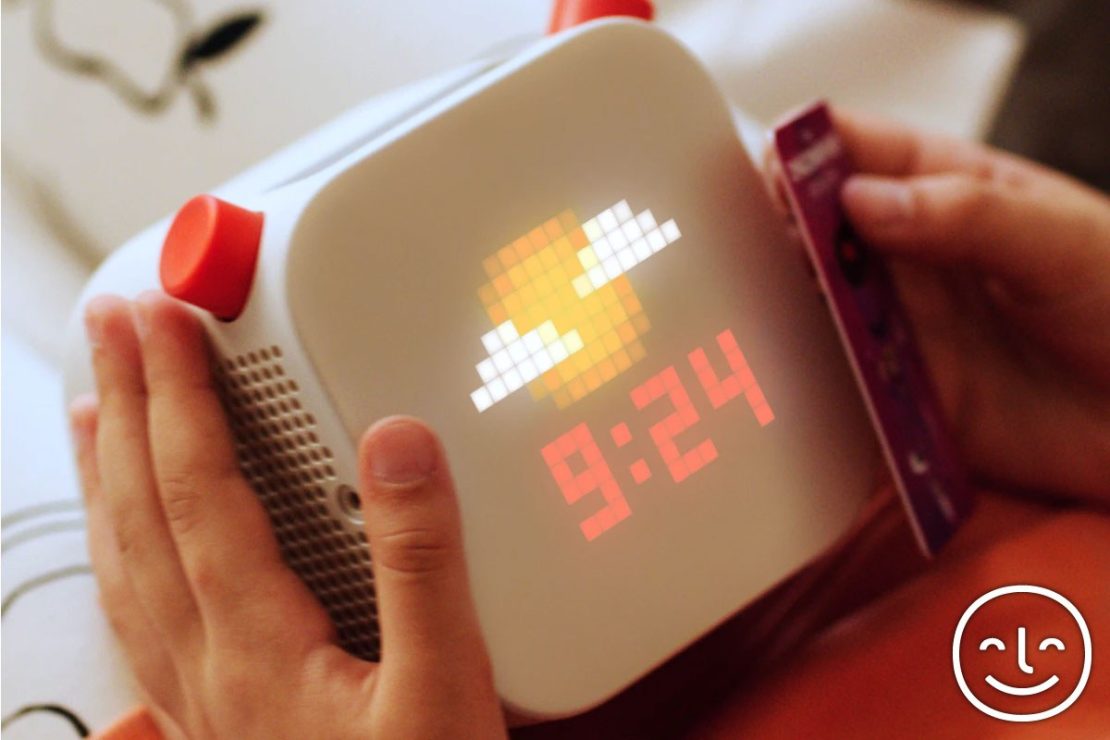 The Happy Up stores introduced you to the Yoto Mini this summer. And now we've got the full-sized Yoto Player in stock, too!
Just like the Mini, the Yoto Player is an audio device that kids love. The large knobs make it easy for little fingers to switch tracks. It has a large pixel display that shows icons of what is playing… Or what time it is!
For you list-of-features folks, we're putting them right up front.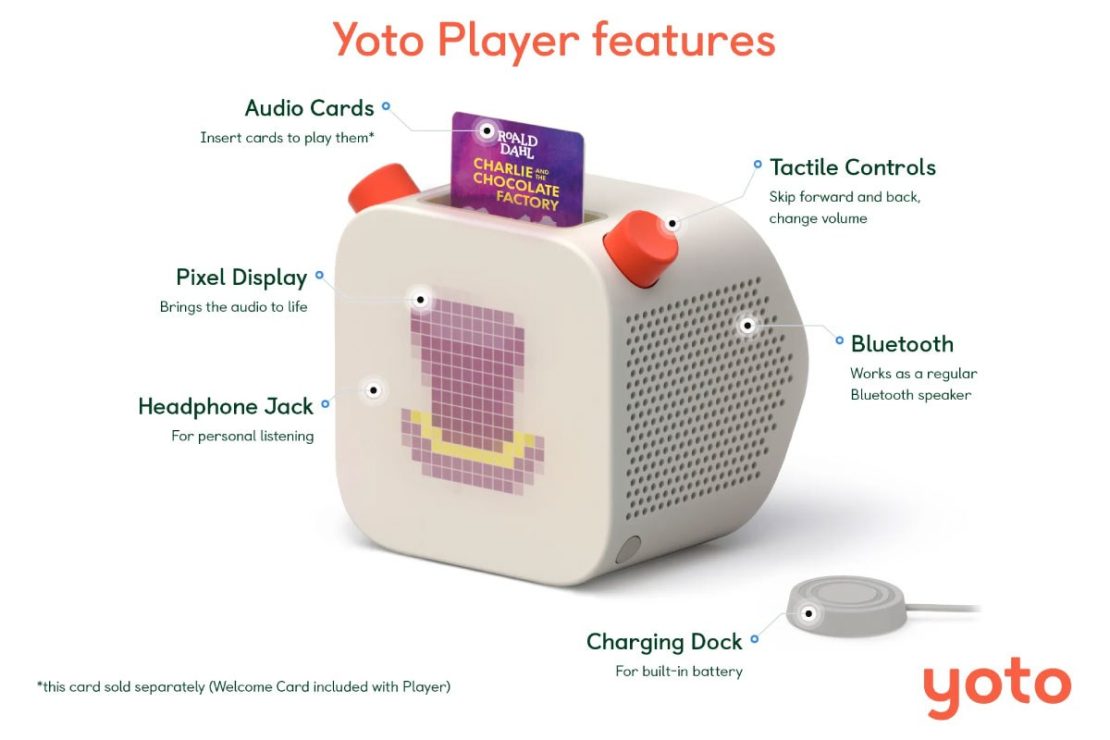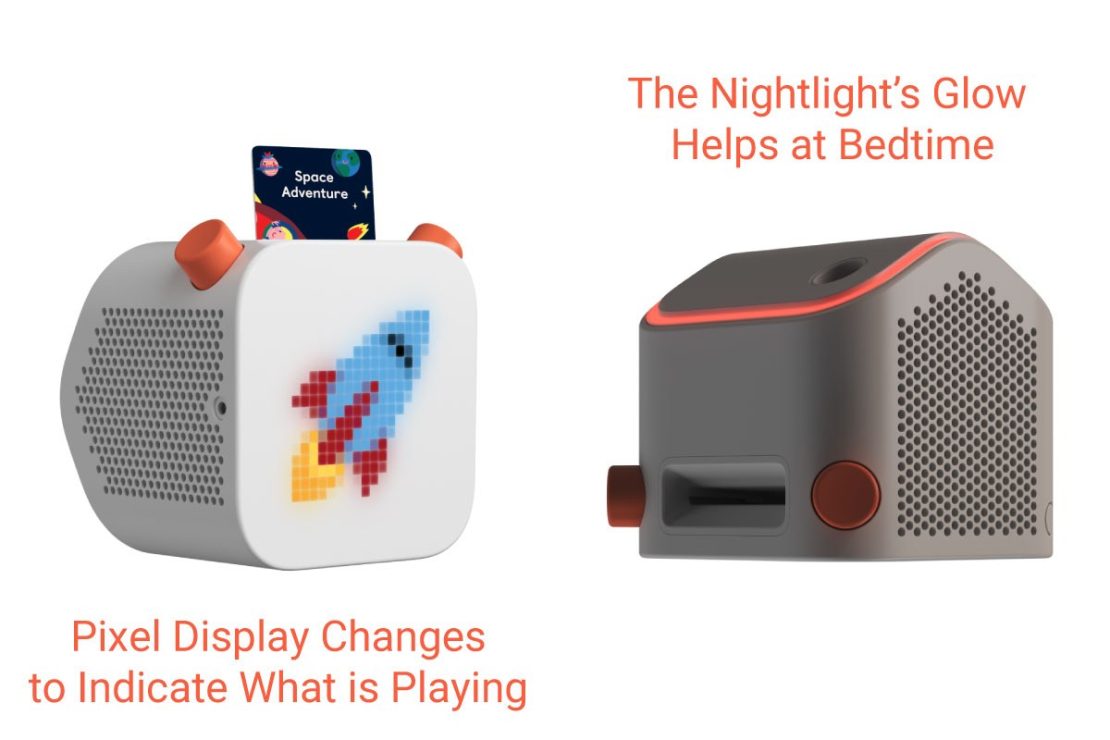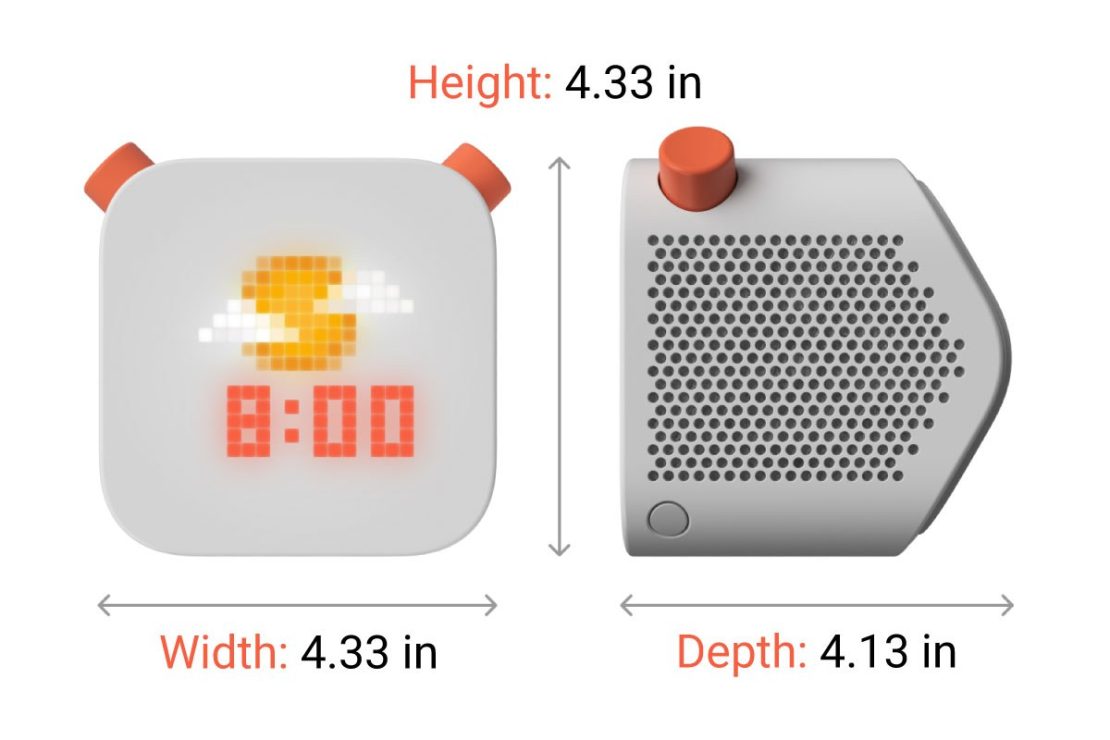 Yoto Player's features:
After initial setup, kids can control what they listen to. No grown-ups needed!
An extensive selection of content cards that include short stories, music, poetry, and full-length books.
Content can be played from the parent app via bluetooth, even if a card isn't present.
Use the Yoto Player as a Bluetooth speaker.
The pixel display brings audio to life.
Streaming content includes a kid's podcast, radio station, sleep sounds, and white noise.
OK-to-wake timer, nightlight, and clock.
Enjoy up to 10 hours of play per charge.
Recharge with the magnetic charging dock (included).
Listen quietly with 3.5mm headphones
16GB storage space
Measures 4.33" x 4.33" x 4.13"
Yoto recommends the Yoto Player for kids three and up. There is a lot of content younger tots will enjoy, but they'll need help using the player itself.

The Yoto Player is "carefully connected." Watch their video for a complete tour!
The Yoto Player is simple to set up. Get the parent app in the App Store or Google Play, then pair your cards with your Yoto Player. The next step is to download the card's content to the player. Once that part is done, you don't need wifi and the kids are in control!
Read more about how the app works, make-your-own cards, and their content cards in our previous blog post about the Yoto Mini:
Audio to Go?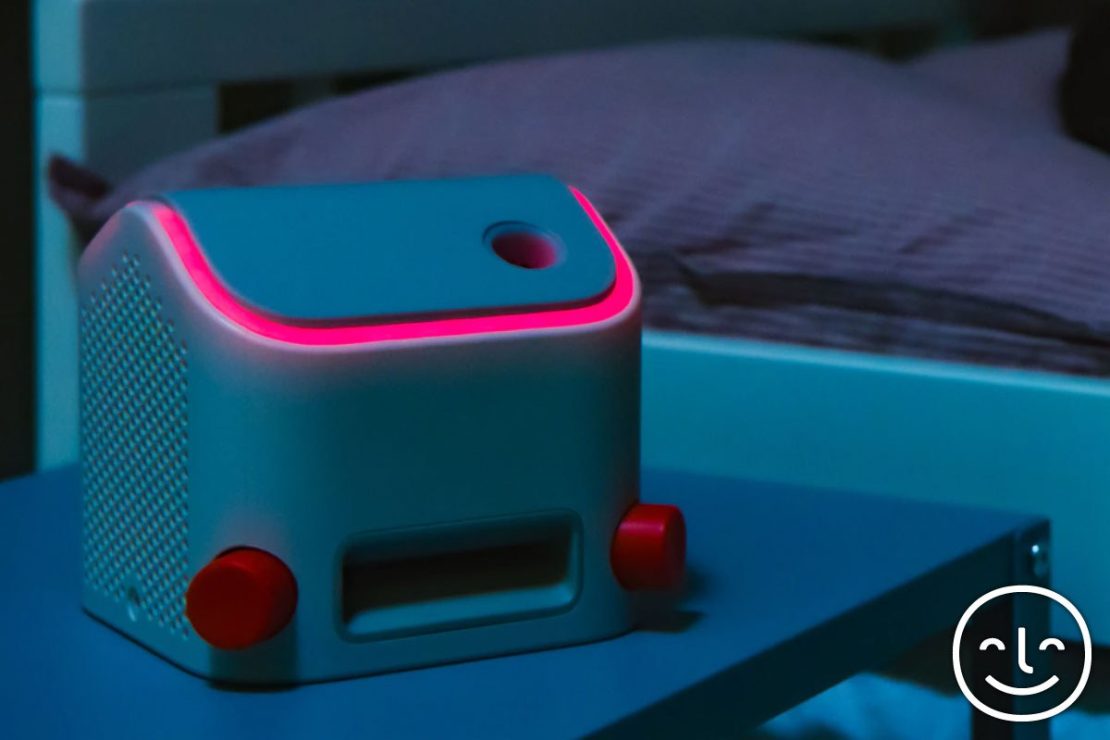 The Yoto Player is a standout at naptime and bedtime. You can play white noise or stream Yoto's special Sleep Radio, letting drowsy little ones drift into dreamland. You can also set an "ok to wake" timer, so early risers know when it's ok for them to pop up, fresh as a daisy!
We also really appreciate the Yoto Player's modern styling. Its curved angles and muted color means it will work in just about any room and with any decor.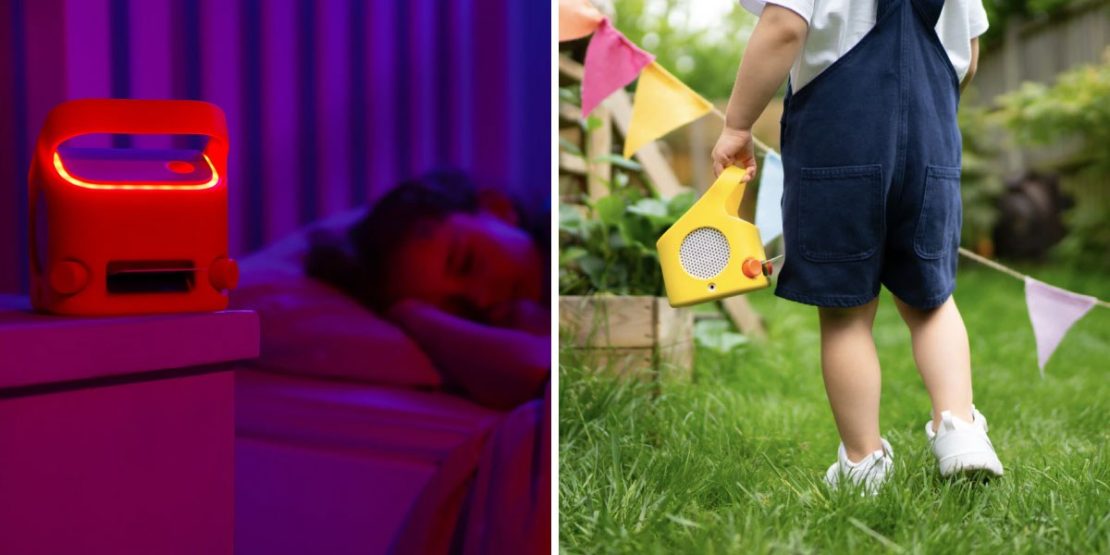 You can add a silicone Adventure Jacket to add a pop of color and to protect the player from small bumps. The Adventure Jackets also add a handle to your Yoto Player. We hope to have some in stock soon!
Comparing the Yoto Player and the Yoto Mini side by side: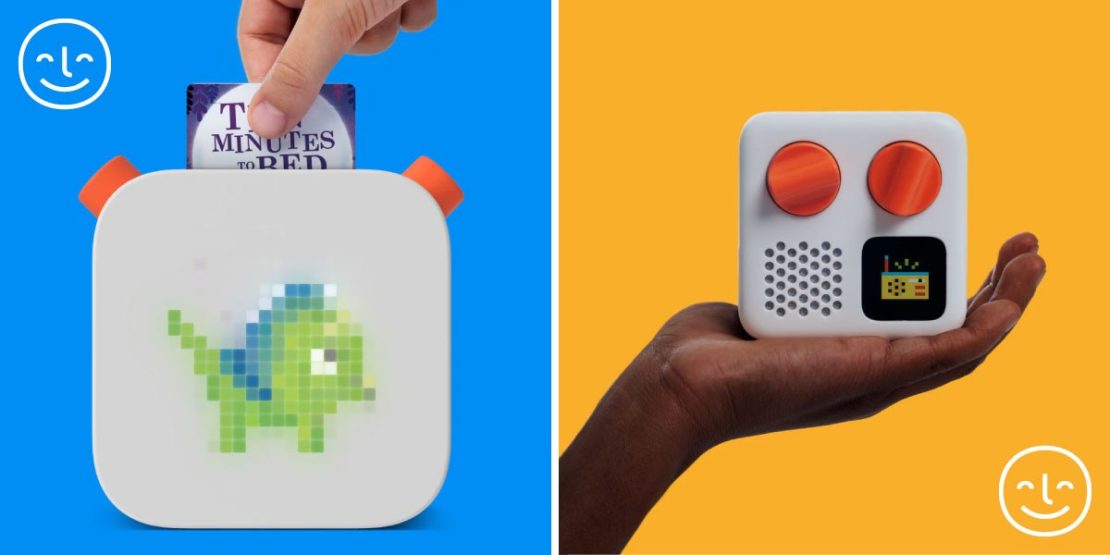 They are VERY similar.
Parents use the same app for the Yoto Player and the Yoto Mini. In fact, you can manage multiple players from the same account.
They use the same cards.
They can both access Yoto's streaming content.
They have the same amount of storage space (16GB).
Both of their speakers are crisp, clear, and louder than you'd expect for their size.
They both have a 3.5mm headphone jack.

How They're Different:
Battery life:
The Yoto Player has about 10 hours of play time.
The Yoto Mini has about 20 hours.
Recharging:
The Yoto Player has a magnetic charging dock.
The Yoto Mini fast charges via USB-C
Size & Portability:
The Yoto Mini fits in your hand (2.75" x 2.75" x 1.5") and travels really well.
The Yoto Player is larger (4.33" x 4.33" x 4.13") and happiest on a shelf or table.
The Yoto Player has extra features:
The pixel display is much larger.
It has LED lights that can glow softly as a nightlight!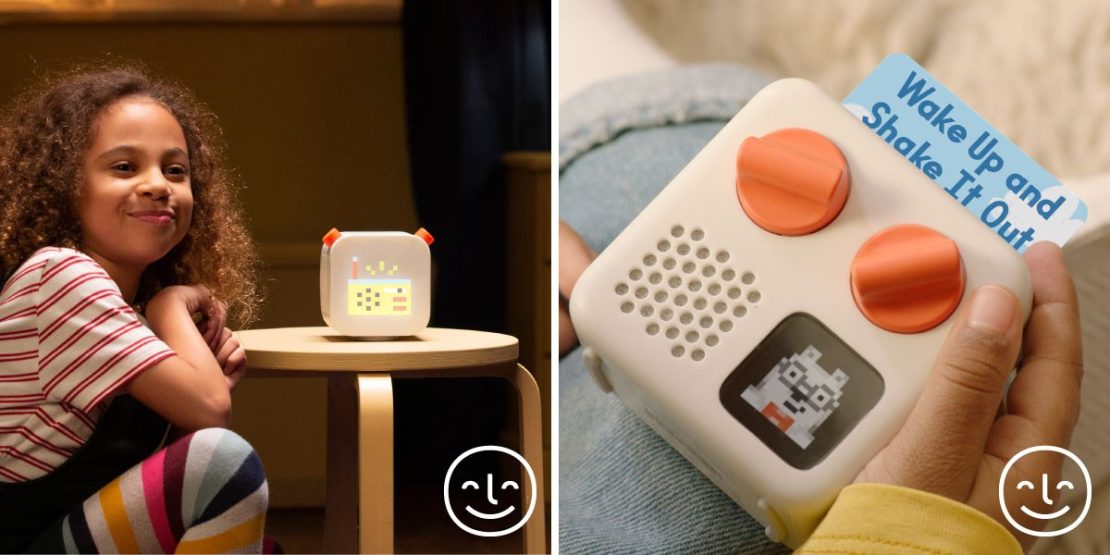 So which one should you get?
We love both the Yoto Player and the Yoto Mini. We can even see situations where having BOTH would be useful. When you're making your decision, we think it really boils down to where they'll be used.
Our feeling is that the Yoto Player is best for use at home. The larger display and chunky knobs feel like a natural fit for younger (pre-k) kids.
The Yoto Mini's portability makes it a better choice if your youngster travels a lot. We also feel like the Yoto Mini's size appeals to older (school age) kids.
Get Some Cards, Too!
Regardless which Yoto device you choose, the number of titles offered means you'll have plenty of options for years to come. They have cards full of short stories, music, poetry, classic works of children's literature, and modern favorites!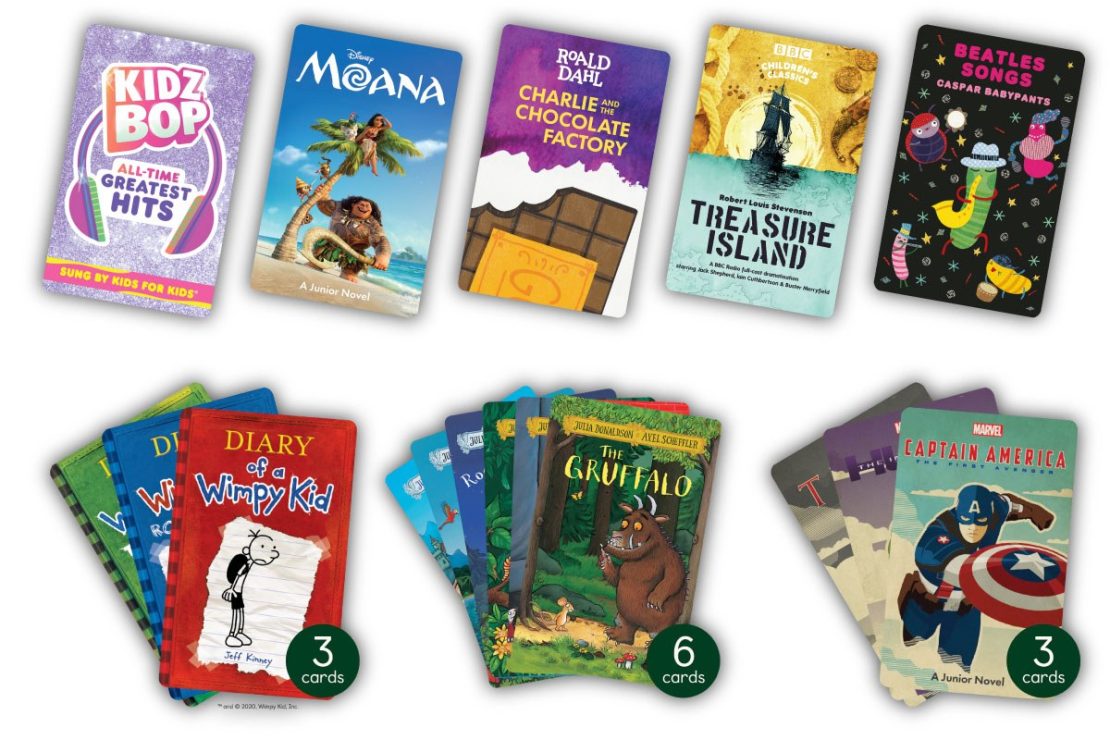 Stop by your preferred Happy Up to see our current selection or browse online:
Yoto Audio System