ASTRA Best Toys for Kids 2019 Winners
Published Monday, October 14, 2019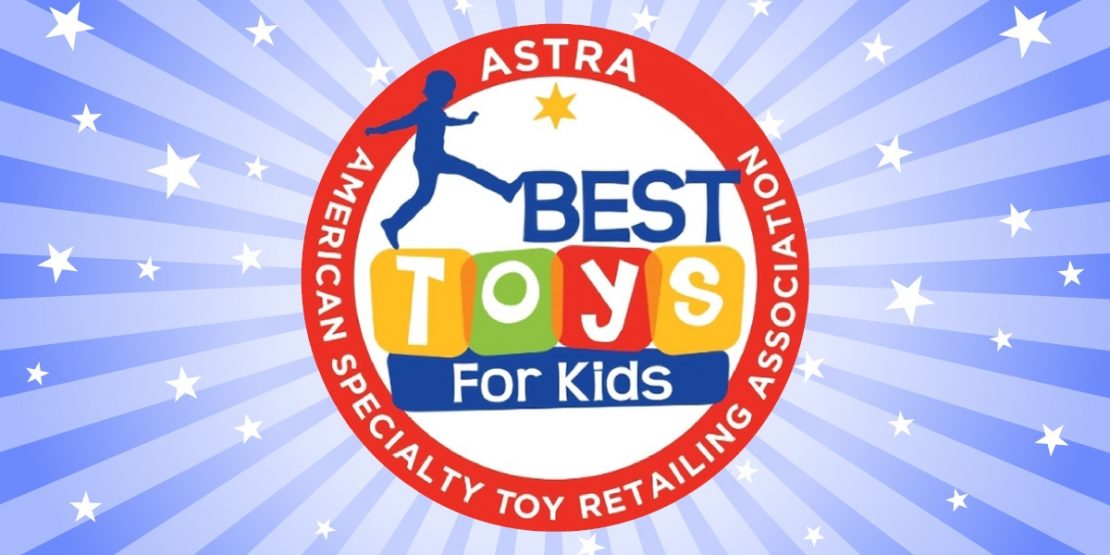 Every year, ASTRA (American Specialty Toy Retailing Association) member stores nominate then vote on their favorite toys and games. These toys tend to focus on open-ended, child-led play. They're creative, innovative, and sneakily educational. Each and every toy and game on the list has been play tested and vetted by the ASTRA member stores.
These toys and games also reflect the ethos of the ASTRA member stores: Play is Important for Everyone.
As a member of ASTRA, Happy Up is delighted to present the list of winners for 2019. We've also noted which items on the list are included in our Winter Holiday catalog.
Arts & Crafts 7 yrs & up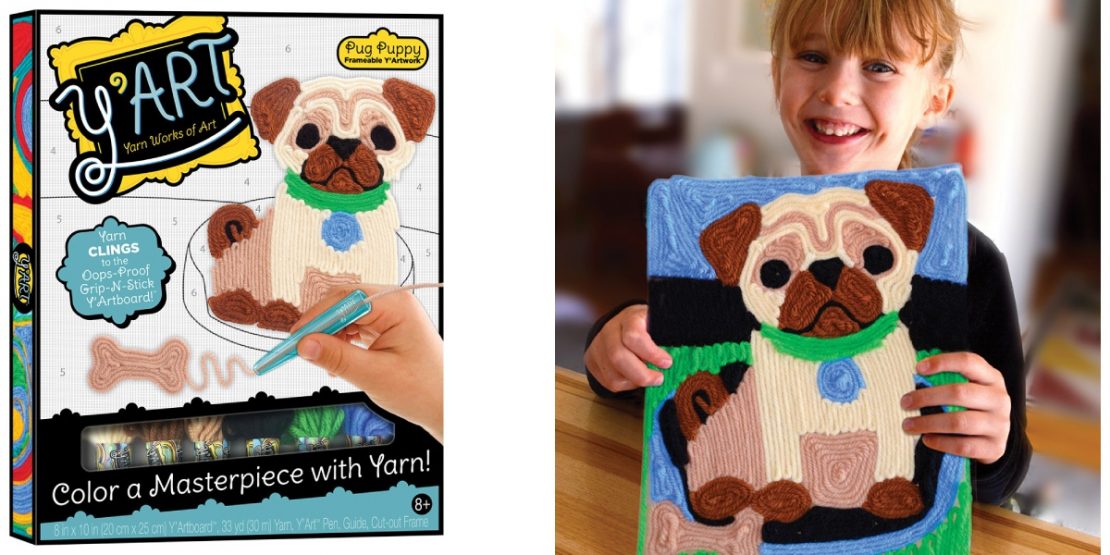 Y'Art Craft Kit - Pug Puppy from Kahootz Toys
8 yrs & up
Winter 2019 Holiday Catalog Item
Color a masterpiece with yarn! This craft kit comes with a pre-marked board that is grippy like the rough side of velcro. The special "pen" makes it easy to drag the yarn along the board, creating pattern and texture as you color. Don't like how you laid down the yarn? Pull it up and try again!
Other styles also available.
Arts & Crafts Under 7 yrs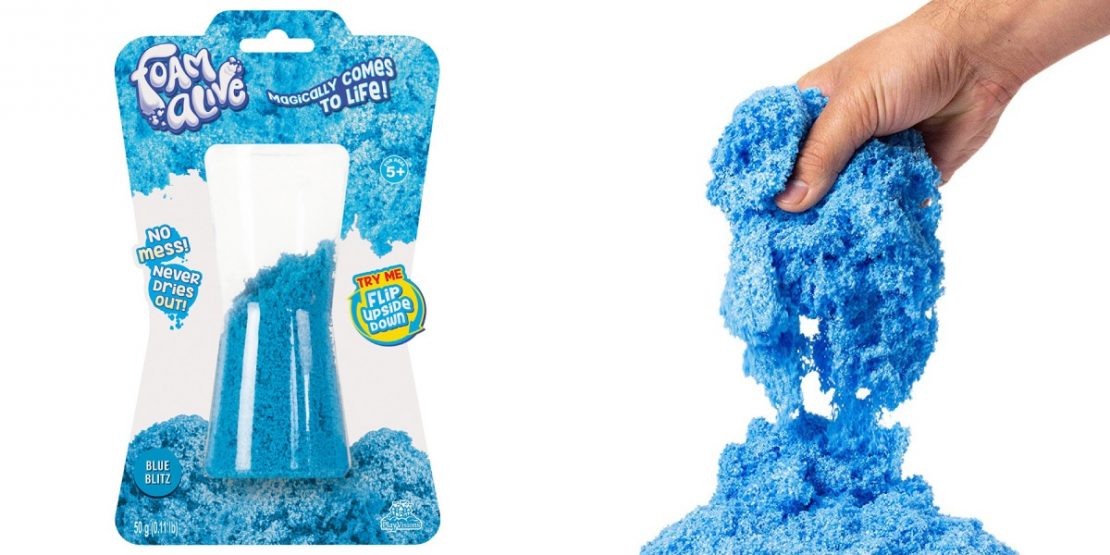 Foam Alive from Play Visions, Inc.
5 yrs & up
Winter 2019 Holiday Catalog Item
So good for sensory play! Foam Alive moves and flows like nothing else. Compress it into a shape, and it expands and moves, almost like magic! The texture is very fine and dry feeling and won't leave any residue or scent on your hands. It's sure to be a favorite!
Available in a range of bright colors.
Classic Play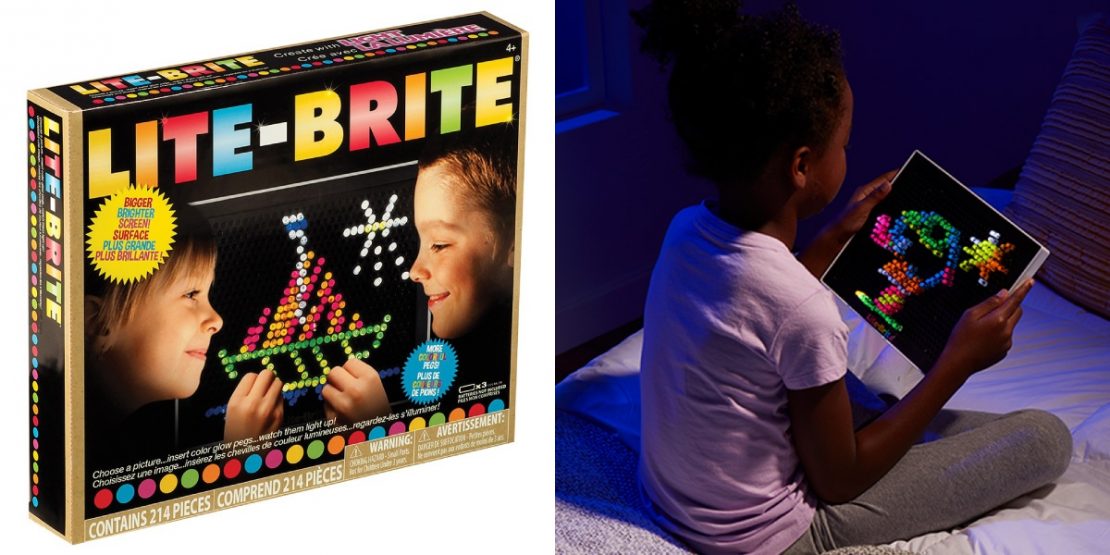 Lite-Brite from Schylling
4 yrs & up
Winter 2019 Holiday Catalog Item
The classic reborn! This updated version of Lite-Brite runs on batteries and uses LED lights. Otherwise, it's just as wonderful as you remember. Darken the room, turn on the Lite-Brite, and start creating! Place the colored plastic pegs on the board and be amazed at your glowing artwork!
Screen measures about 8" W x 6.75" H. Includes more than 200 colorful pegs and 6 templates to get you started.
Requires 3 AA batteries, not included.
Construction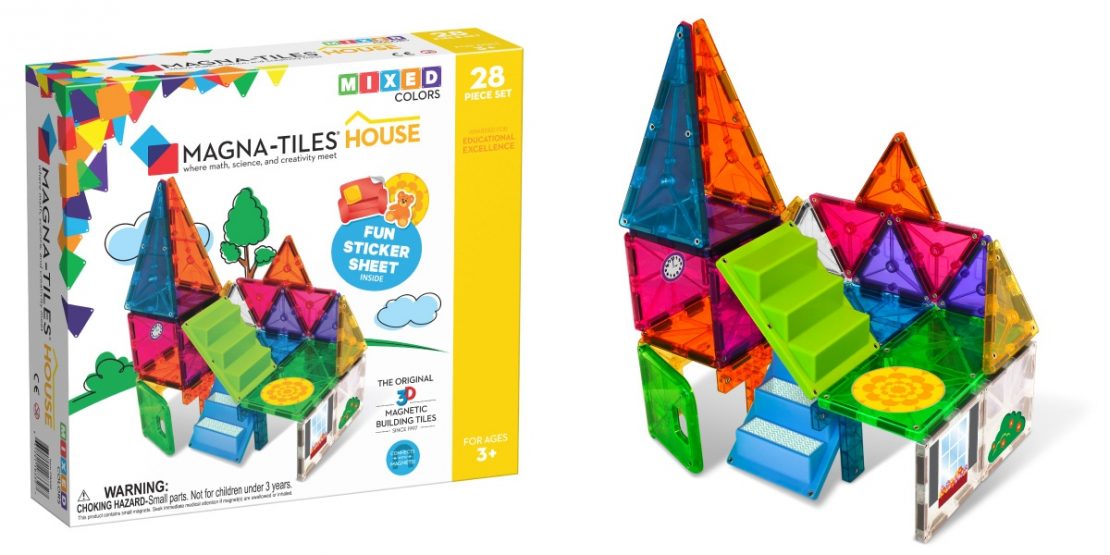 Magna-Tiles® House 28-Piece Set from Valtech
3 yrs & up
Magna-Tiles® are always one of our favorites. This new set is no different! It comes with 25 jewel toned shaped that click together through the power of magnets. Add in a pair of staircases and a door, and your child's imagination will take over. There are also reusable silicon stickers to add those special and homey details.
Other Magna-Tiles® sets are also available.
Game for 7 yrs & up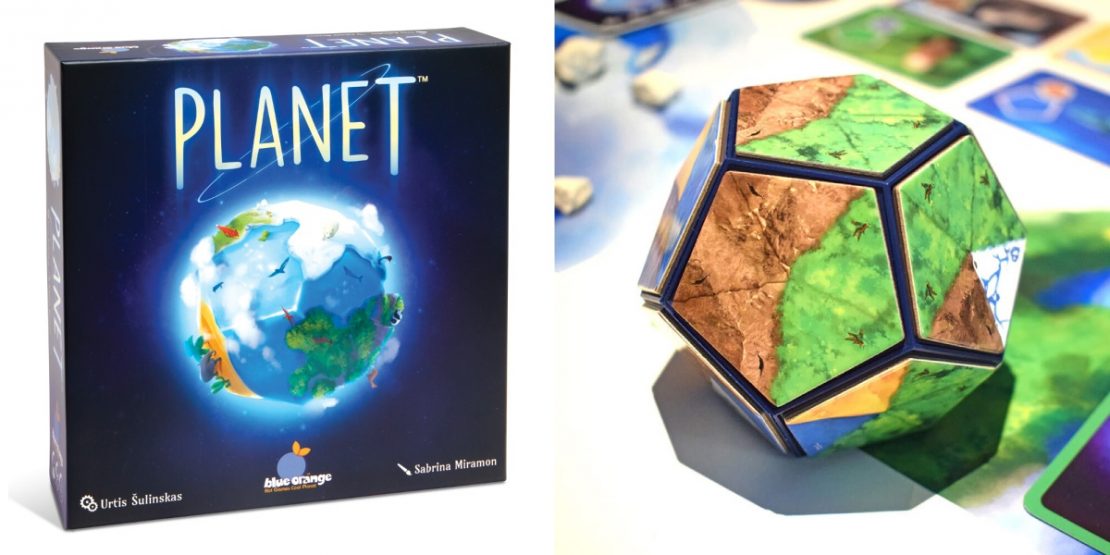 Planet from Blue Orange Games
2 - 4 players, 8 yrs & up
Winter 2019 Holiday Catalog Item
A world is taking shape in the palm of your hands. Compete to create perfect worlds with ideal conditions for wildlife to flourish.
Each player's board is a 12-sided, 3-dimensional planet core. You get 12 turns to select your landscape tiles and arrange them to create the best ecosystems. Plan carefully… Throughout 12 turns you must select landscape tiles representing oceans, deserts, mountains or frozen lands. Arrange them on your planet and win Animal Cards while fulfilling your Natural Habitat goal.
Family Game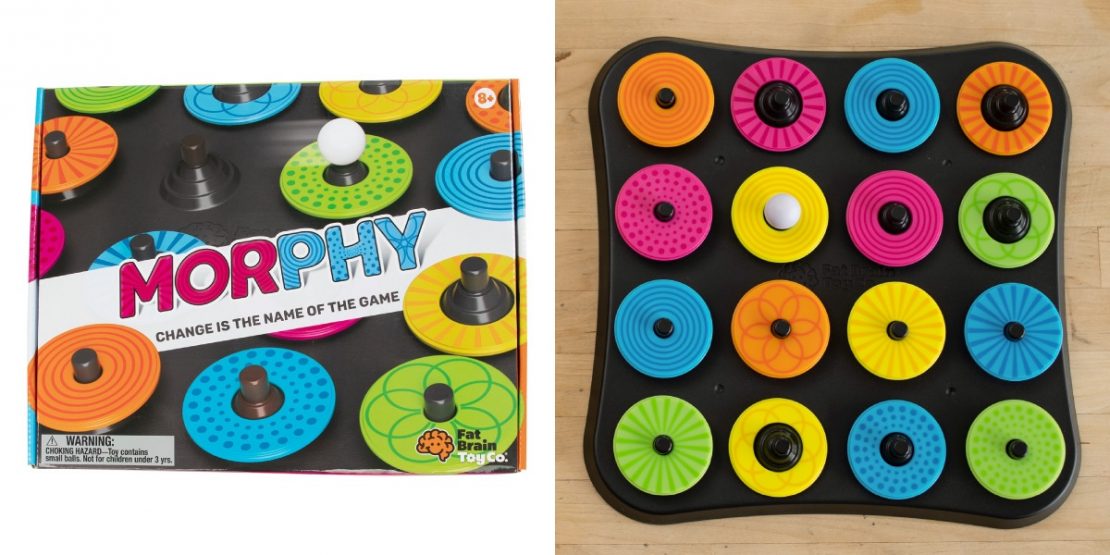 MORPHY from Fat Brain Toy Co
2 - 4 players, 8 yrs & up
Winter 2019 Holiday Catalog Item
Collect the most rings, one leap at a time, morphing the sequence as you go.
Look at the ring around the peg the ball is sitting on. Consider your choices: color, size of inner ring, or pattern. Plan your moves, jumping the ball from ring to ring that has only one difference. So go from one color to another color, keeping the inner ring and pattern the same. Or from one size to another. Or from one pattern to another. And take the rings as you go. Can't find another move? Your turn is up and the board is reloaded, challenging the next player to go as far as they can. The goal is to have the most rings at the end of the game.
It's not as easy as you think!
Games for Under 7 yrs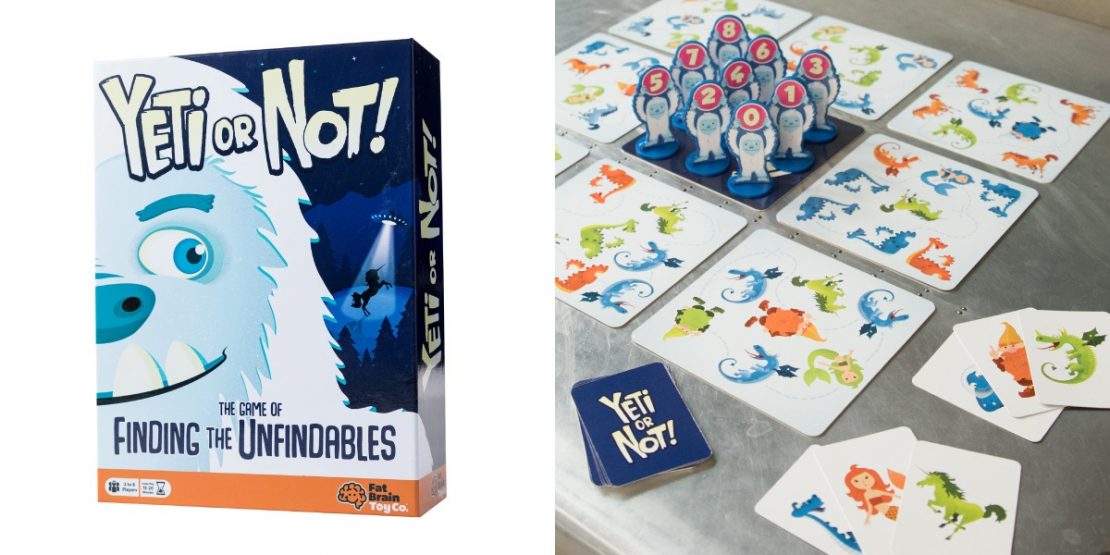 Yeti or Not! From Fat Brain Toy Co
2 - 8 players, 6 yrs & up
Spot and count they mysterious creatures!
Flip over an "Unfindable" card. It's a race to count the number of that creature on the "Find" boards. Once you think you've got it, grab the Yeti showing the proper number to win the round! Round winner flips a "Find" board to make the next round a completely new search! Creatures include dragons, mermaids, unicorns, sea monsters, and UFOs.
No reading, easy to learn, and quick to play makes this so much fun!
Infant & Toddler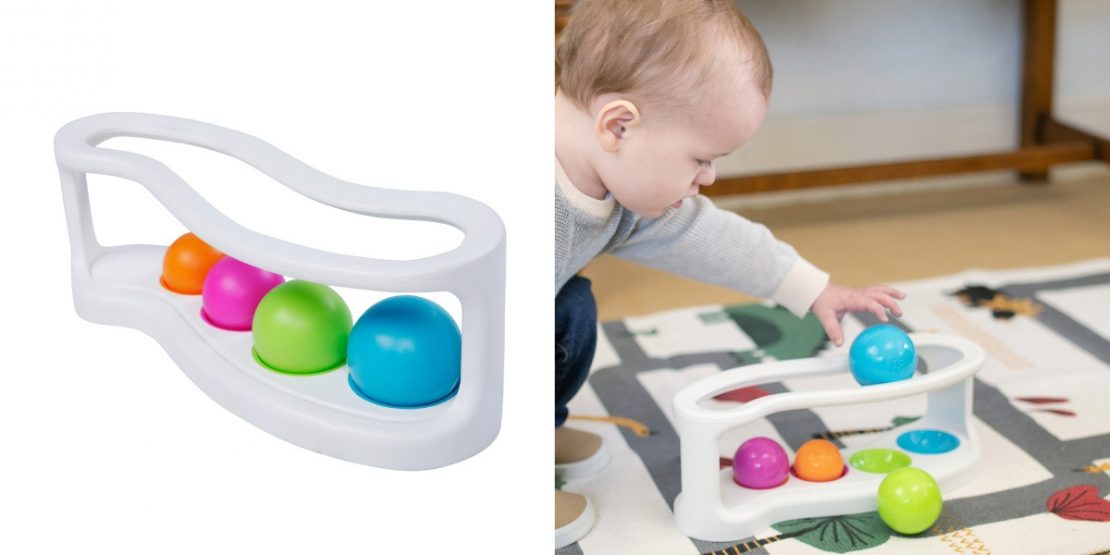 RollAgain Sorter from Fat Brain Toy Co
12 mo & up
Clunk! Why did the ball fall through? Do it again and again to find out!
Toddlers love repeatable play experiences. "Do again" is a demand most parents are familiar with. This is a toy that delivers! The rails along the top gradually get wider, allowing the balls to roll and fall through, dropping into the ball into the matching cup below. And the balls all have built in rattles for an extra helping of sensory exploration!
Outdoor & Active Play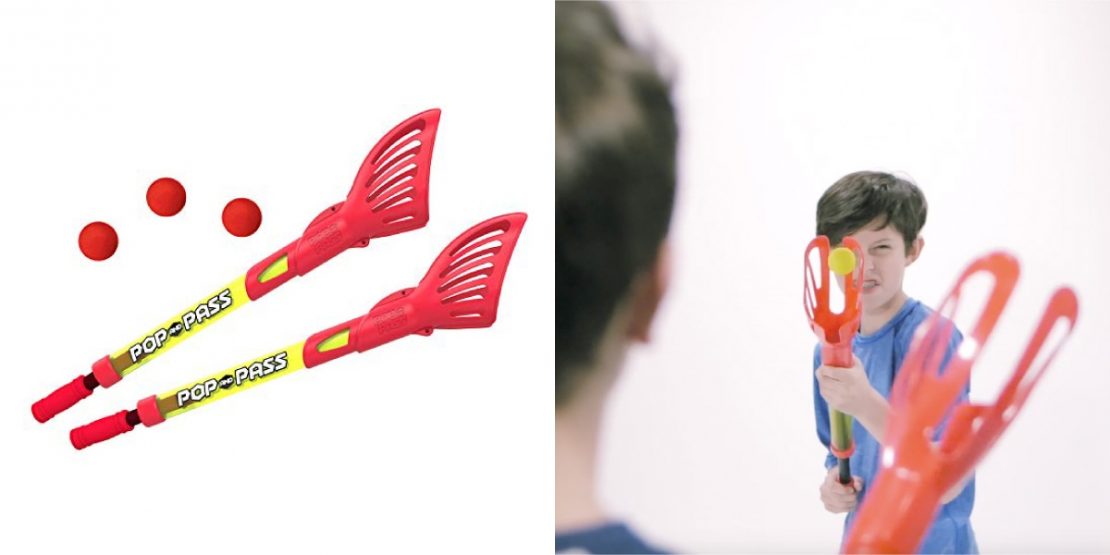 Pop & Pass from Hog Wild
6 yrs & up
Winter 2019 Holiday Catalog Item
The no-throw game of catch! Pop and Pass is the name of the game. Pull the handle back, then quickly push it forward. The result: launching the foam ball with a hearty "BLOOP". Catch the ball in the basket and send it flying back! Each set comes with two launchers and three soft foam balls.
Outdoor & Active Play: Ride-On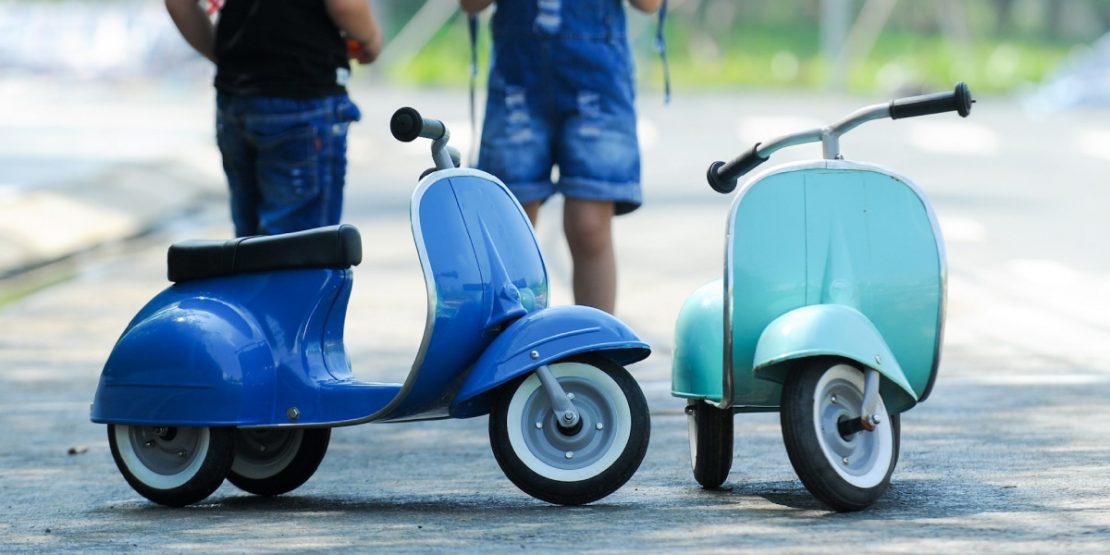 PRIMO from Ambosstoys
12 mo - 5 yrs
Winter 2019 Holiday Catalog Item
Fast and fashionable! The PRIMO three-wheeled ride-on has the classic lines of an Italian scooter. Made from powder-coated metal in yummy colors, this scooter is more than stylish. It's wheels are smooth rolling and the faux-leather seat is a comfortable perch for little riders.

Preschool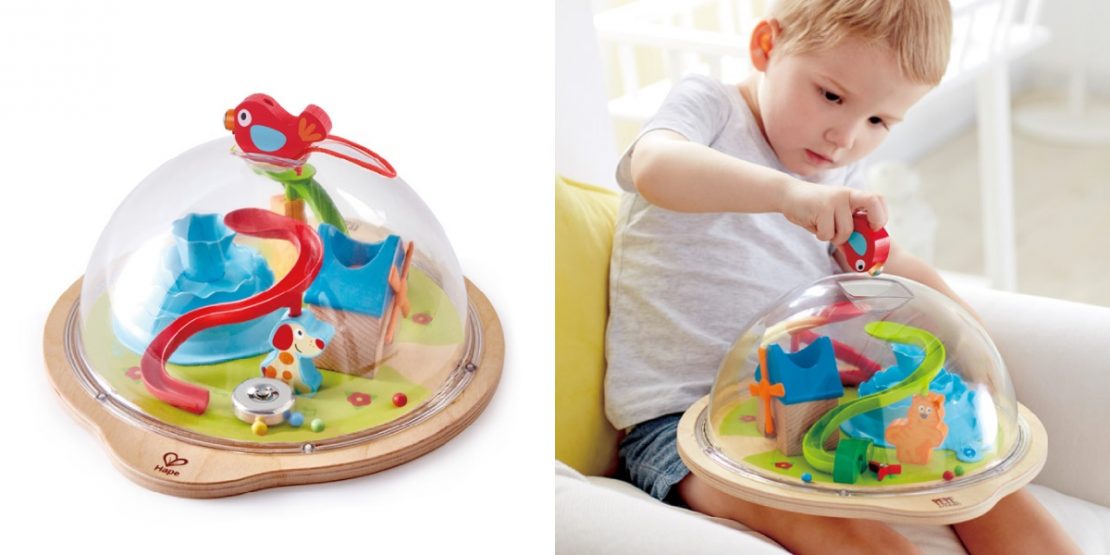 Sunny Valley Adventure Dome from Hape
2 yrs & up
Lily the bird has an important job: carry the beads to the top of the dome. And drop them onto the curvy and swirly slides! She needs the help of little hands to complete her task. It's a challenging activity that will have your little ones giggling with delight. Best part? It's all self-contained so no lost parts!
Pretend Play: Imaginary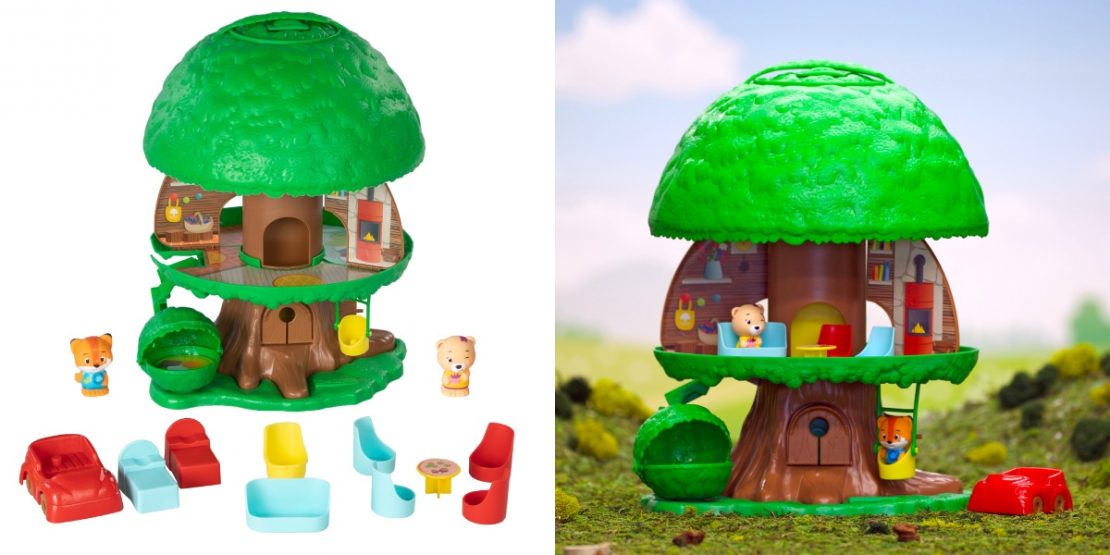 Timber Tots Tree House from Fat Brain Toy Co
3 yrs & up
A treasured toy line returns! The Timber Tots Tree House is back! Press the button and the Tree House pops open to reveal a cozy home for our woodland friends. There's an elevator, a slide, a peaceful hiding spot, and a happy little swing. And when they're ready to venture out and about, pile in the car!
Everything fits inside the Tree House, so when playtime is over, pack it up and you're good to go. The handle makes it easy for this play environment to travel to Grandma's. Timber Tots Tree House includes: 2 woodland characters, car, furniture, and stickers.
Pretend Play: Role Play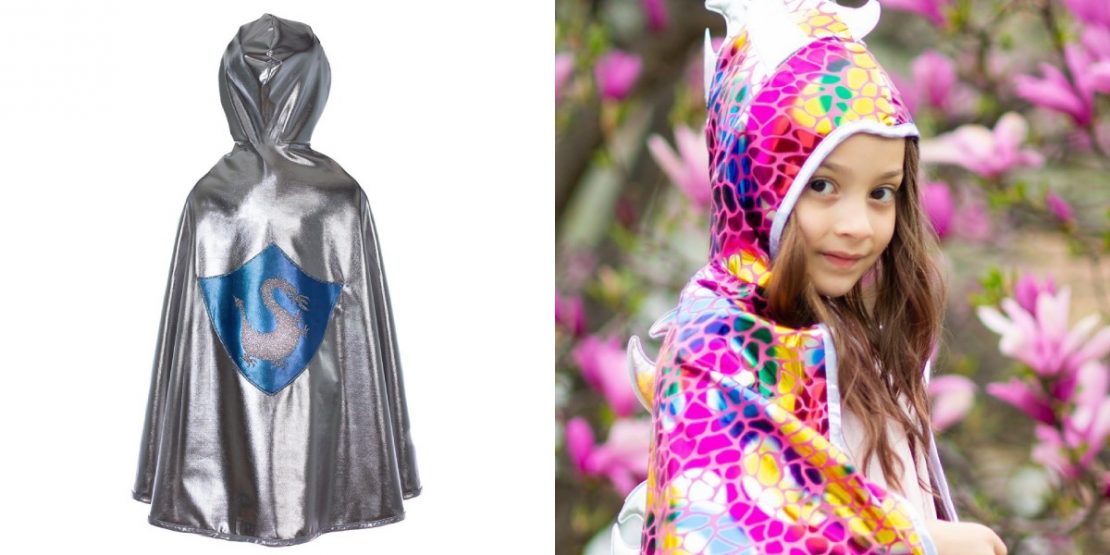 Multicolor Dragon/Knight Reversible Cape from Great Pretenders
Size 5 - 6
Winter 2019 Holiday Catalog Item
This fierce reversible cape combo is what your little one needs to be victorious in all the pretend battles! A vibrant kaleidoscope of dragon scales reverses into a shining silver knight with a metallic blue shield emblem. Magic, mystery, and mighty imaginations at play!
Puzzles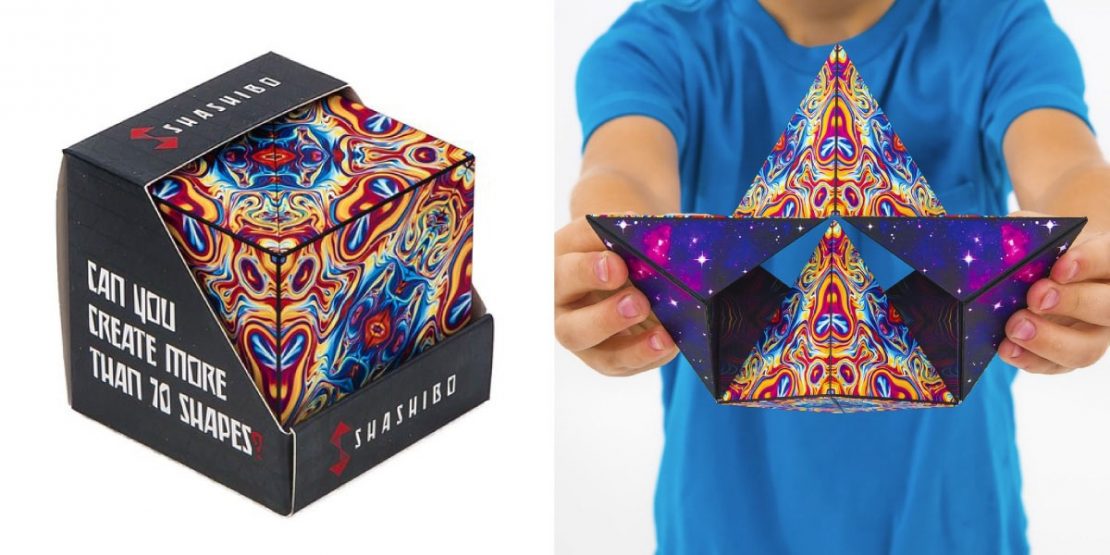 Shashibo from Fun in Motion Toys
8 yrs & up
Winter 2019 Holiday Catalog Item
Fiddle toy of extraordinary abilities! Each Shashibo cube contains 36 rare earth magnets. Pop it open, and it blossoms into a series of hinged triangles. Flip them, fold them, move them this way and that. When you discover one of the 70 recognized shapes, the magnets will click into place. Part puzzle, part fidget toy, the Shashibo is an endlessly shape-shifting joy!
Available in several pattern/color combinations
Puzzles: Jigsaw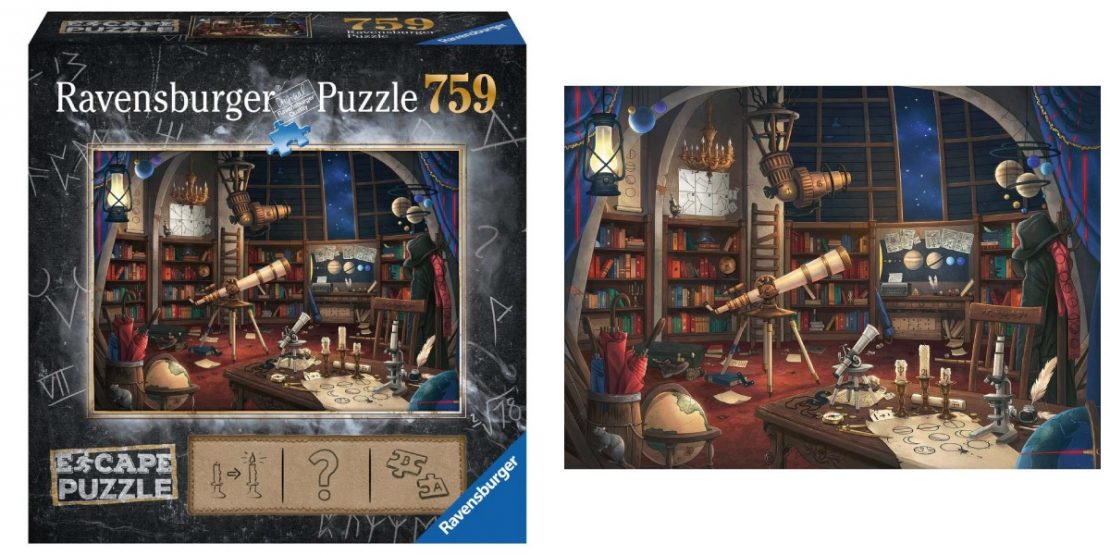 Escape Puzzles - Space Observatory from Ravensburger
12 yrs & up
Not your usual jigsaw! This puzzle is really a cooperative "escape" style adventure game, fueled by your intellect and how the puzzle pieces go together. The tricky bit: The answer is *not* the picture on the front of the box!
Your goal is to be able to assemble and fire a laser beam to blast apart a meteor. That will destroy the Earth. Follow the clues, solve the six mysteries hidden in the puzzle, and take care of that meteor!
Not currently in stock.
Science & Discovery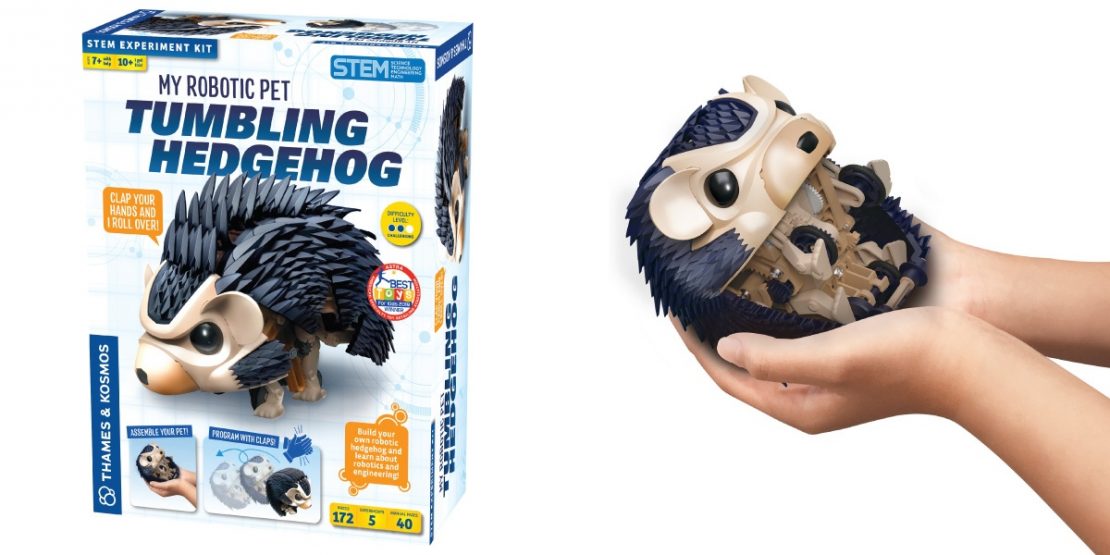 My Robotic Pet - Tumbling Hedgehog from Thames & Kosmos
7 yrs & up
Winter 2019 Holiday Catalog Item
Assemble your own robotic pet hedgehog! Once the building is done, begin experimenting. The hedgehog has a built in sound sensor and will react to different hand-claps. Follow the included guide to discover all of your little hedgehog's abilities!