Star-Worthy Family Games!
Published Friday, November 18, 2022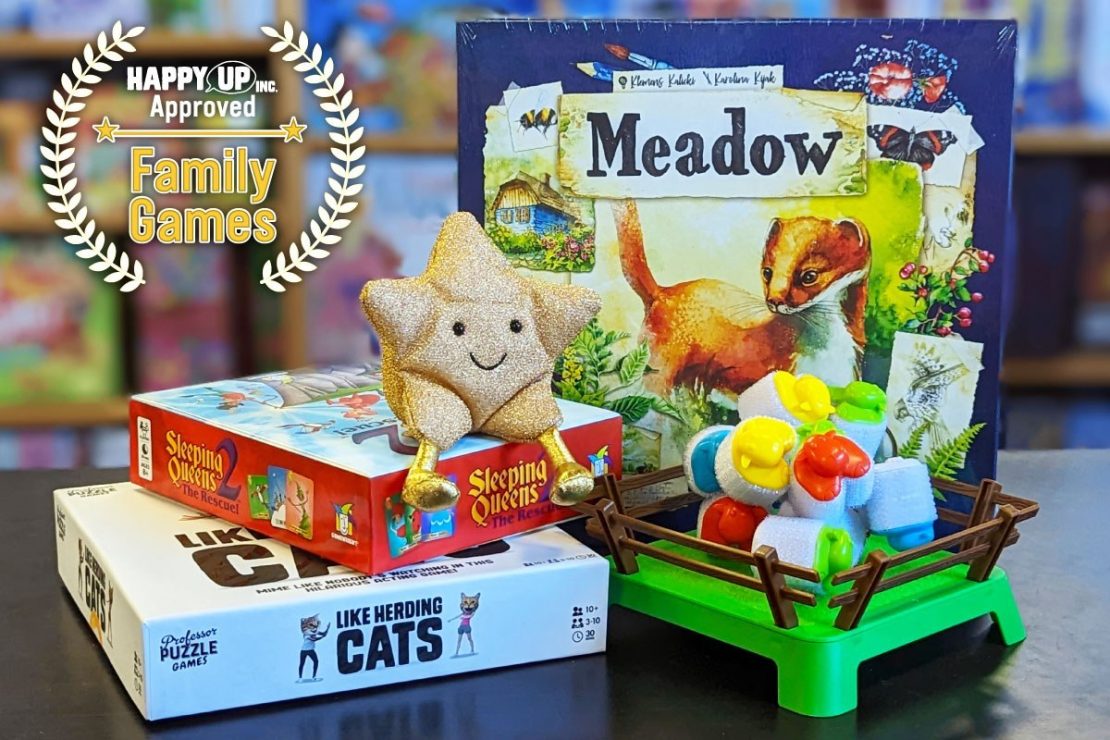 Thanksgiving is Game Day!
Some families focus on football on the TV. Others clean away the dishes and play a game. Some do a combination of both.
Finding a good game that can be enjoyed by a range of ages can be tough... Good thing you've got Happy Up looking out for you. We LOVE family games.
Collected here, family games that have the Happy Up seal of approval!
---
Stellar New Games
Heap O' Sheep from Fat Brain Toys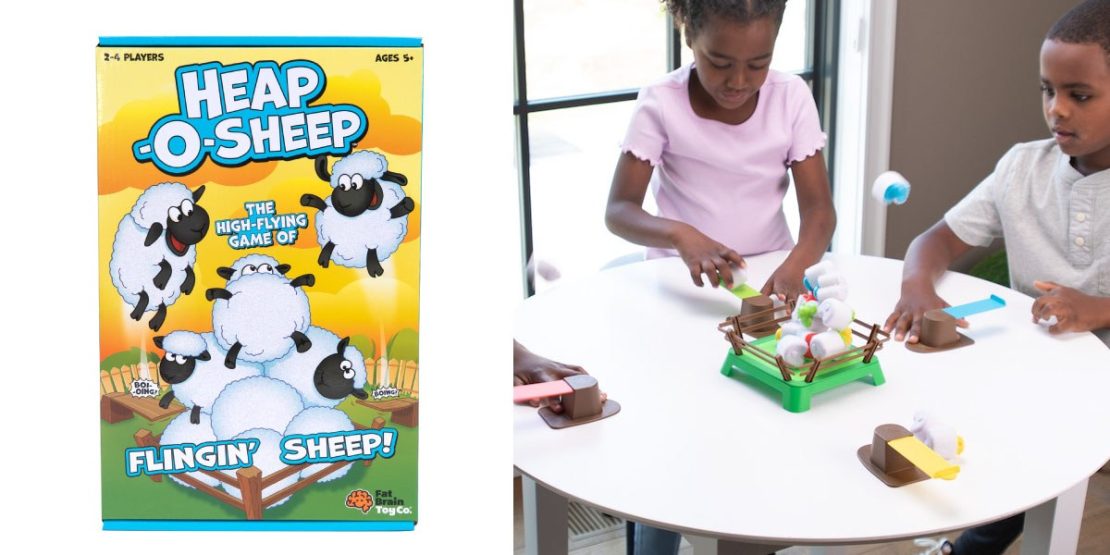 2 - 4 players, 5 yrs & up
We love games that have a hint of mayhem… and Heap O Sheep has more than a hint of it!
Choose your sheep, set up your catapults, and… Fling! The idea is to get your sheep into the pen by launching them. You can take turns or have everyone play at once for peak craziness.
The sheep are all covered in hook and loop fabric. When one sheep lands on another, it can stick… but will it? It takes a bit of luck and a little skill to expertly heap your sheep.
The first player to have all their sheep in the pen wins!
Young players will LOVE the way the sheep fly through the air. It's light, it's silly, it's something older siblings or cousins will enjoy alongside the younger kids.

Heap O Sheep
---
Sleeping Queens 2: The Rescue! from Gamewright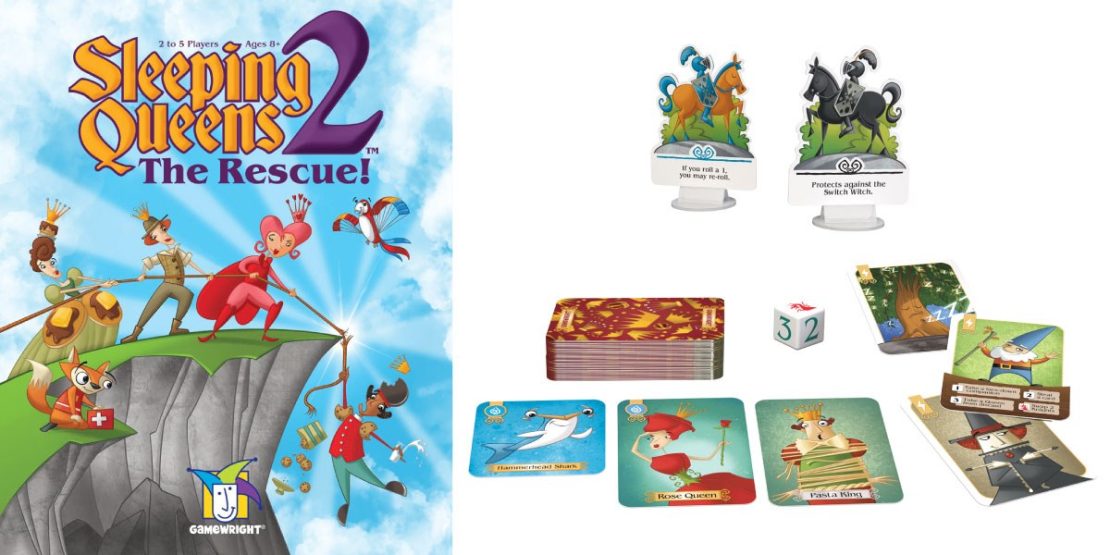 2 - 5 players, 8 yrs & up
The original Sleeping Queens was invented by a six year old who was having trouble falling asleep. Her imagination wandered and the idea of Sleeping Queens was born. The game has been a favorite family game for 17 years.
And now there's a sequel, developed by the same young lady!
The Queens are not sleeping, they are very much awake and on a mission to save the Kings! These regal gentlemen are in trouble and need help. Roll a die to see how many cards you can draw. Once you have at least three number cards, if you can form a simple mathematical equation (adding, subtracting, multiplying, or dividing) like 2+3=5 or 5-2=3 etc., you can then draw a companion card.
Next time you draw a Queen from the deck, if her symbol matches your companion, you can save a king.
Everyone has a Knight that is on patrol, ready to give aid to the Queens. And there are plenty of other cards that give your Queens extra powers… or takes them away.
The number of Kings you have to rescue changes based on the number of players. First person to reach that goal wins!
This game is sneakily educational. You can string together as many number cards as you have in your hand, so your equation could look like this: 10-2-3-4=1. Or like this: 3x2x1=6.
While it's recommended for 8 years and up, we think you could play with kids a little younger, as long as they're comfortable with basic addition and subtraction. And you could modify the rules to keep it challenging for your middle schoolers, too!
Sleeping Queens 2
---
Like Herding Cats Charades Game from Professor Puzzle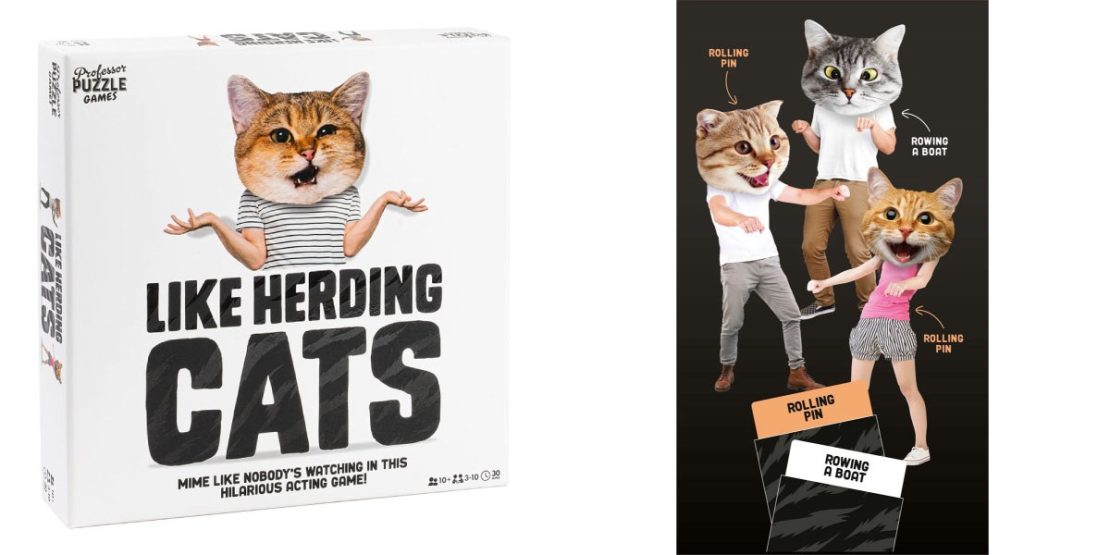 3 - 10 players, 10 yrs & up
Yes… Charades is fun… and you've played it a zillion times. But have you played it while the actors are wearing cat-faced blindfolds? And they're acting out two different things at the same time? And you have to group them according to who's acting out what?
No?
That's why you need Like Herding Cats!
Each acting card has two things on it, that when acted out will probably look very similar (using a rolling pin and rowing a boat). The job of the folks watching is to decide which actors were doing the same thing. Scoring is based on the sorting, so there's no need to guess WHAT they were trying to show you.
The game comes with six kitty-cat masks and plenty of acting cards.
It's a really fun twist on a classic game!
Like Herding Cats
---
Meadow from Rebel Studio
1 - 4 players, 10 yrs & up
This is a *very* special game, and won't be right for all families. It is deep, it is complex, and it can take an hour and a half to play. It's a very low key, low conflict game. So low key, there's even a set of rules for solo play. And it has *gorgeous* artwork.
In a nutshell, players gather cards, trying to collect a good variety of animals and plants and locations and objects… Rather like when you wander through nature gathering memories of the butterfly you saw and the coin you found…
And then you want to be able to use your cards to build your very own meadow. The symbols on the cards guide you to how and where and when they can be used. There are actions you can take around the campfire that add to your score.
The mechanics and the artwork meld seamlessly, so how you earn victory points makes sense. You can't have a butterfly unless you have the habitat for it. You can't have a birdhouse unless you have a human house nearby. And on and on.
At the end of the drafting rounds, the person with the most victory points wins. But really, just getting to spend time in your meadow (and with your fellow players) is a total win.
Meadow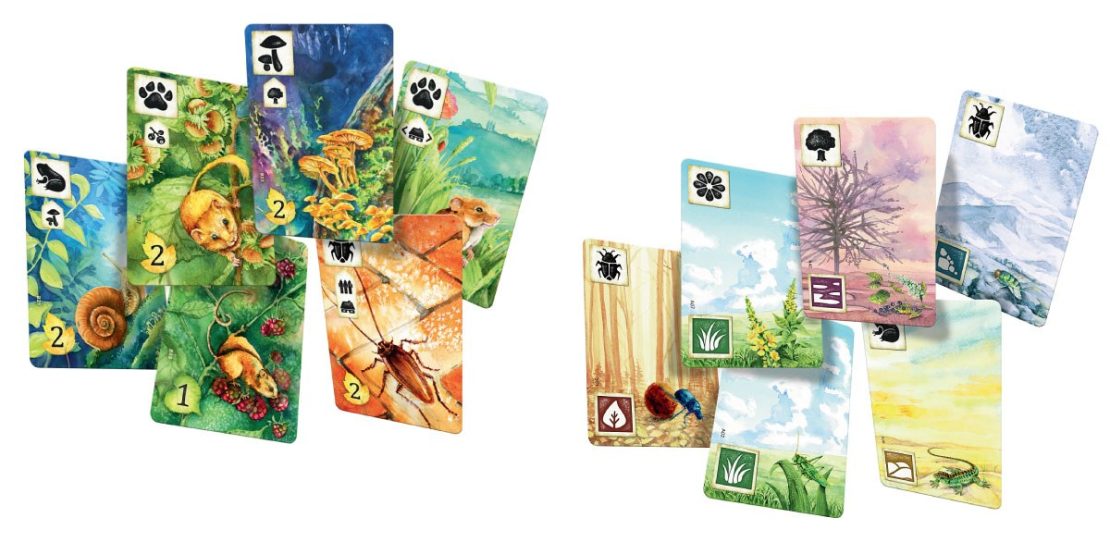 Back to Meadow's artwork for a sec… All of the paintings for the cards were created by Karolina Kijak. Her dreamy watercolors glow with light and rich color. The birds, insects, and animals are brimming with personality. And the plants are just as lovingly rendered as the animals. The buildings and locations have charming details that make you want to visit them in person.
If you have a minute, visit Karolina Kijak's Behance page to see some of the originals. She also discusses how she worked with game designer Klemens Kalicki and Rebel Studio to bring Meadow to life!
Karolina Kijak's Meadow Illustrations
---
New Arrivals and Restocked Favorites
---
Looking for party games? Games for little kids? Something to play with just your adult friends? We got you!
Click through to see all the game collections on our shopping site. Or stop by your favorite Happy Up and we'll help you find the perfect one!
Happy Up's Game Shelves