ASTRA Best Toys For Kids 2021
Published Tuesday, October 26, 2021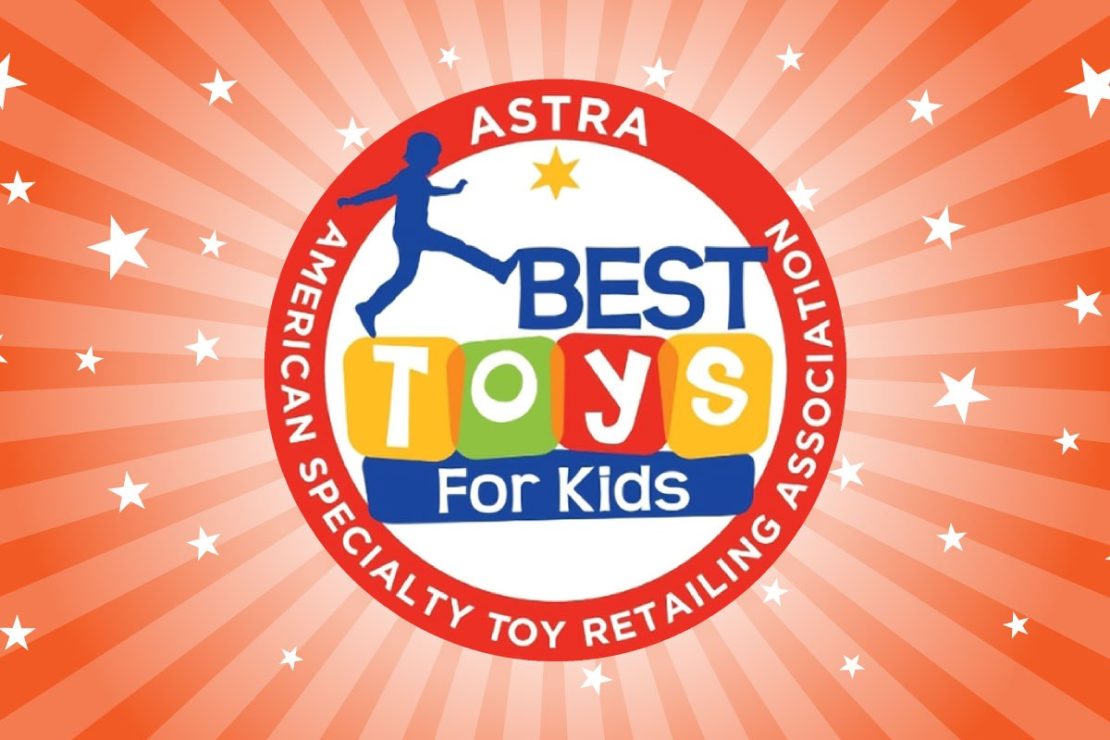 The best toys and games of 2021
as selected by ASTRA member stores like us!
Every year, ASTRA (American Specialty Toy Retailing Association) member stores nominate their favorite toys and games to the Best Toys list. Then they vote. The result is a list that showcases the best and most playable toys and games of the year.
When you walk into an ASTRA store, you know it immediately. They're stuffed to the rafters with unique and innovative toys and games. And they're staffed by folks who know toys, know child development, and are 100% dedicated to making sure EVERYONE gets the chance to play.
If you haven't guessed already, Happy Up is proud to be a member of this fabulous group of retailers!
The toys and games that make it to the ASTRA Best Toys for Kids list tend to focus on open-ended, child-led play. They encourage a child's creativity, imagination, and curiosity.
You can see the whole list on our shopping site:
ASTRA Best Toys 2021
And now... our take on what makes these toys and games the best!
2021 Best Toys for Kids
BUILD & PLAY
Zig & Go 52 - Music | Djeco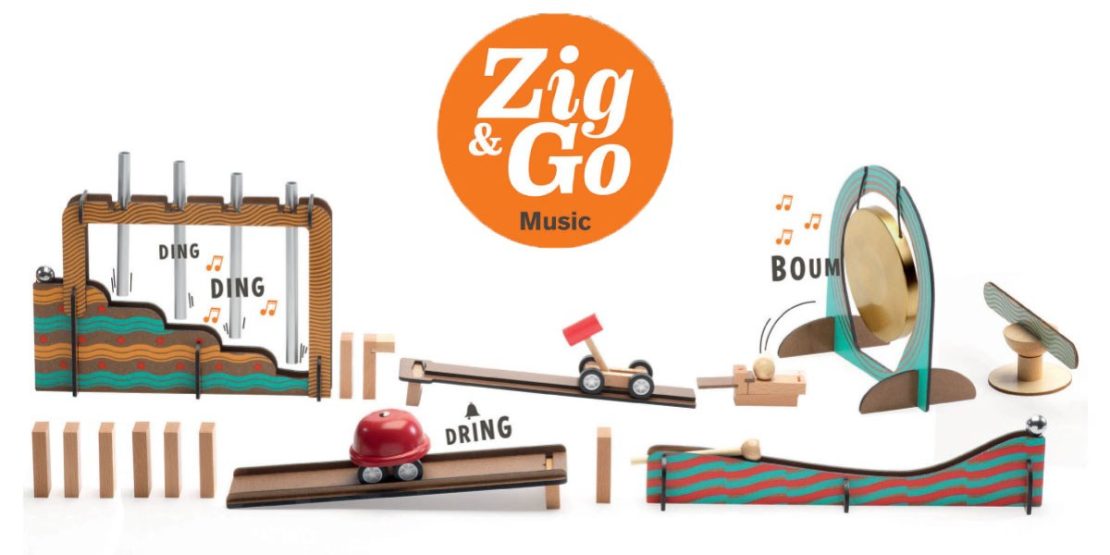 7 yrs & up
Chain reactions have never been more fun!
The Zig & Go sets from Djeco introduce the idea of falling dominoes and Rube Goldberg contraptions to kids. The music set is the newest addition to this product line, and introduces musical elements. It includes chimes, a rolling bell, and a gong.
One of the things we like best about Zig & Go is how open ended it is. Start with a set, then look around your house… What else can you incorporate? These sets are a hands-on engineering experiment that is all about creativity, inventiveness, and grit. What better way to spend an afternoon than to test your run, fail, and try again!

Zig & Go 52 - Music
And there are more sets in the Zig & Go family:
---
CRAFTS
Soapstone Carving Kit – Bear | Studiostone Creative
8 yrs & up
Stone carving is an art form that isn't very kid friendly. Studiostone Creative has solved it with their Soapstone Carving Kits!
Each kit has a beautiful block of soapstone, with a rough outline of an animal. With the included tools, kids (or grown ups!) can smooth and shape the blocky edges into a curved and smooth animal carving.
The result? A really pleasing little creature that looks great on a shelf or desk. And it feels even better in the hand: smooth, cool, and weighty. It's a worry-stone your kiddos made themselves!
Completed, the bear will measure about 3" long, 2" tall, and 1" wide.

Soapstone Carving - Bear
While the Bear is highlighted on the ASTRA list, we think the other sets in the series are just as wonderful!
---
GAMES
Story Time Chess | Story Time Chess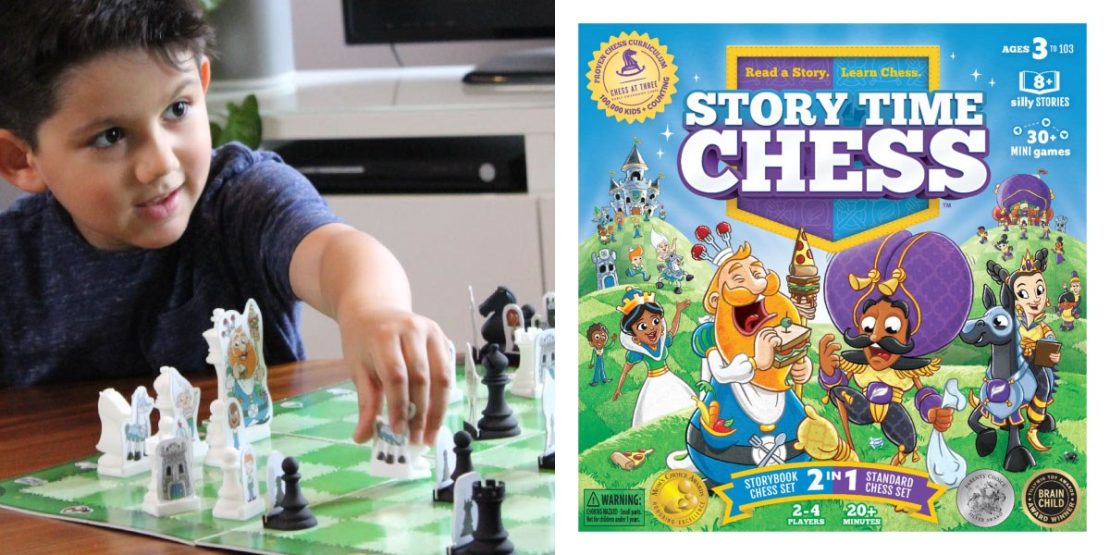 2 players, 3 yrs & up
Chess. A classic game that signals intellect, big-picture thinking, and cut-throat strategy. It's also one of those games that can be really hard to learn. So many pieces, each with a rule about how it can move. It can be a struggle, to learn, no matter your age. And can be especially tough for grown ups to learn the game while teaching their kids!
Story Time Chess has a completely unique approach. Each piece has a story, a reason for *why* they move the way they do. And with the Story Time Chess Set, the pieces have cutouts to match the characters in the story. So it's easy to learn for kids as young as three years old!
Plus the story approach makes it easy for everyone, no matter their age, to remember how to play!
Once everyone has mastered the basics, flip the board over. All the pieces and the board are regulation size. Players can begin to develop muscle memory, an essential if you're going to play speed chess!
Story Time Chess is excellent to get the whole family started on the road to being Grandmasters!

Story Time Chess
---
IMPULSE/FIDGET
Hide Inside Putty – Flower Finds | Crazy Aaron's Thinking Putty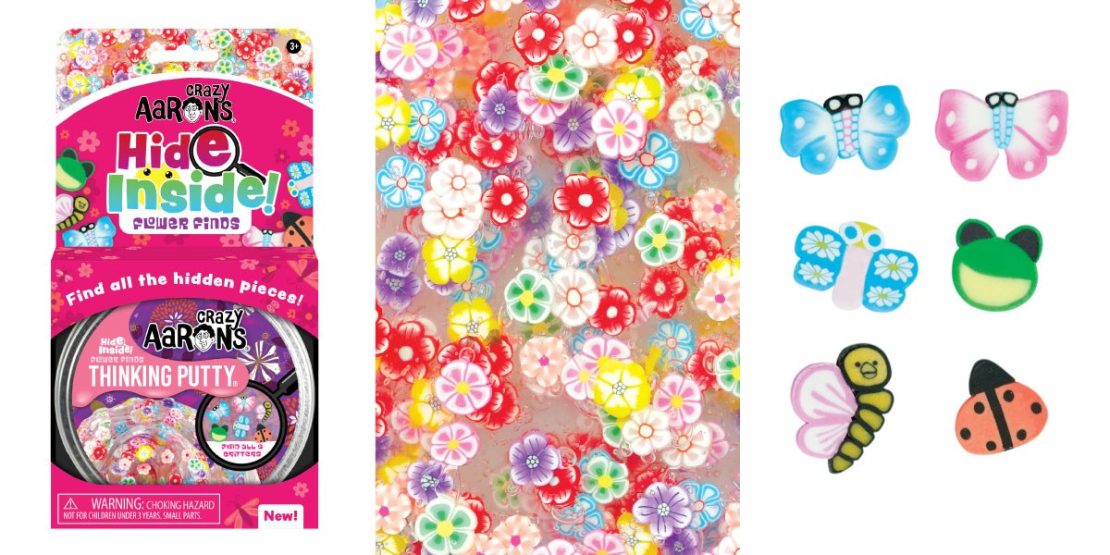 3 yrs & up
Crazy Aaron's Thinking Putty is one of our favorite things. And the Hide Inside putty is seriously cool.
Clear putty holds bajillions of little pieces. Hiding inside somewhere are six different tokens. Mush it, mash it, knead it… move the putty and find the tokens! It's great as a sensory fidget toy with the ever-shifting crunchy feel of the pieces. And it's a great take-along puzzle, keeping anyone occupied while they hunt for the tokens.
While Flower Finds is highlighted on the list, we love them all equally!

Hide Inside Thinking Putty
---
INFANT/TODDLER
Dimpl Stack | Fat Brain Toy Co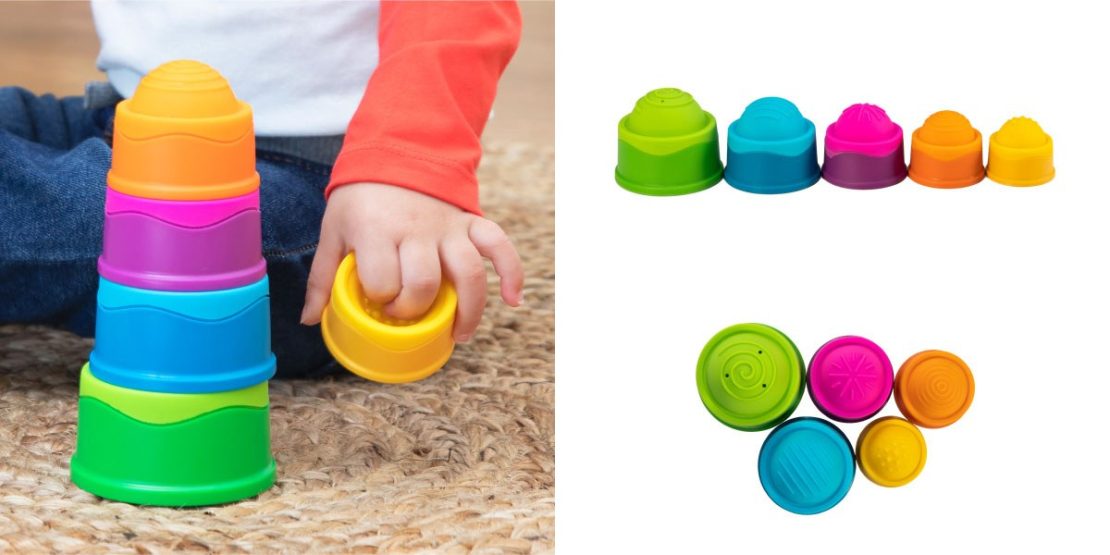 6 mo & up
Dimpl Stack is another winner from Fat Brain Toys! Vibrant "cups" with pushable and poppable silicone tops make this simple stacking toy into a tactile wonder! Push the top and it "pops", going convex… Give another push and POP! It bubbles up again!
Each cup has a different texture on it's top, too… Perfect to catch a little one's interest!

Dimpl Stack
---
OUTDOOR/ACTIVE
Rainbow Wobble Board – Regular Size | Bunny Hopkins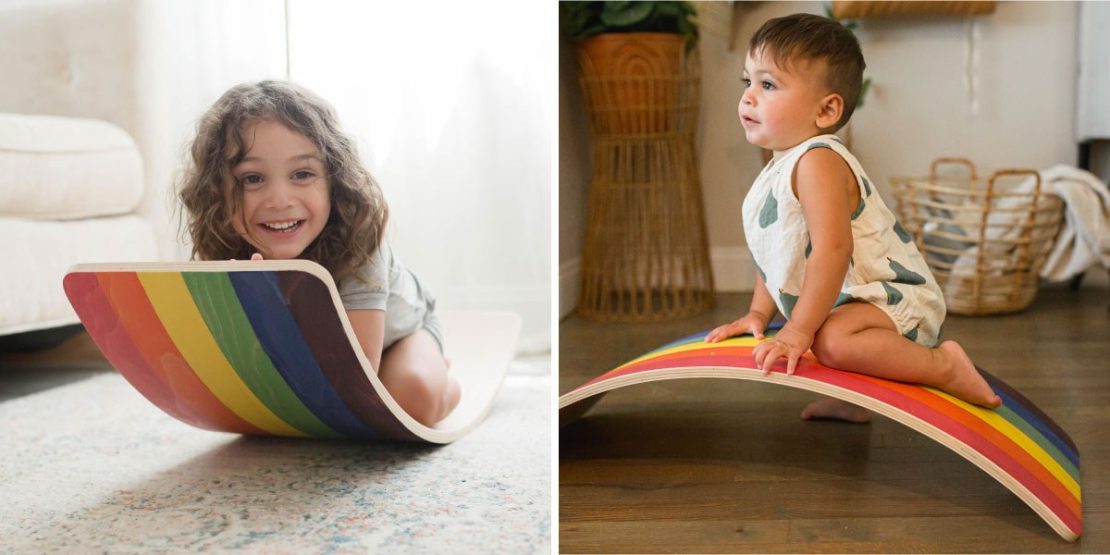 3 yrs & up
Bunny Hopkins Wobble Boards are just beautiful. The Rainbow board is especially lovely. The top is stained in rainbow bands, while the underside showcases the natural light tones of birch.
All of their boards are made from hardwoods, bent into a graceful arch. The simple shape invites children to discover and invent so many ways to play!
It can be a rocking boat, an arching bridge, or a slide… for themselves or their toys!

Rainbow Wobble Board
Other styles available:
---
PRESCHOOL
Toniebox Starter Set | Tonies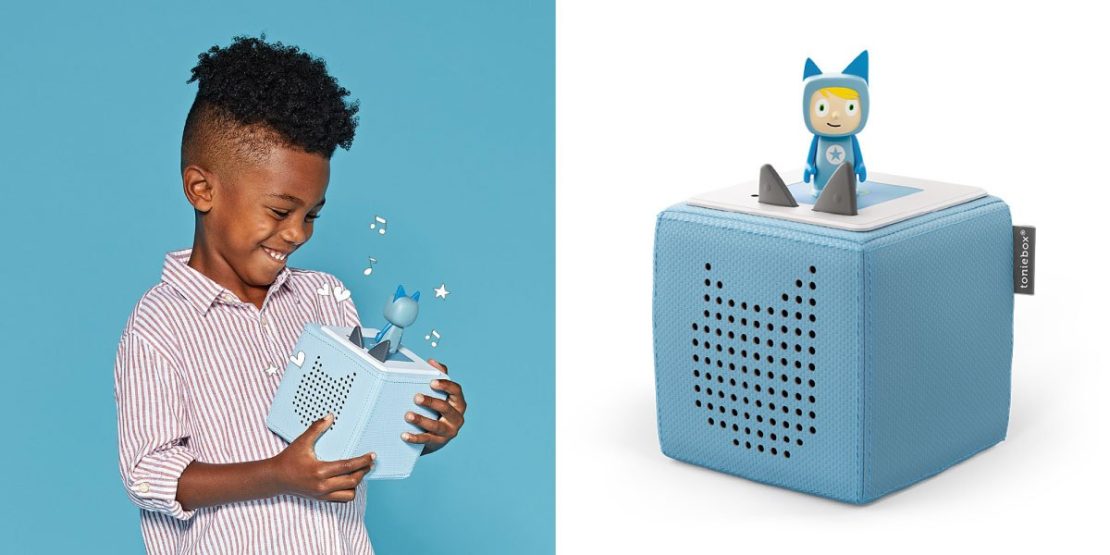 3 yrs & up
We *love* the Toniebox! It's such a smart way for kids to listen to music and stories… Wifi* and screen free!
The Toniebox is the hub. Place a Tonie figure on top and it instantly plays. Control the volume by squeezing those cute little ears. Skip to the next track by tapping the side of the Toniebox.
With familiar stories like Pixar's Cars and Disney's Frozen, classic tales, and childrens' songs, there's a Tonie for every mood and interest.
Our particular favorite? The Creative Tonies. There's one in every Tonie Starter Box and you can purchase them separately, too. They're completely empty, just waiting for you to record your own content using the free Tonies app. You can even invite others to record something. Have an Auntie read a story. Let Grandpa croon a tune. You have 90 minutes to fill however you want… And to change whenever you want!
Note: Wifi is required for initial setup. After that, you're good to go anywhere!
See all the Tonies Starter Boxes and figures currently available!

Tonieboxes & Tonie Figures
---
PRETEND
Galaxy Cape | Great Pretenders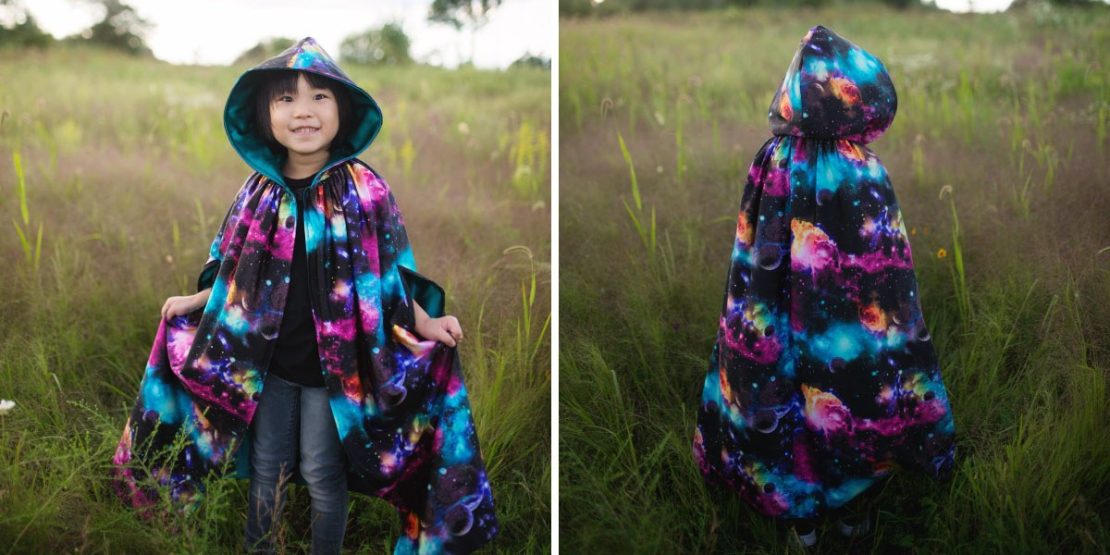 4 yrs & up
Instant drama!
The Galaxy Cape is beyond fabulous… It's stellar. The flowy swishy fabric is printed in a fantastic cosmic print featuring nebulae, planets, and brilliant stars. Using yards of fabric, the cape is incredibly full and the hood is oversized, adding to the magic and mystery.
But don't miss the best part: Arm slits! You can be fully enveloped, off in your imagination as a wizard or visitor from outer space, and still be able to use your hands!
Like most Great Pretenders' items, the cloak is machine washable, too!

Galaxy Cape
---
PUZZLE
SmartGames IQ Circuit | Smart Toys and Games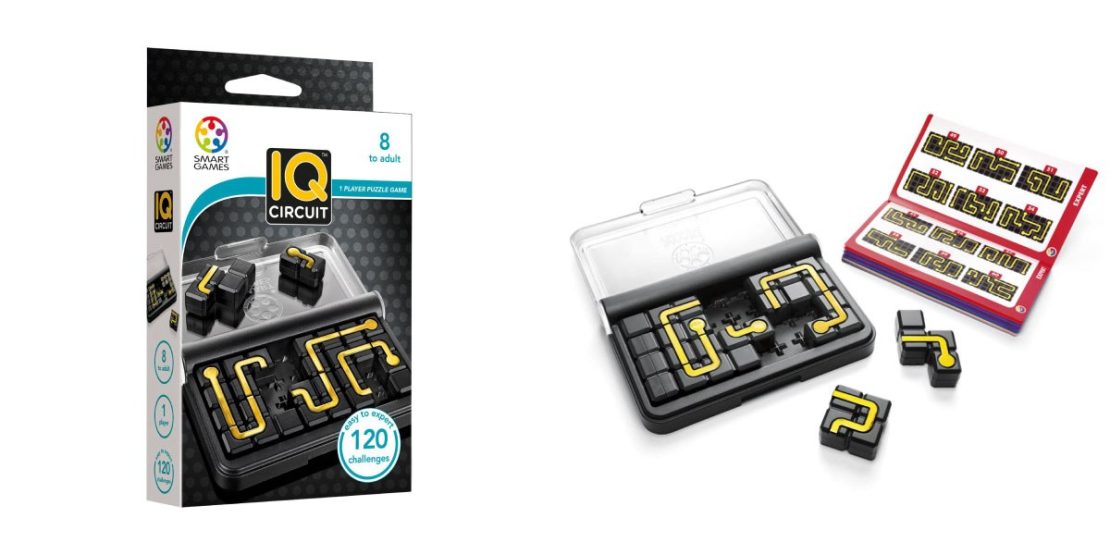 8 yrs & up
Don't short circuit your brain when you play IQ Circuit!
This logic game asks you to arrange tetris-like pieces on the grid to connect the dots. With 120 challenges, you can progress from easy to really tricky.
This brain teaser is sure to spark creative thinking and problem solving!

IQ Circuit
---
SCIENCE
Gravity Bugs | Thames & Kosmos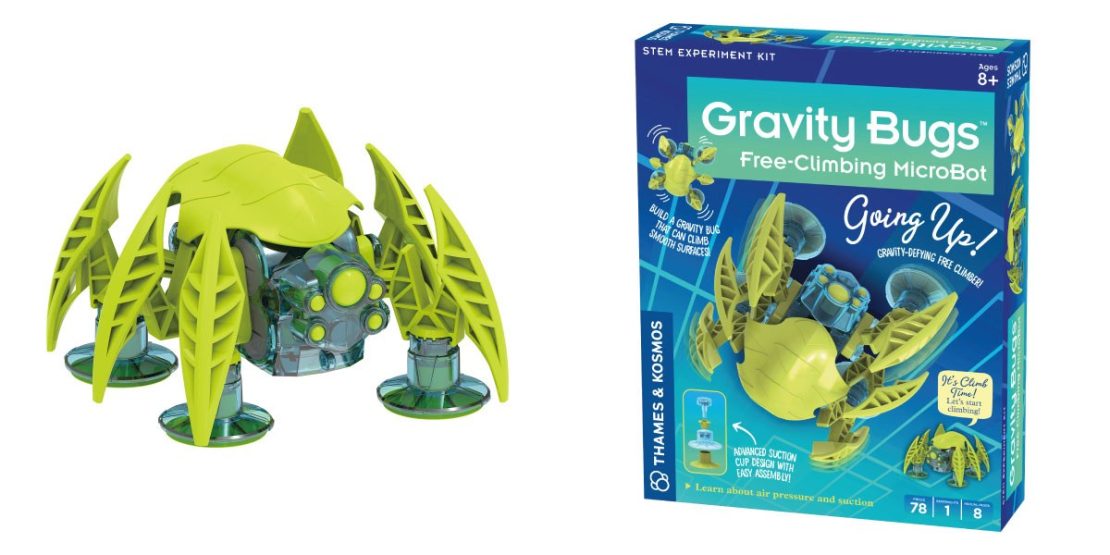 8 yrs & up
Any little robot can walk along a tabletop or floor. It takes a very special bot to go up the face of a window!
Gravity Bugs is a STEM kit that encourages kids to build and play in the field of robot engineering. When they're done, they'll have expanded their understanding of suction cups, air pressure, and gears.
Plus they'll have a new micro bot friend!

Gravity Bugs