ASTRA Best Toys for Kids 2022 Winners
Published Thursday, November 10, 2022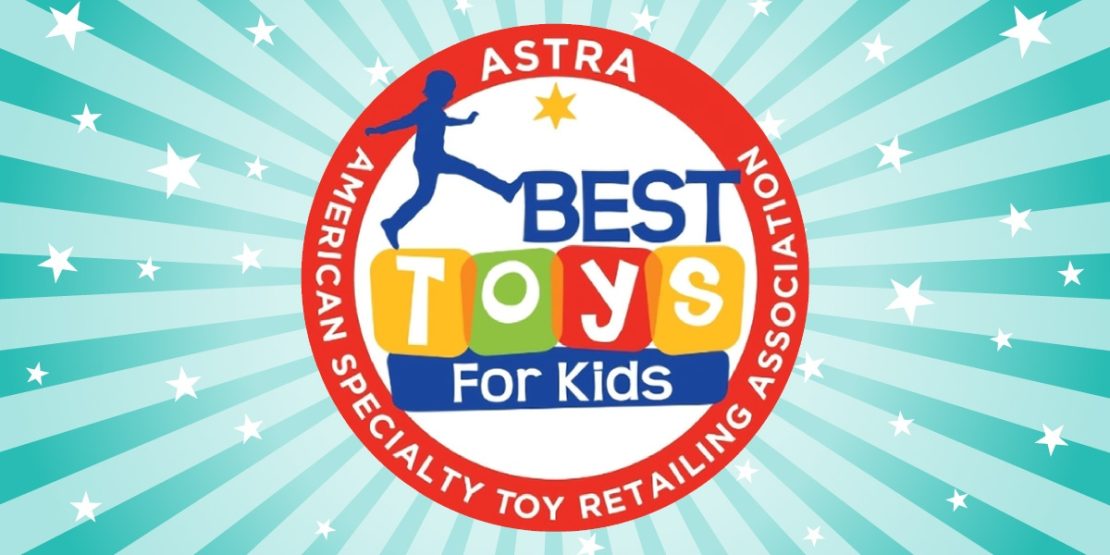 The best toys and games of 2022 as chosen by toy stores just like Happy Up!
Every year, ASTRA (American Specialty Toy Retailing Association) member stores nominate their favorite toys and games to the Best Toys list. Then they vote and category winners are declared!
The winners list showcases the best and most playable toys and games of the year. The toys and games that make it to the ASTRA Best Toys for Kids list tend to focus on open-ended, child-led play. They encourage a child's creativity, imagination, and curiosity.
When you walk into an ASTRA store, you know it immediately. They're stuffed to the rafters with unique and innovative toys and games. And they're staffed by folks who know toys, know child development, and are 100% dedicated to making sure EVERYONE gets the chance to play.
If you haven't guessed already, Happy Up is proud to be a member of this fabulous group of retailers!
You can see the whole list for 2022 on our shopping site:
ASTRA Best Toys 2022
Read on for our take on what sets the winners apart from all the rest!
2022 Best Toys for Kids
Preschool Games
Pancake Monster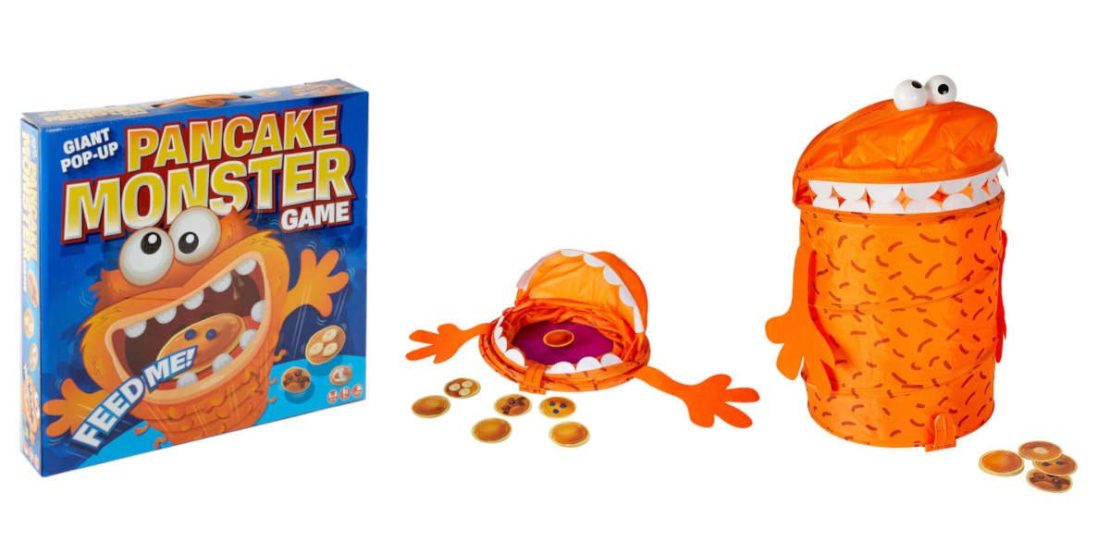 3 yrs & up
Feed the Giant Monster his favorite food, but careful, you never know when he'll bite back!
Count the toppings on your pancake cards, place them in the Monster's mouth, and press the button the same number of times as the toppings. You'll never know when it will POP and eat a player instead of the pancake!
The Giant Monster safely pops up almost as tall as the children playing the game. It's silly, it's surprising, and so much fun!
Once everyone has mastered counting, you could go on to add your own set of math dice. It would certainly spice up practicing simple math!
Giant Pop-Up Pancake Monster Game
---
Game for 5 - 7 year olds
Cowpie Catapults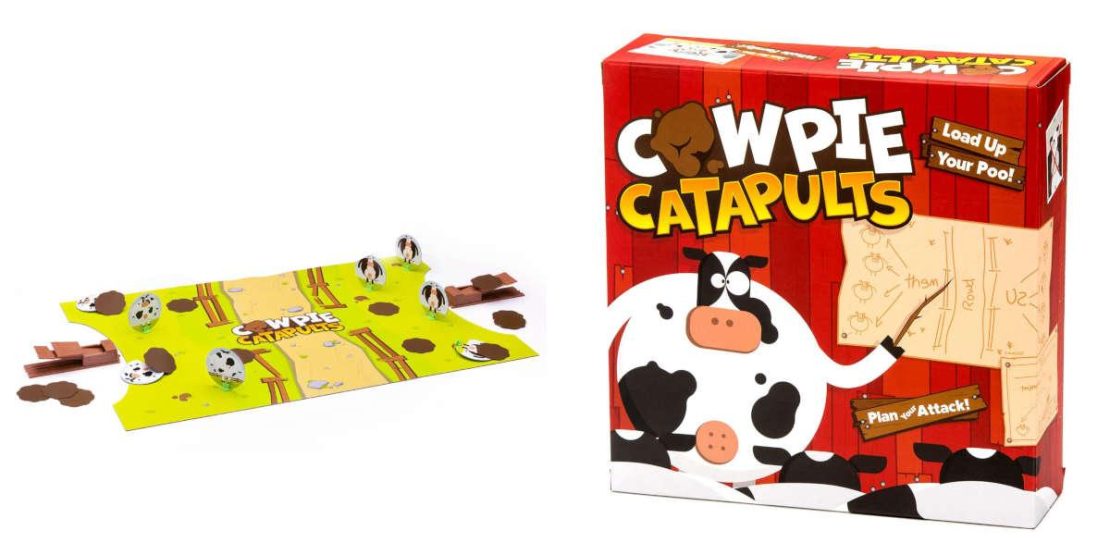 2 players, 6 yrs & up
It's Cow Pie Catapults – the poo flippin', cow tippin' battle of the barnyard!
Arrange your cows on your side of the barnyard, load up the catapults, and start flinging poo pieces at your opponent's cows.
While the idea of flinging doo-doo is pretty gross, the game is a lot of fun! You can experiment with your aim, and how much force you use to launch the cow-pies.
Before you know it, you'll be a master at catapulting the caca!

Cowpie Catapults
---
Game for 8 -10 year olds
Forklift Frenzy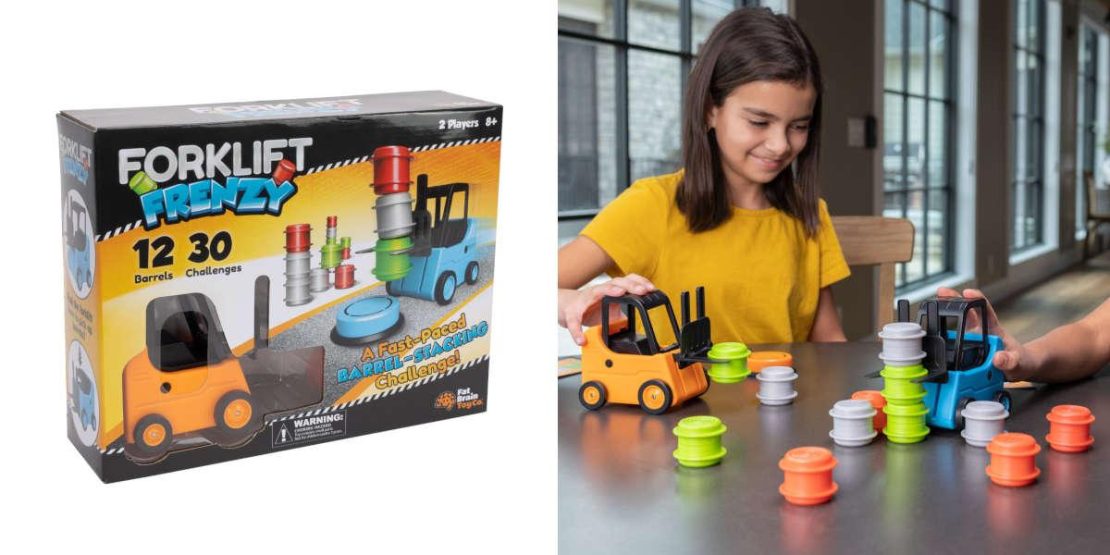 2 players, 8 yrs & up
Get ready for a flurry of frantic forklifting from Fat Brain!
In this exciting game you start the round by drawing a card. Your goal is to stack the barrels to match the challenge card and then place that stack on your platform first.
But don't tip your stack of barrels-- The goal is to keep the warehouse accident free... AND collect the most cards!
Can you win the most cards AND keep your warehouse accident-free?
The game rules have everyone playing at once. If you slow the pace by making it turn-based, you can easily play with younger kids.

Forklift Frenzy
---
Active Play
Dueling Stomp Rockets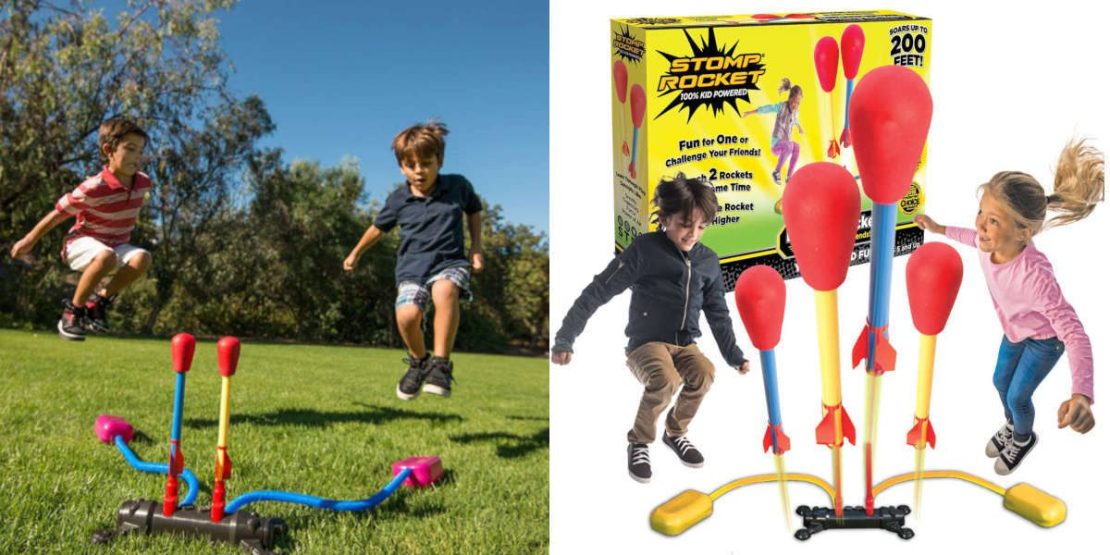 6 yrs & up
We love stomp rockets!! The Dueling set lets two kids launch the foam tipped rockets up to 200 feet in the air. See whose rocket can fly highest!
100% kid powered, too!
Personally tested by a Happy Up employee's husband at their 2021 Thanksgiving feast, these rockets can withstand up to 290lbs. And the rockets flew high above the tallest trees to wow all the kids. It's no wonder they made ASTRA's list!
Dueling Stomp Rockets
---
Arts & Crafts
Build & Grow Tree House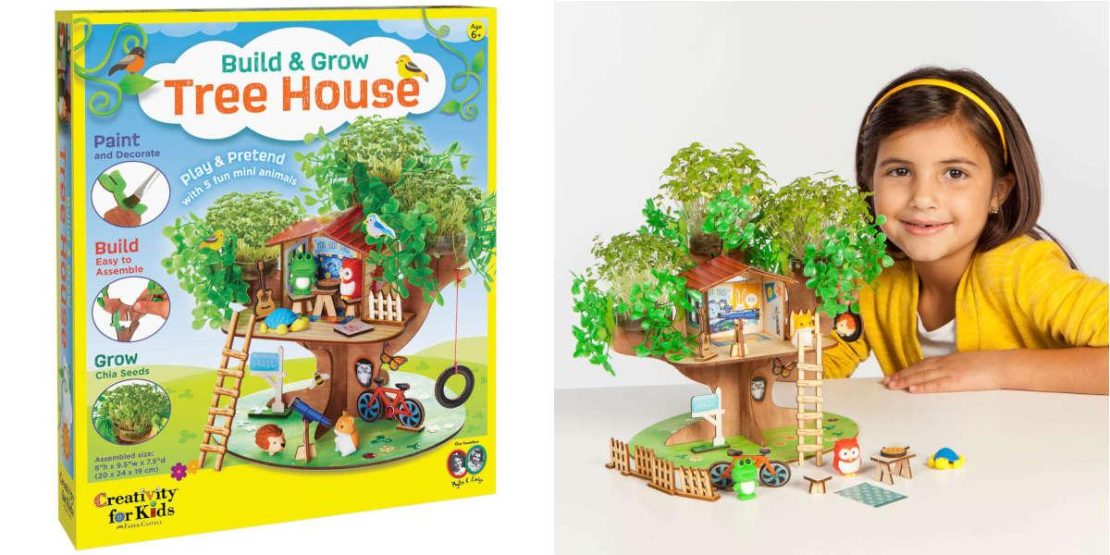 6 yrs & up
Build, paint, decorate and grow your own wooden tree house!

Nurture easy-growing chia seeds on soil free grow mats that make gardening project mess free and easy for beginners. Build your tree and wooden treehouse and use vibrant stickers to decorate inside and out!
Add windows, paintings, butterflies and more to the walls of your club house. Once assembled, play and make up stories with the 5 mini animal figures!

We have a soft spot in our hearts for activity sets that are multi-purposed - build first, learn about seeds and growing, then use your imagination!
Build & Grow Tree House
---
Building
Magna-Tiles Building Set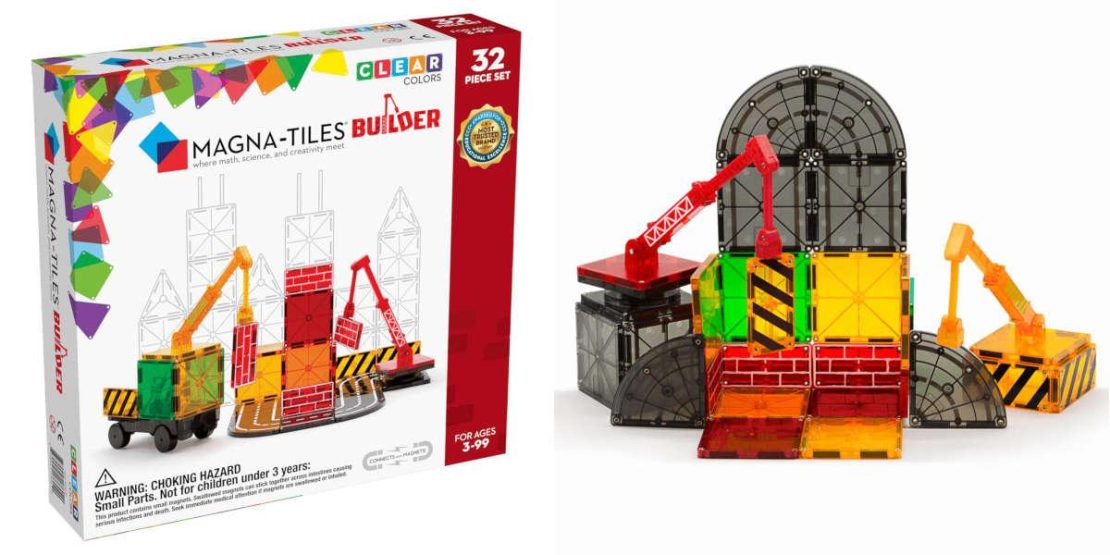 3 yrs & up
Construction zone playtime! The 32 piece Magna-Tiles Builder set has roadways, brick panels, and yellow/black caution panels. Assemble with the cranes for imaginative play at a build site!
Magna-Tiles panels connect on the sides, letting you create geometric and architectural structures. And unlike other magnetic building sets, MagnaTiles don't have a right way or wrong way to stick. They're always attracted to each other, making playtime frustration free!
Magna-Tiles Building Set
If you've ever talked with us while in-store shopping, you know we always recommend Magna-Tiles. Not only do they meet every safety standard, they are incredibly durable and fuel unrestricted imaginative play. Build whatever your heart can create! Check out other sets we have:
---
Educational
Dig it Up! Glow in the Dark Dinosaur Eggs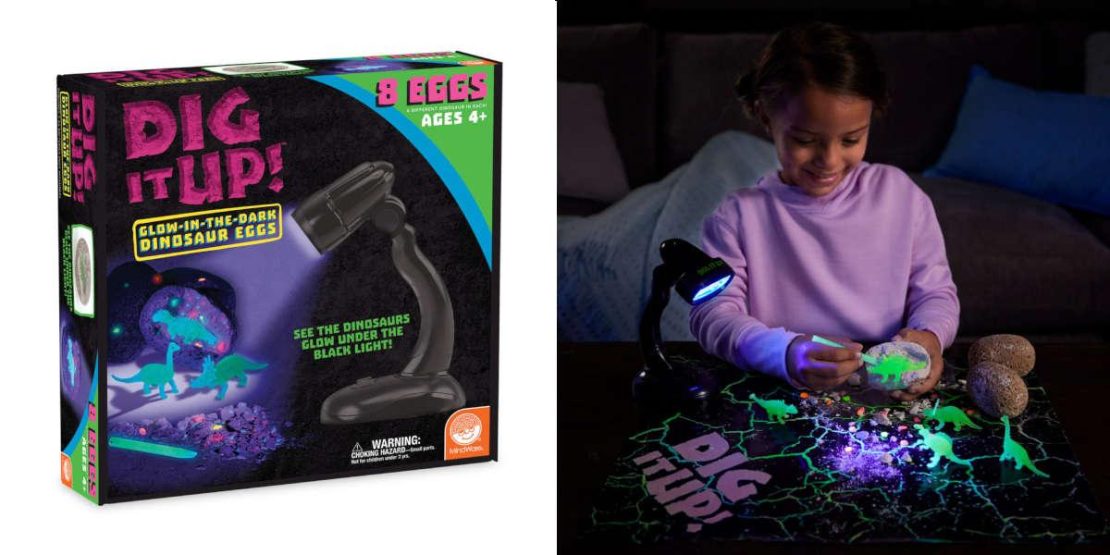 4 yrs & up
Experience the thrill of discovery when you excavate dinosaurs… That glow.
This exciting Dig It Up! experience is totally unique. Turn off the lights and turn on the included black light. Soak the eggs in water then carefully remove the sedimentary material using the glow-in-the-dark chisel. Before you know it, you will have uncovered eight different glowing dinosaurs!
Dig It Up! Glow in the Dark Dinos
If dinos or glow in the dark aren't your thing, take a look at other Dig It Up! sets we have. Certainly something for everyone in the family.
---
Preschool
SmartMax Roboflex Plus Create - 20 pc Set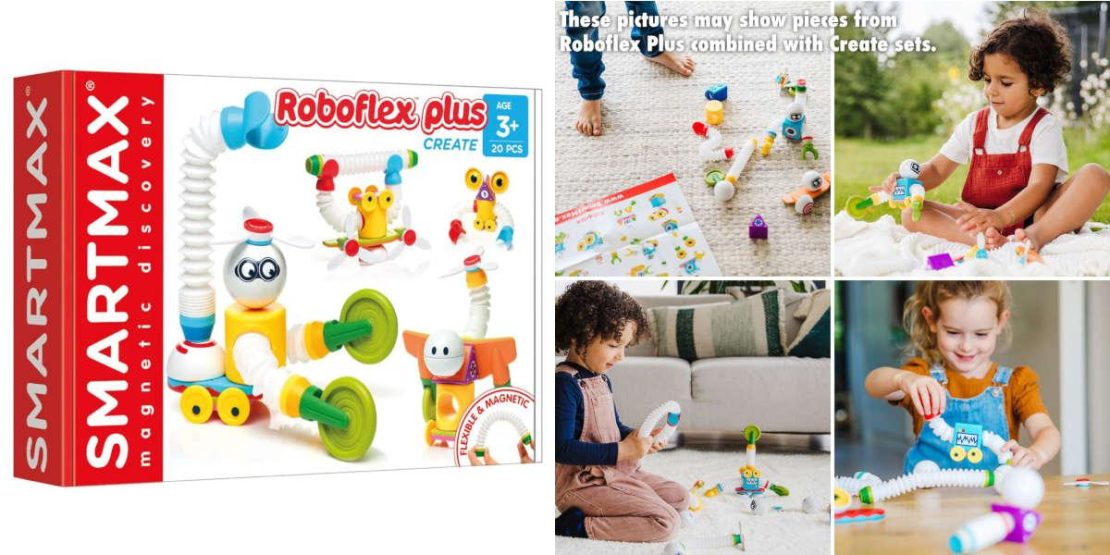 3 yrs & up
Beep. Boop. Who said robots aren't flexible?
Get creative and make so many colorful, crazy robots! The new, flexible, extendable magnetic bars add an extra dimension to this SmartMax playset.
Choose your parts, bend, extend, assemble, and play! Will your robot fly, jump, grab, wobble, or roll? This set includes a build poster that is sure to inspire all sorts of robotic designs!
Smart Max play sets help develop fine motor skills and encourages imaginative play. Roboflex pieces can be combined with all other SmartMax sets so you know we love it at Happy Up!
SmartMax Roboflex Plus Create - 20 pc Set
SmartMax Roboflex Create - 12 pc Set
---
Pretend Play
Super Cityscape Transport Bucket Set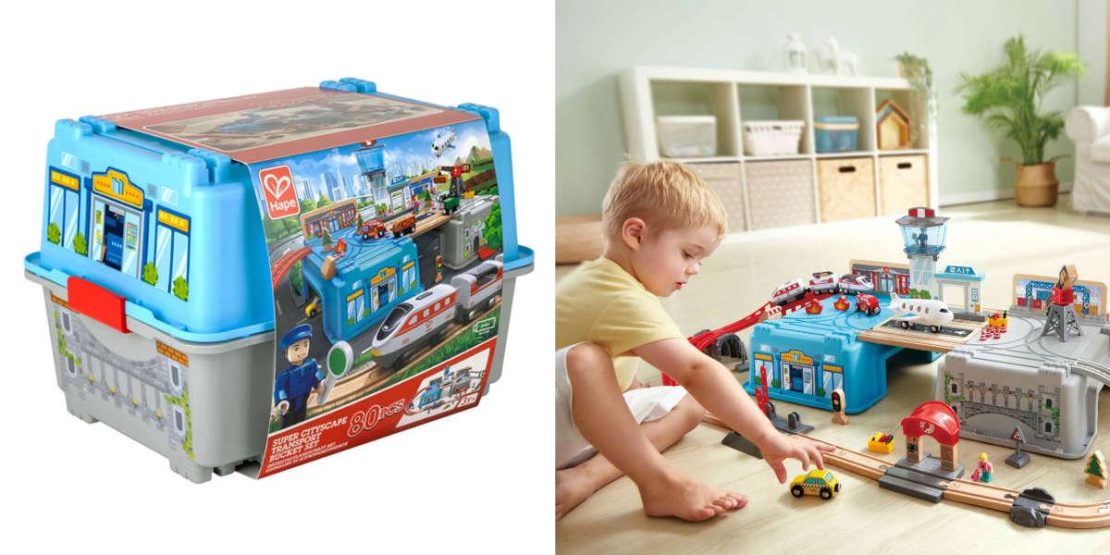 3 yrs & up
All aboard! This colorful wooden train set offers hours and hours of railway fun for your little engineer!
The battery-powered locomotive has a working headlight and goes forward and backward, taking passengers all around the city. The train station, shops, construction site, airport and airplane provide endless opportunities for pretend play and storytelling.
The practical bucket holds all 80 pieces for storage and carrying. Flip over the top and bottom of the case, and they become part of your imaginary city. Lay out the tracks, place the bridges, and play!
Super Cityscape Transport Train Bucket Set
---
Puzzle
800-Piece Earth Puzzle by Number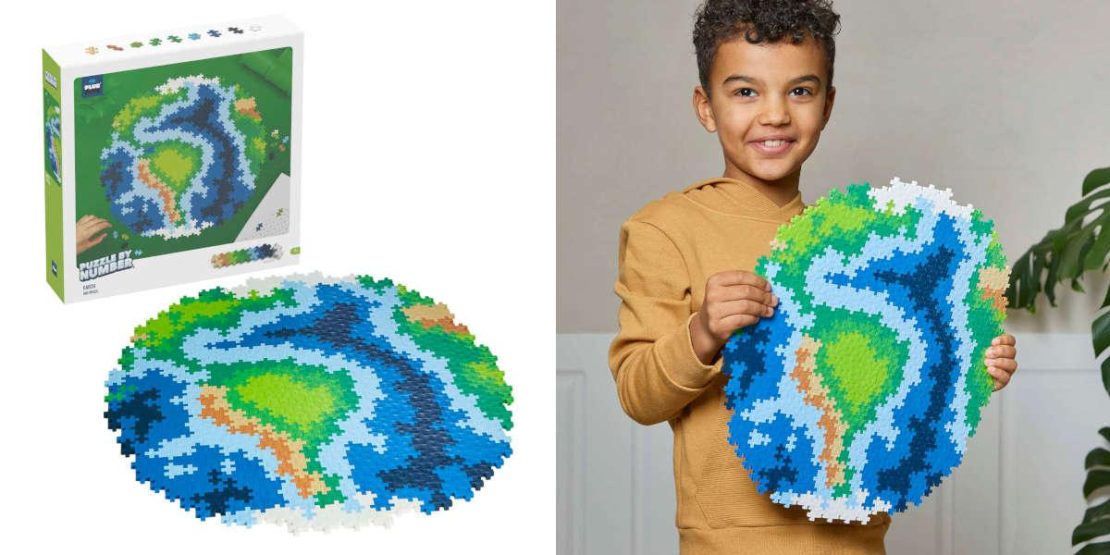 8 yrs & up
Mother Earth loves all the attention this puzzle gets her! Plus-Plus Puzzle By Number® Earth 800 piece combines the artistry of a paint by number with the satisfaction of a puzzle into a unique creative experience.
Using the enclosed pattern, fill in the design by matching each number with the corresponding color. When you are done, display it on a table or hang it up as room decor - no glue or ironing required!
Because the puzzle uses Plus-Plus pieces, you can always take it apart and use them to build 3D things, too!
Plus-Plus Puzzle By Number: Earth
We have a few other styles - take a look!
---
Science
Ultra Bionic Blaster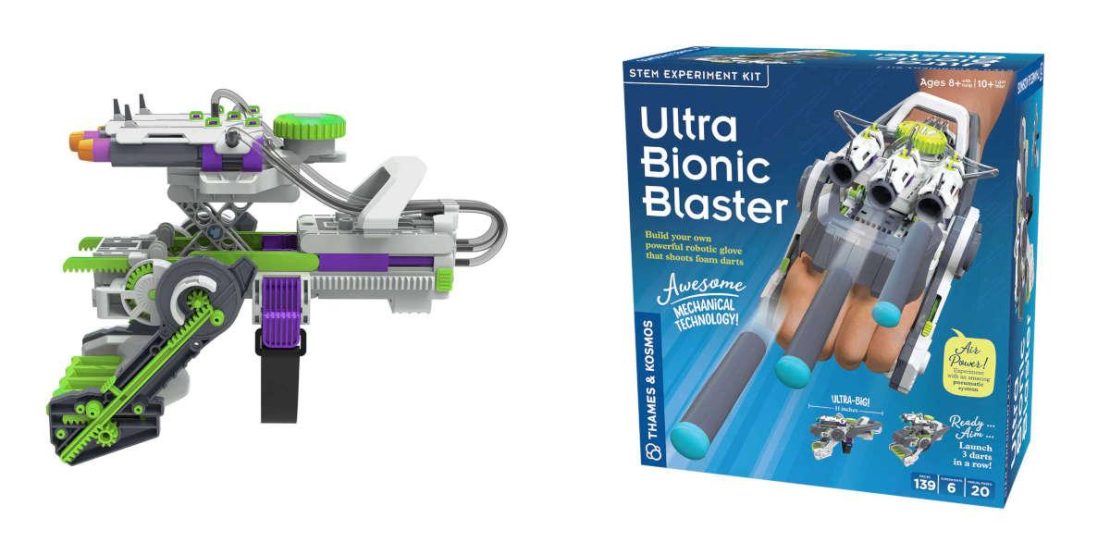 10 yrs & up (8 yrs with help)
Have a blast with this awesome engineering project! Construct an air-powered robotic glove that launches safe foam darts.
Learn about pneumatics — technologies that use pressurized air to perform work — and many cool mechanisms as you assemble the blaster from over 100 pieces.
After you've built and tested your blaster, slide it on and strap it to your wrist. The first pull of the trigger causes the scissor arm to lift up the barrels and launch the first dart. Pull the trigger two more times to launch the next two darts. Grab some additional darts from the reserve clip under your wrist and reload. The blaster is entirely powered by your hand and the amazing pneumatic system — no batteries or motors required!
Ultra Bionic Blaster
---
Sensory
Sensory Bin Mermaid Lagoon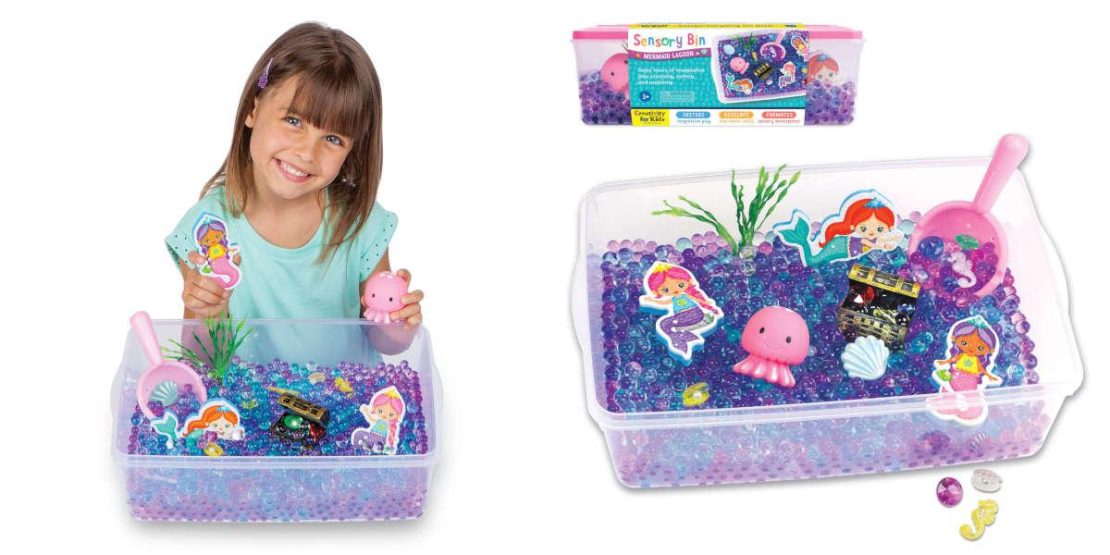 3 yrs & up
Go on an underwater adventure while engaging your sense of touch with a mermaid themed sensory bin! Play with water beads, foam mermaids and more to build fine motor skills and promote sensory development.
Pretend, create, imagine and explore with hands-on Sensory Bins. Sensory Bins are full of fascinating materials that foster imaginative play, develop fine motor skills and promote sensory development. Great activity for independent and parent led play!
Good idea: Place the self-contained bin on a towel to prevent mess while scooping, digging and playing with the included sensory materials!
Sensory Bin Mermaid Lagoon
---
If any of these items are showing as out of stock, we have them on order!
If you'd like us to let you know when they arrive, call your preferred location:
Happy Up Clayton: (314) 725-2455
Happy Up Edwardsville: (618) 656-9596