Buh-Bye 2020...
Published Tuesday, December 29, 2020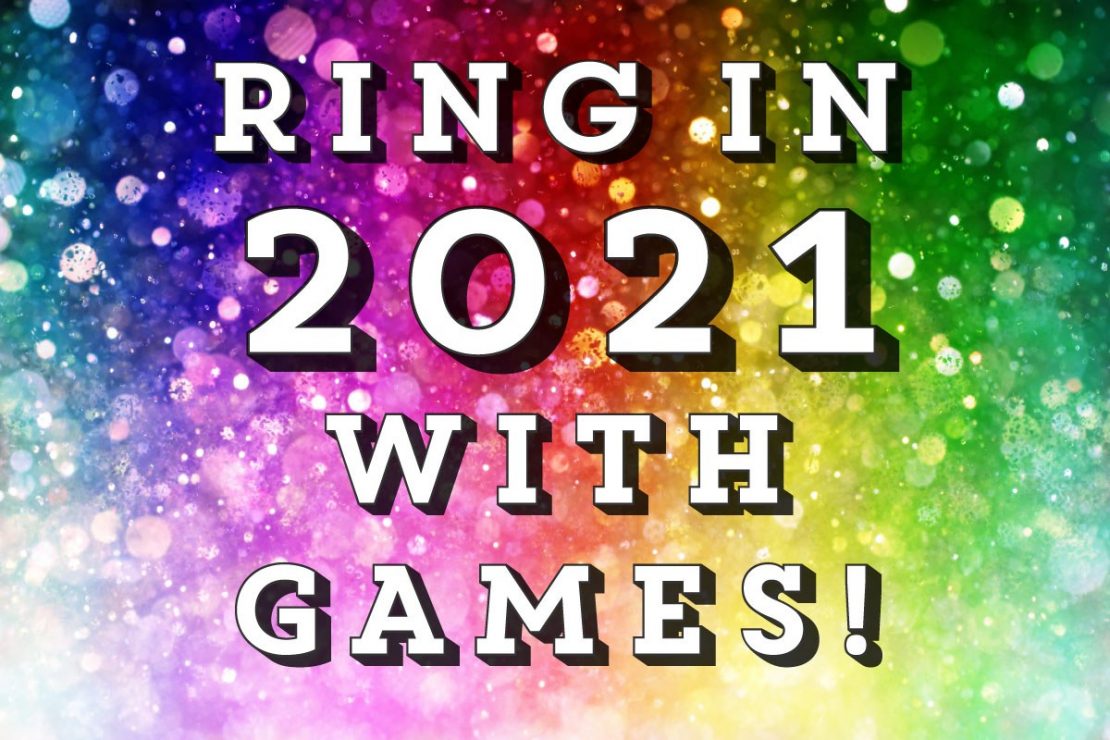 We'll be Celebrating and Playing!
Dear 2020,
We can't say we're sorry to see you go. It's been... Real. Like REALLY real. A lot. Like A LOT A LOT.
So we're going to celebrate and play games while we run out the clock. And say welcome to 2021 at the stroke of Midnight!
These are some of our top game suggestions to ring in the New Year!
---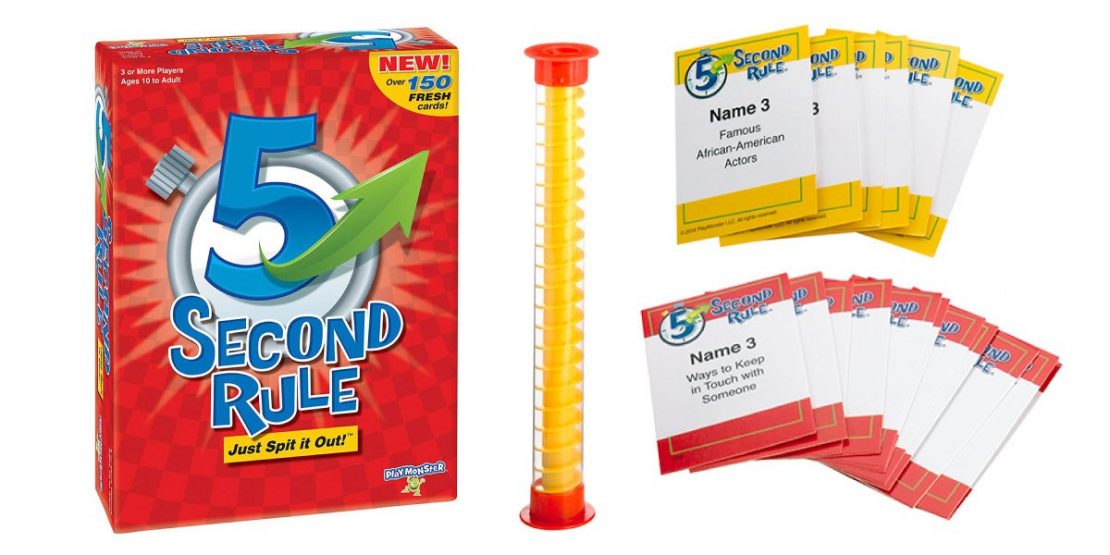 5 Second Rule
3 or more players, 10 yrs & up
If you're having a socially distanced New Year's Eve party, this is a fast playing game that is great to play over Zoom or FaceTime or Google Meet or … whatever!
Whoever owns the game plays as the Host, firing off the questions (quick! Name 3 dog breeds!), keeping the timer, and assigning points. Everyone else needs to stay on their toes and be ready to spit out an answer when it's their turn!
5 Second Rule has been around for a while for good reason. Every time we play it's a hit!
5 Second Rule
Not as video chat friendly, but just as much fun: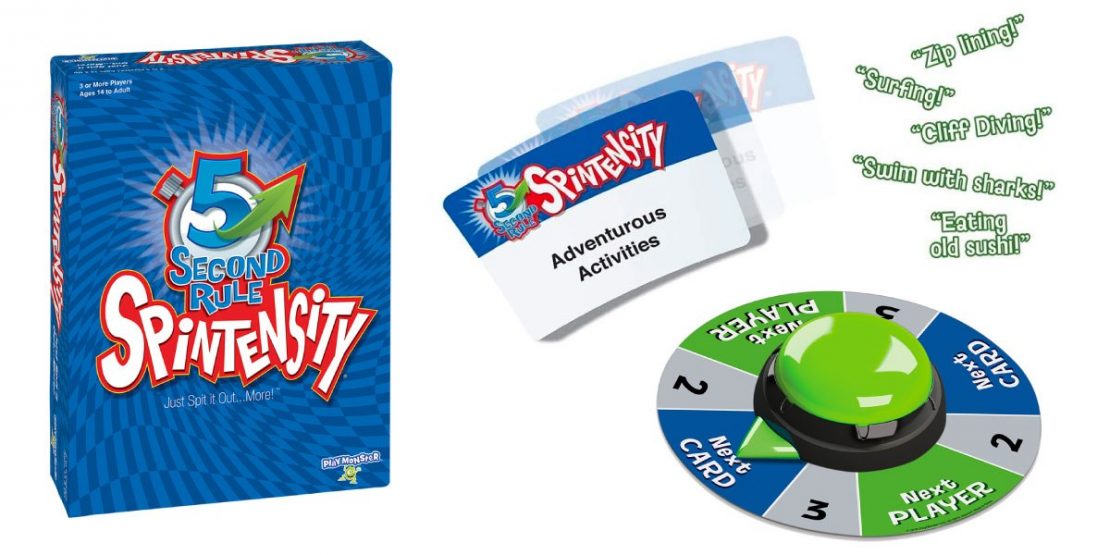 5 Second Rule Spintensity
3 or more players, 14 yrs & up
Instead of the timer, you get a spinner with a timer built into it! Spin to see how many answers you have to come up with, without knowing how much time you get. And if the timer doesn't go off, spin again to see what your next task is!
Insanely intense good time!
5 Second Rule Spintensity
---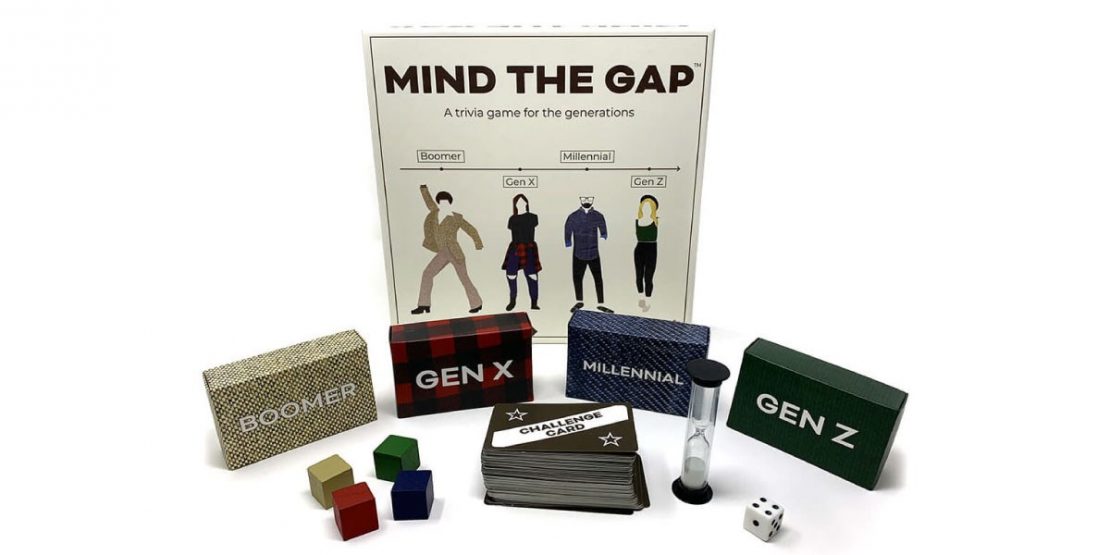 Mind the Gap
2 or more players/teams, 10 yrs & up
It's Pop Culture trivia… For every generation!
Yes! Finally a trivia game you can play with Grandma and the teenyboppers, without anyone feeling like they are hopelessly out of their realm...
There are four decks of cards: Boomer, Gen X, Millennial, and Gen Z. Each age group answers the questions from their deck. You can work cooperatively as a team, or play individually. Advance around the board, trying to be the first player/team to make it back home. Plus there are challenge cards to mix it up!
With so many different eras of music, movies, and news events represented, everyone can play and put their trivial knowledge to good use.
Like all ask and answer style games, you could easily adapt this to play during a video chat!
Mind the Gap
---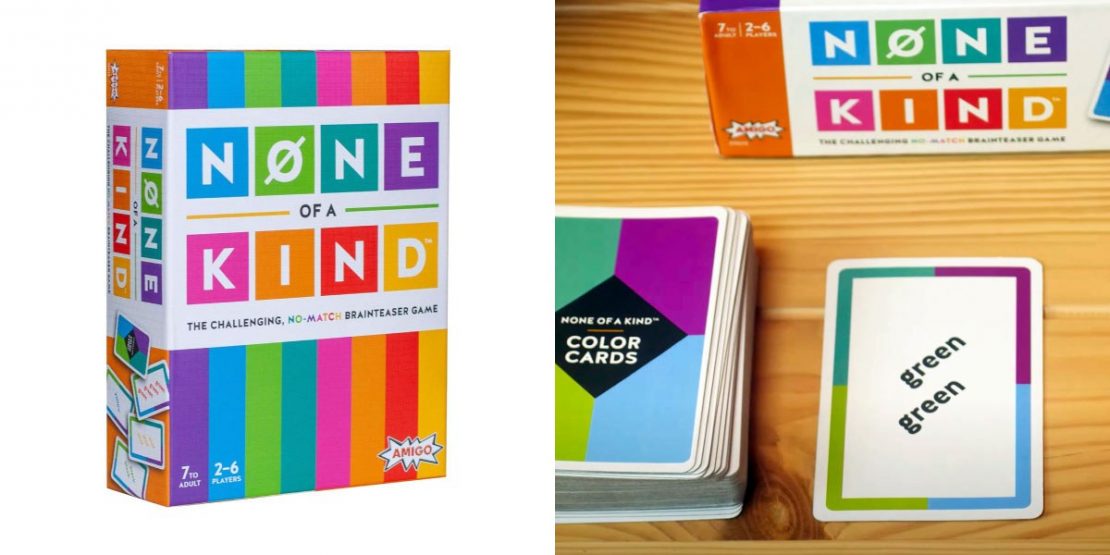 None of a Kind
2 - 6 players, 7 yrs & up
Hoo boy. This game will bend your brain!
The goal is to create a line of cards where the cards next to each other DO NOT MATCH. Simple? Nope. Each card has three attributes:
The word for a color (red, blue, etc.)
The color of the ink the word is printed in (black ink, blue ink, etc.)
And the number of times the word is printed.
Your goal is to look at your first card, and lay down a card that does not match any of those three attributes. Which seems easy enough, except the brain does a funny thing sometimes… If you read the word "green", you might perceive the word is printed in green ink… But it isn't! Your brain also has a tendency to only register one instance of a repeated object, so you can't even trust yourself to know how many times the word has been printed!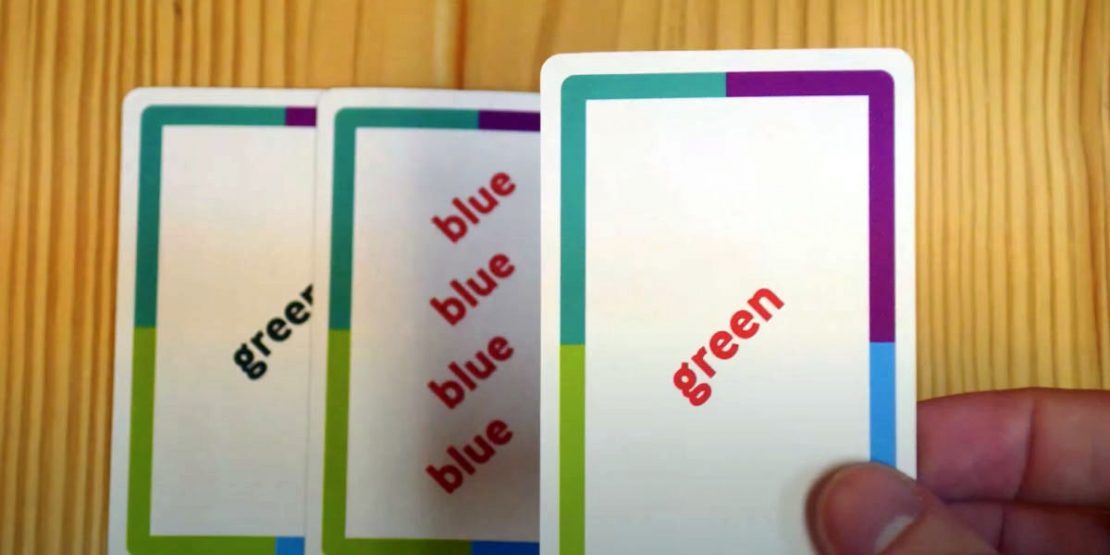 When you're trying to lay down cards as fast as you can, drawing one at a time and making a snap decision, it is SO easy to perceive the WORD as the color of INK, and vice versa. Factoring in how the brain might skip over "seeing" the repeated words, you've got one scrambled mental test for sure!
Everyone plays at once, building their own line of cards from a shared pool in the middle. Scoring is based on how long of a run you have that is error free.
The more you play, the better you'll get. Building mental acuity and sharpening your observation skills.*
*Unless you make it a drinking game!
None of a Kind
---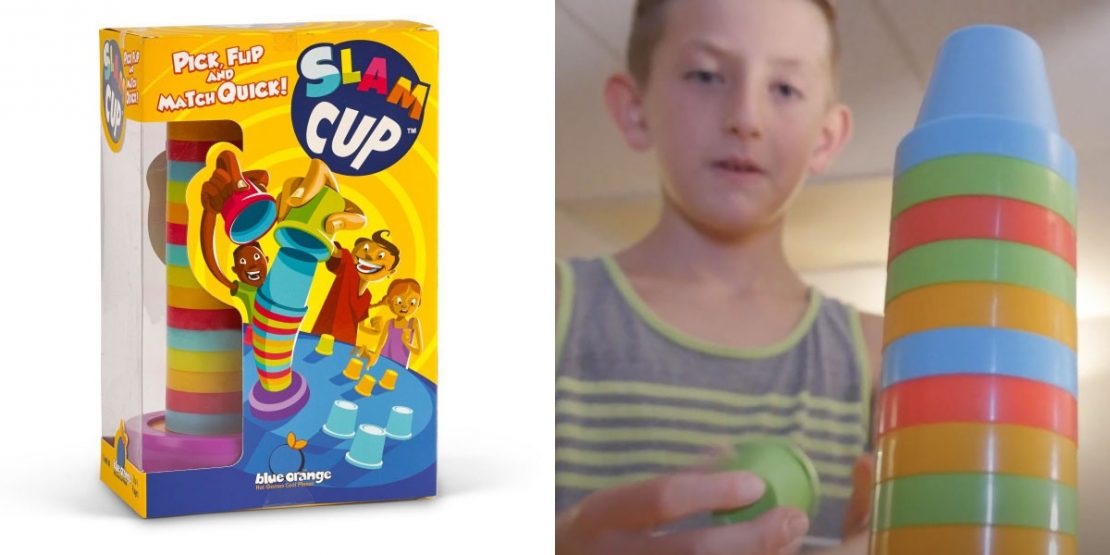 Slam Cup
2 - 4 players, 6 yrs & up
Two things to accept as true:
Speed stacking cups is weirdly satisfying and everybody-plays-at-once games are chaotic fun.
Slam Cup embraces those two things in a kid-friendly color matching game, with a speed stacking twist!
Roll the die to establish what color cup starts on the base. And then everyone scrambles to find one of their cups with the same *inside* color as the *outside* color of the top cup on the stack. Matching and stacking as fast as they can.
First person to get rid of their cups wins.
It's fast, it's light, and good for a range of ages!
Slam Cup
---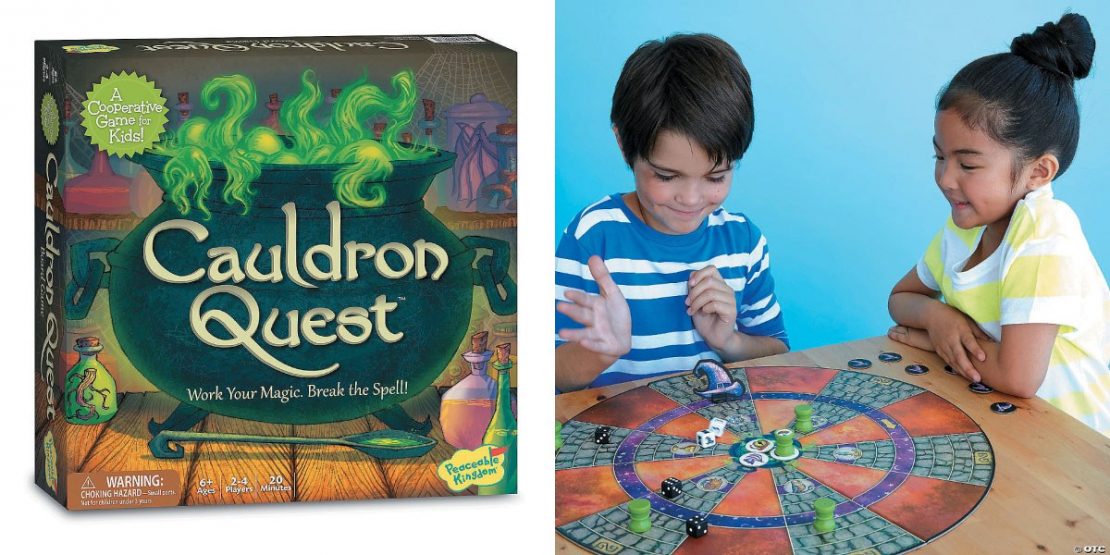 Cauldron Quest
2 - 4 players, 6 yrs & up
A cooperative game for the family!
Hmph. An evil wizard has cast a spell and it is up to us to thwart the nefarious plan. We need to craft an amazing magical potion to save the realm!
Roll to move ingredients closer to the cauldron, roll to reveal a magic charm, and (oh no!) roll to move the Wizard and block a path!
Because it's a cooperative game, all players work together to win against the game, instead of each other. Group planning, communication, and critical thinking all come into play. Sounds like some excellent life lessons to get out of 2020, right?
Plus it's just fun for good to triumph over evil!
Cauldron Quest
---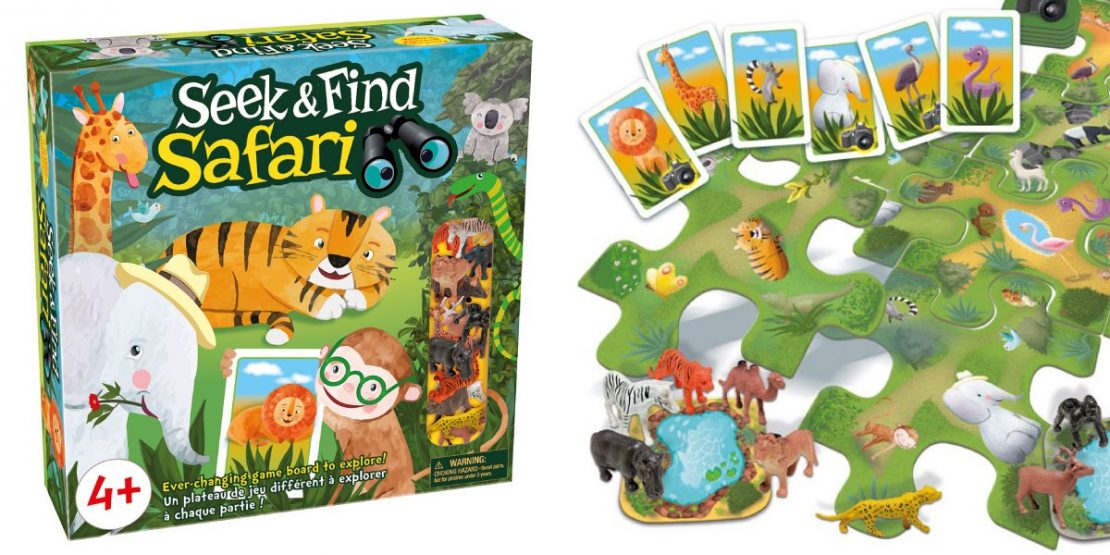 Seek & Find Safari
2 - 4 players, 4 yrs & up
Here's the problem with most memory-seek-find style board games: your genius children! After playing once or twice they've memorized the board! Yes, it's wonderful they're so smart. But not much fun to play the game again when they just *know* where everything is already…
Enter the Seek & Find games! You assemble the game board out of puzzle-like pieces. There are two sides, one more difficult that the other. Arrange the pieces in a random pattern, shuffle the deck of animal cards, and you have a brand new playing experience every time!
Flip two cards over and players race to find both of the animals on the board. With no reading, even your youngest can play independently!
Seek & Find Safari
More into an ocean adventure? Check out Seek & Find Coral Reef, too!
Seek & Find Coral Reef