Games for Big Kids
Published Friday, July 30, 2021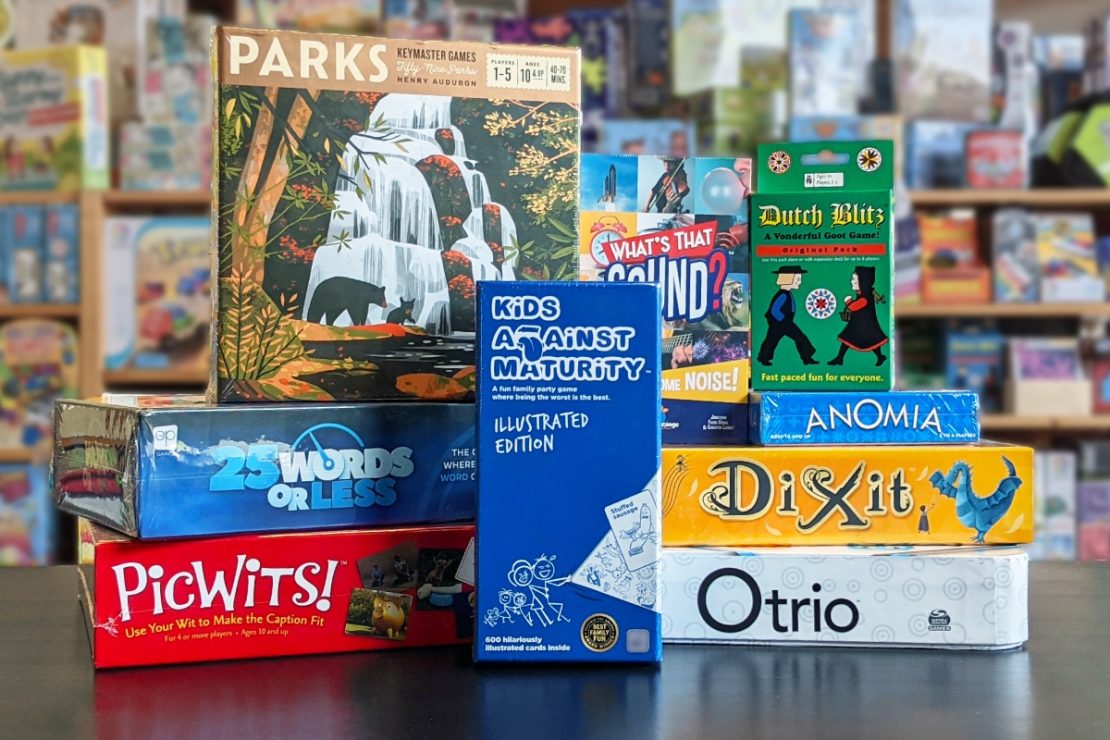 Update your game shelf with these games for older kids & grown ups!
It happens when you aren't looking... Your kids have outgrown your game shelf!
Good thing Happy Up is on the scene. We've got all sorts of games that are great for families with older kids. Or grown ups who love a good game!
Showcased here: New arrivals we're really excited about. Plus some old favorites that are back in stock!
---
Parks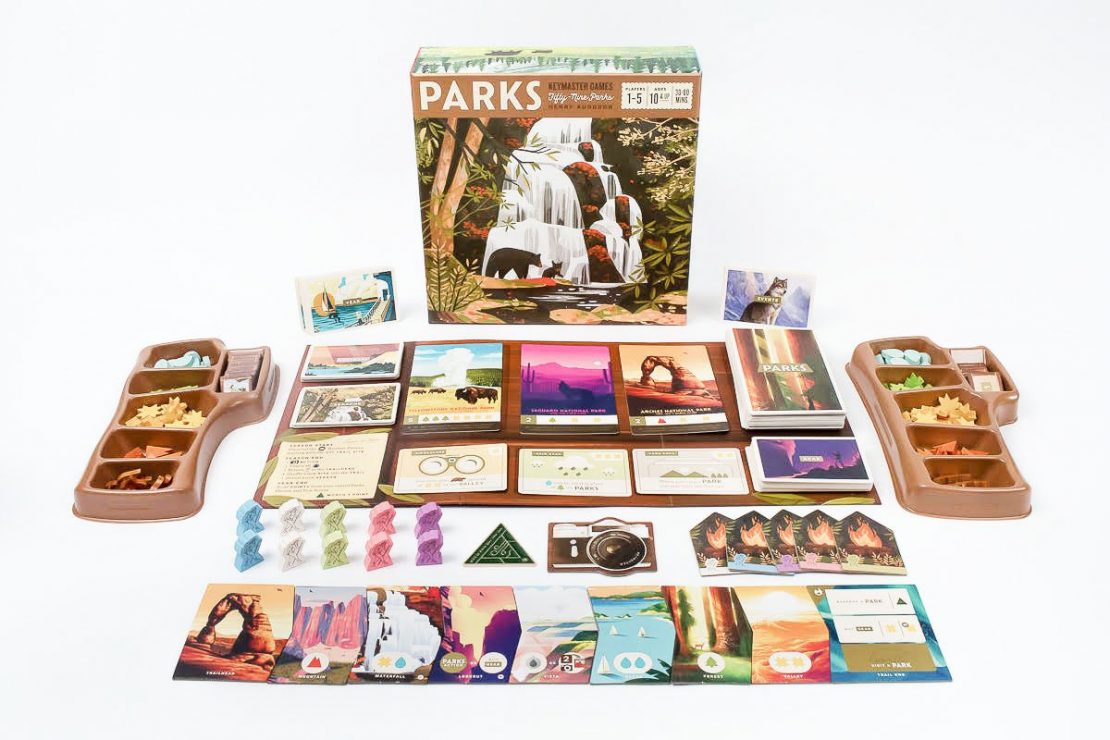 1 - 4 players, 10 yrs & up
This game is as beautiful as our National Parks!
PARKS was created with cooperation from the Fifty-Nine Parks print series. The stunning artwork from so many talented artists makes this game truly shine.
When you open the box, the first thing you notice is the attention to detail. Tokens are held in log-shaped organizers. And the tokens are wood! Plus the illustrations on the trail pieces are gorgeous.
The game play centers on a pair of hikers, visiting different trails in all four seasons. Along the way you collect resources, gather memories, and lose yourself in the majestic scenery. Trail tiles are shuffled and laid in a new order for each round, so the game shifts and changes, just like the natural world.
It's a truly immersive and relaxing game that is lovely to look at, too!

Parks
---
Kids Against Maturity - Illustrated Edition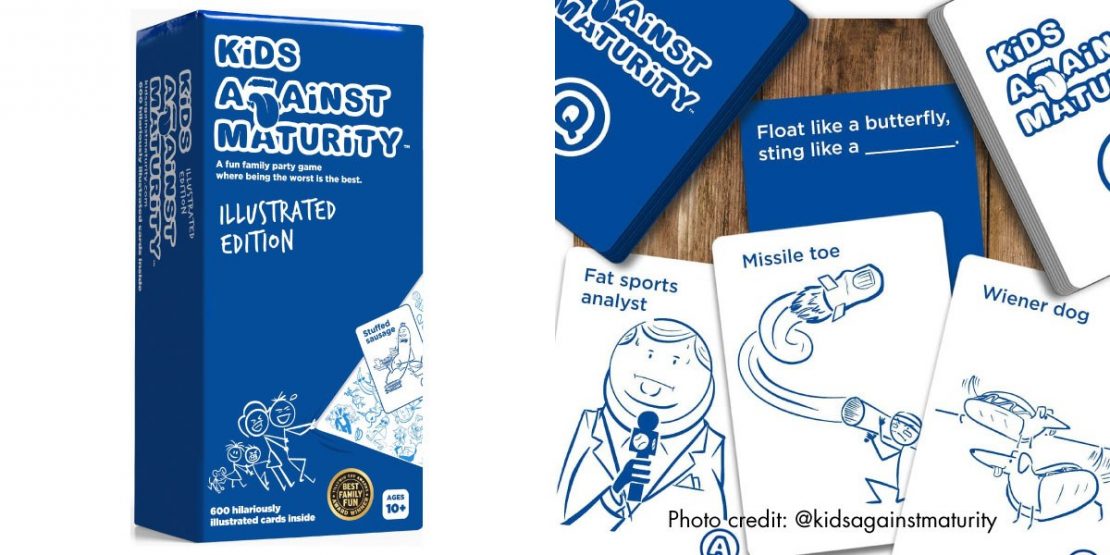 3 or more players, 10 yrs & up
Kids Against Maturity is filled with fart jokes, potty references, and a smidge of "adult" innuendo to keep the grown ups laughing as hard as the kids. Fill in the blank games can be … bland. This one is absolutely not.
The original game has you completing phrases like "Red Rover Red Rover Send __________ Over!" And a possible answer card? "A Unicorn Farting Rainbows".
Or how about this one: "Wait 30 minutes to swim after ___________." An answer for that: "Taking the Browns to the Super Bowl."
You laughed. Admit it.
The illustrated version features cartoony line drawings on the answer cards that are really terrible visual puns. And we mean terrible in a good way!

Kids Against Maturity - Illustrated Edition
---
25 Words or Less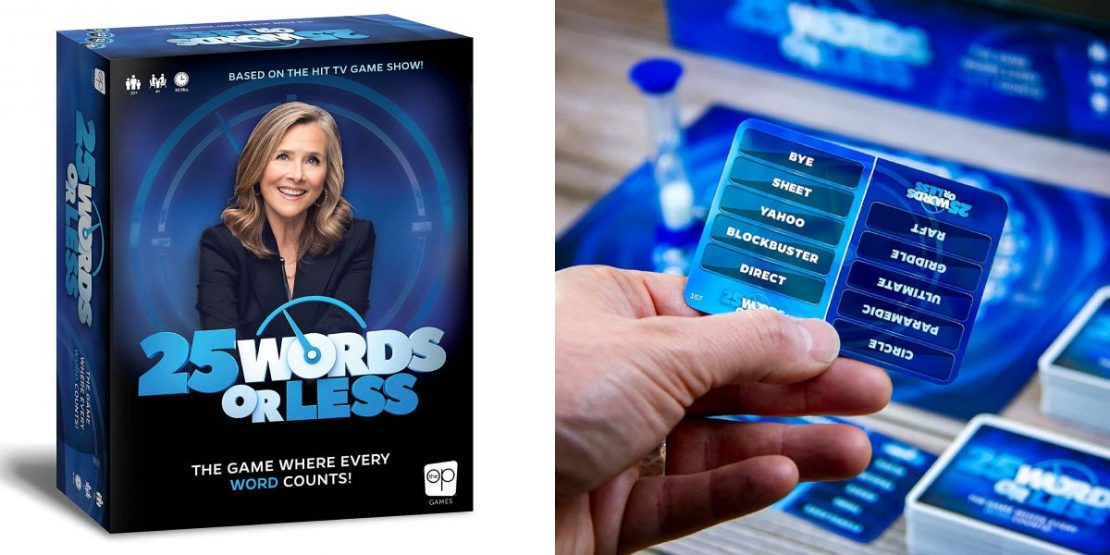 4 or more players in teams, 10 yrs & up
A fast-paced party game based on the TV game show!
Two clue-givers have a list of five words their team will need to guess. How many words do they need to get their team to say the words on the list? Bidding starts at 25, and goes down from there. The clue giver with the lowest bid takes the card and has to deliver the win… Using however many words they said they needed. No sounds or gestures allowed!
Sure, it seems like your standard guess-the-word game. The trick is in the bidding. How good is your team at reading your mind? If you bid ten, and use more than two on any one word, you could run out of words before the round is over! But if you don't bid low enough, you'll never get the chance to score. So choose your team and your words wisely!
OH… did we forget to mention the one minute time limit? Yeah… There's a time limit. So you better be quick, too!

25 Words or Less
---
What's That Sound?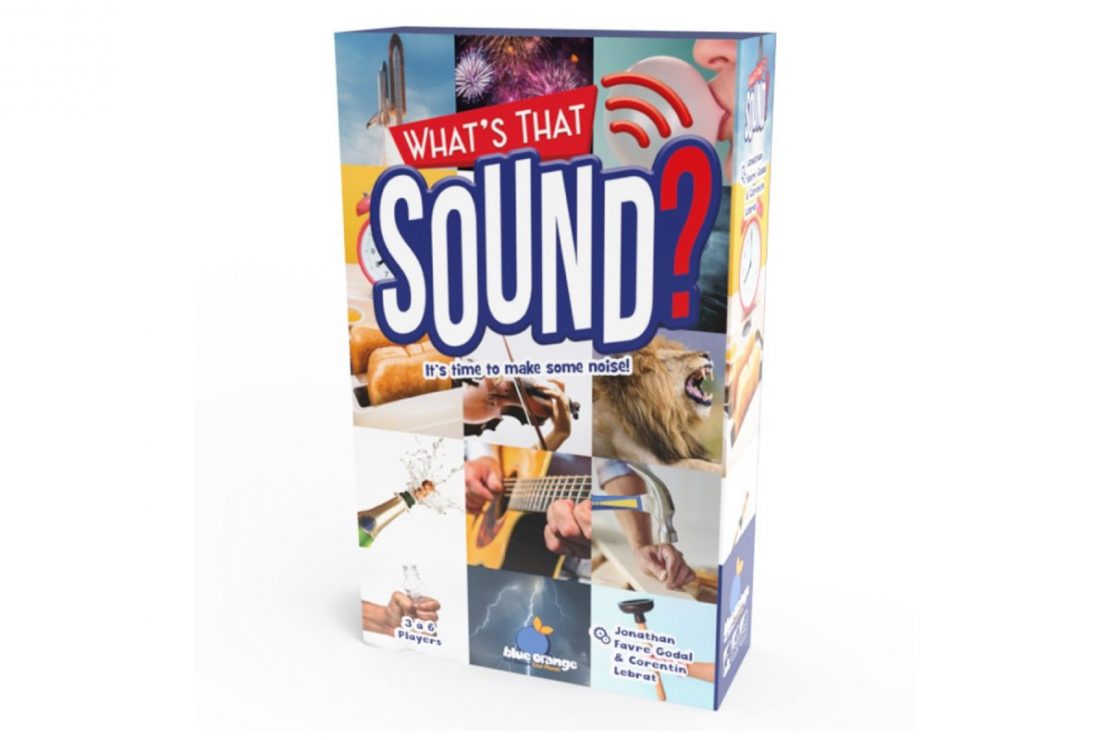 3 - 6 players, 7 yrs & up
A fresh take on charades!
In What's That Sound, you're acting out a picture… but not using gestures and actions. You're creating the sound. 280 picture cards prompt players to blow out birthday candles, rip open velcro, and crunch through leaves.
It's sure to be a family game night hit!

What's That Sound?
---
Picwits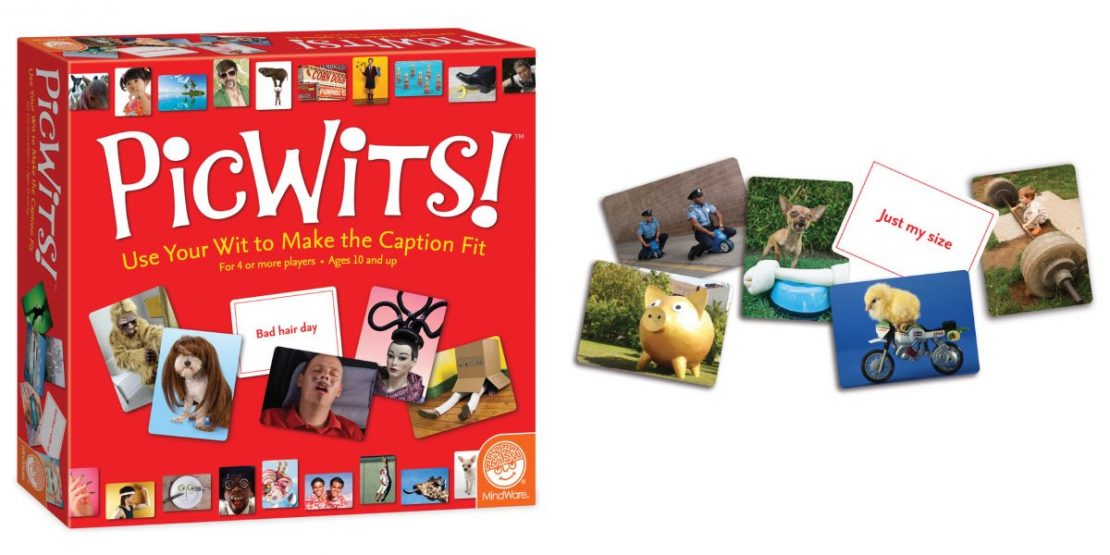 4 or more players, 10 yrs & up
Make your meme!
In your hand, several picture cards. On the table, a caption card. Pick your photo that best matches the caption, and lay it face down. The judge mixes up all the pictures, then turns them over and decides. Who has the best match?
Keep in mind, "best match" is very subjective. You could pick a picture for the laugh, you could pick the most literal and obvious one. It's all up to the judge...
Each round has a new judge so everyone gets a chance to choose their favorite type of caption-- snarky, sarcastic, silly, or just plain creative!
This has been a favorite for many years… for good reason!

Picwits
---
Dutch Blitz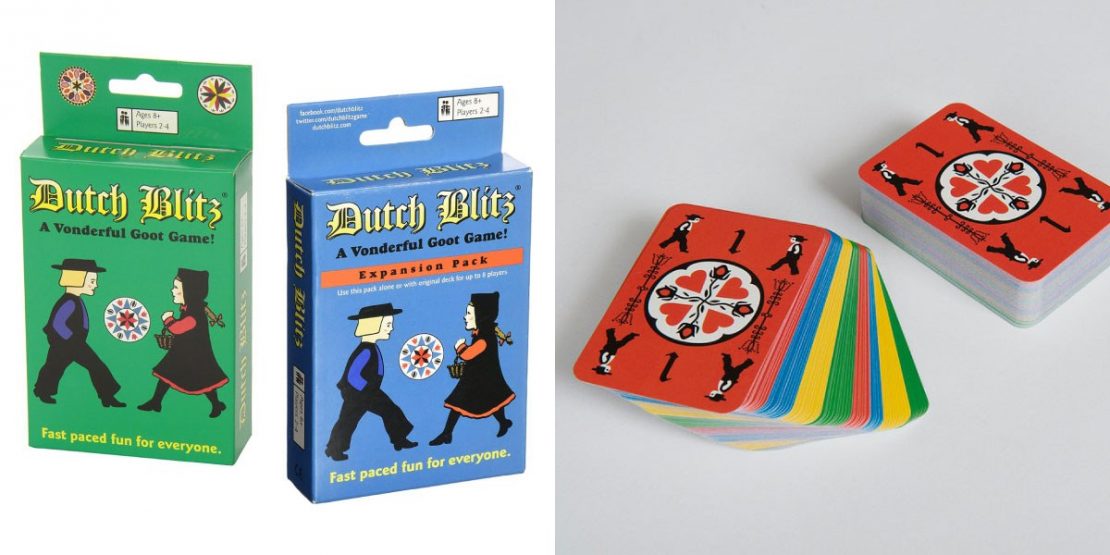 2 - 4 players (up to 8 with expansion), 8 yrs & up
Sleeper Hit! Dutch Blitz doesn't have flashy packaging and it's been around forever. That doesn't change the fact that every time we recommend it, we hear back about how much fun it is!
The easiest explanation of how to play: It's super-competitive head-to-head speed solitaire.
You're trying to empty a 10 card stack by playing a solitaire-like game, except instead of only you playing cards, there are other people at the table doing the same thing. And you're all racing to move cards to the center piles. It's the best kind of insanely chaotic!
Either deck can be played individually for two to four players. Or combine to add up to eight players!
PS-- be sure to use a sturdy table with plenty of room! We've heard wimpy folding tables can't take the stress of exuberant players.

Dutch Blitz
---
More Ideas for Big Kids & Grown Ups
Looking for even more? Stop by your favorite Happy Up and let one of our friendly toy experts make recommendations!
You can also check out the games for older kids on our shopping site:
Big Kids & Grown Up Games