Toddler News Alert: Timio has Arrived!
Published Monday, March 14, 2022

Screen Free Audio System for Tech Savvy Tots!
Toddlers *love* toys that play sounds. They are also VERY insistent on being able to do it themselves. Needing a big person to help them is just SO maddening. And they have no qualms about expressing their frustration.
Which is why we are so enthusiastic about Timio!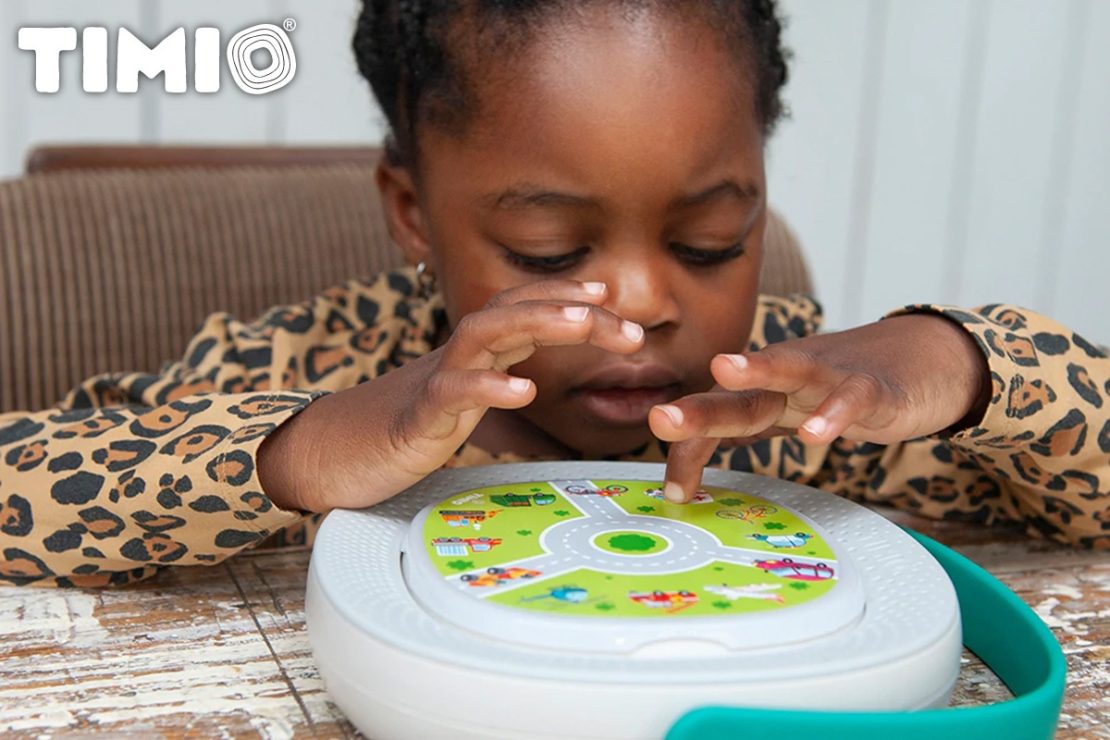 It's a simple system that kids (and their grown ups) understand instantly. There's an extremely sturdy base with a handle so they can wander around with it. Timio content discs use magnets to connect to the base. Press a picture on the disc, hear a sound or song or story!
The starter set comes with five discs that feature farm animals, vehicles, lullabies, bedtime stories, and Holiday songs (keep reading for more info about these discs)

There are four more disc sets available, each one containing five discs. You'll be able to build a library in a snap!
One of the things that we really love about Timio:
Each disc's content is available in eight languages! Children can play and learn in English, Dutch, French, German, Italian, Mandarin, Portuguese (BR), and Spanish.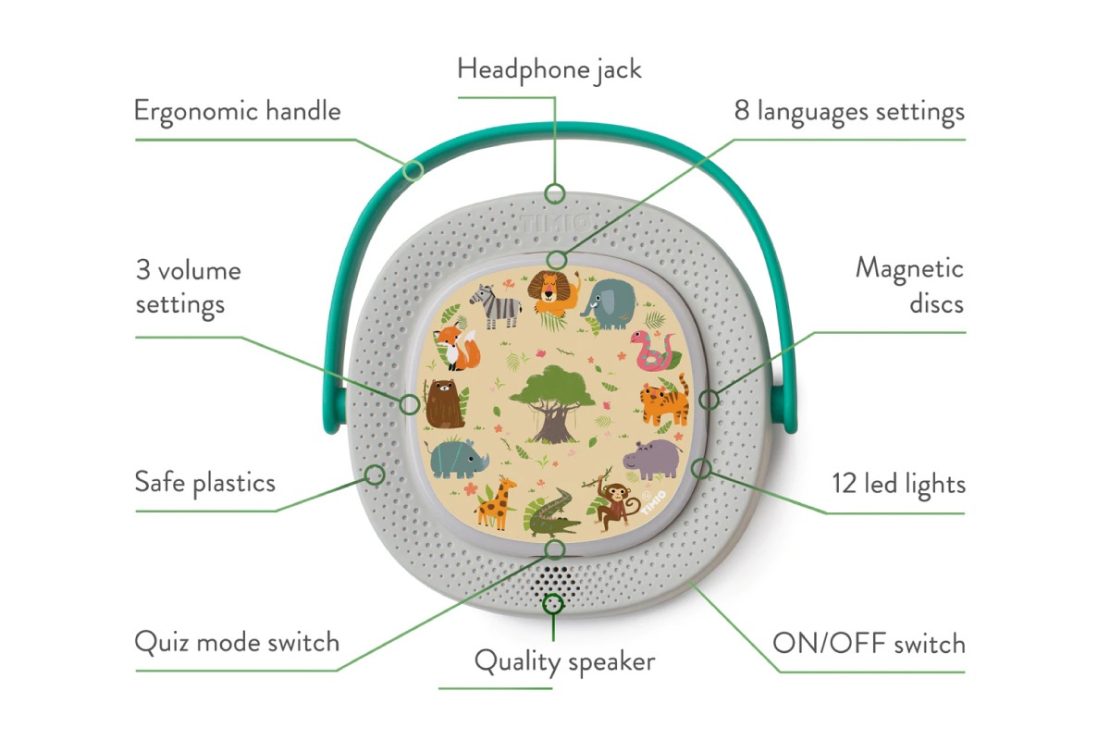 The Happy Up crew played with a demo model and have a few thoughts to share:
Our first impression is that Timio is a modern version of the See n' Say toddler toy.
Our second thought is that it is so much better!
The flexibility of changing discs means children won't get bored with just one set of sounds or songs.
Direct play mode lets kids pick what they want to hear by tapping a picture.
With quiz mode, a gentle voice prompts children to find a certain picture on the disc. Their success is rewarded with an interesting fact, funny sound, or bit of a song.
The language setting makes Timio a fun way to start learning simple words and phrases in a new language.
It also has a headphone jack, so children are able to play with Timio in just about any setting. We think this is *great* for traveling!

Timio runs on 3 AA batteries, so no cables or charging station to keep track of. And no wifi or pairing needed at any point. Just turn on your Timio and start playing!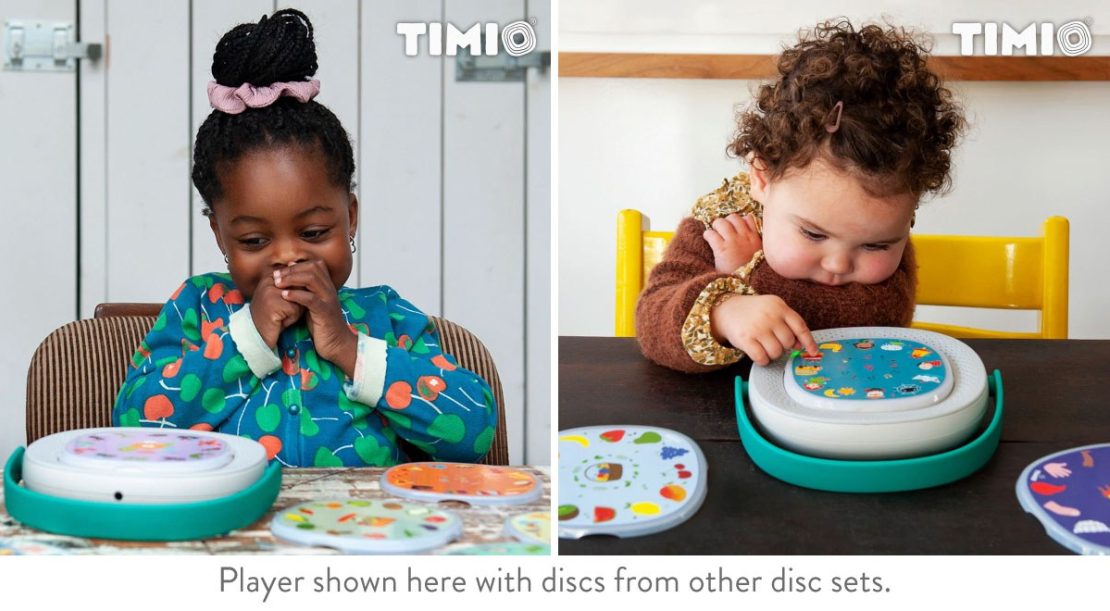 Timio is recommended for 2 - 6 years.
Our feeling is that two years old is a good baseline if you want the child to be able to play independently. If a grown up is willing to guide the child to press the pictures and manage switching discs, it would be fine for younger. Especially that lullaby disc!
Starter Set Discs:

Farm Animals:
Hear real recordings of the animal, plus learn fun facts!
Animals are: 1) Chicken 2) Goat 3) Duck 4) Horse 5) Cat 6) Pig 7) Donkey 8) Cow 9) Dog 10) Bee 11) Rooster 12) Mouse


Vehicles:
Hear real recordings and learn fun facts!
Vehicles are: 1) Helicopter 2) Race car 3) Truck 4) Bulldozer 5) Garbage truck 6) Motorcycle 7) Ambulance 8) Bicycle 9) Police car 10) Car 11) Plane 12) Firetruck


Lullabies:
12 soft musical lullabies and nature sounds to soothe little ones to sleep. They can be played one after another for almost an hour of gentle sounds.
Songs and sounds are: 1) All the Pretty Little Horses 2) Over the Rainbow 3) Ninna Lullaby 4) Rock-a-Bye Baby 5) Waves sounds 6) Danny Boy 7) White noise 8) Brahms Lullaby 9) Twinkle Twinkle 10) Hush Little Baby 11) Rain sound 12) Row Row Row Your Boat


Bedtime Stories:
12 short stories, each about a minute long, covering happenings from a child's life.
Stories are: 1) Getting Tickled 2) Playing with a Friend 3) Playing with his dog Lucy 4) Going to the Potty 5) Applesauce 6) My Family 7) Going to Bed 8) Helping Grandma 9) At the Farm 10) Taking the Bus 11) Painting with Mommy 12) Going to the Playground


Holiday Songs:
12 traditional songs in each language (we loooove this!!)
---
See Timio Starter Kit and Disc Sets on our Shopping site
Or stop by a Happy Up store!