Which to Choose? Tonies or Yoto?
Published Monday, November 7, 2022
We will be the first to admit that this is highly unusual for us. In general, the Happy Up crew doesn't fall in love with electronic gizmos for kids.
And yet, here we are.
At this moment, we have TWO different audio systems for kids in stock: Tonies and Yoto.
We love both of these systems. Don't ask us to pick which is best, because that answer changes depending on who you're buying it for.
While we really can't choose, we are more than happy to offer some guidance here!
How Tonies and Yoto are the Same:

Both are audio systems children can control without a grown up's help
Once the players and content is set up, wifi is no longer required
Setup requires a smartphone, wifi, and a free parents' app available from the App Store or Google Play
Both systems offer lots of pre-recorded content
Both systems offer the ability to record your own content through their parents' app
Both systems are rechargeable and portable
Both systems allow for wired headphone use (Yoto Mini supports bluetooth headphones)
Both systems are recommended for ages 3 and up. Younger tots will enjoy listening, but both systems strongly advise adult assistance for children under 3 years.
How Tonies and Yoto are Different:

Size:
Toniebox: 4.7" x 4.7" x 4.7"
Yoto Player: 4.33" x 4.33" x 4.13"
Yoto Mini: 2.75" x 2.75" x 1.5"
Battery Life and Charging:
Toniebox: about 7 hrs of playtime, magnetic charging dock
Yoto Player: about 10 hrs of playtime, magnetic charging dock
Yoto Mini: about 20 hrs of playtime, USB charging
Covering:
Toniebox: Brightly colored and slightly padded rubberized covering; can be wiped clean
Yoto Player: Beige rigid plastic, silicone Adventure Jackets sold separately
Yoto Mini: Beige rigid plastic, silicone Adventure Jackets sold separately
On-Device Display or Nightlights:
Toniebox: Indicator lights at the top, no nightlight
Yoto Player: Large pixel display, has a nightlight
Yoto Mini: Small pixel display, no nightlight
Content:
Tonies: Figurines that are easy for younger children to identify and handle
Yoto Player and Mini: Credit card sized content cards, better for travel and older children
If you're a chart person, here's a pdf with the features of the Toniebox, Yoto Player, and Yoto Mini side by side.
Tonies & Yoto Features List
Happy Up's Recommendations:
We feel Tonies and the Yoto Player are wonderful for younger children.


Our Thoughts on the Toniebox: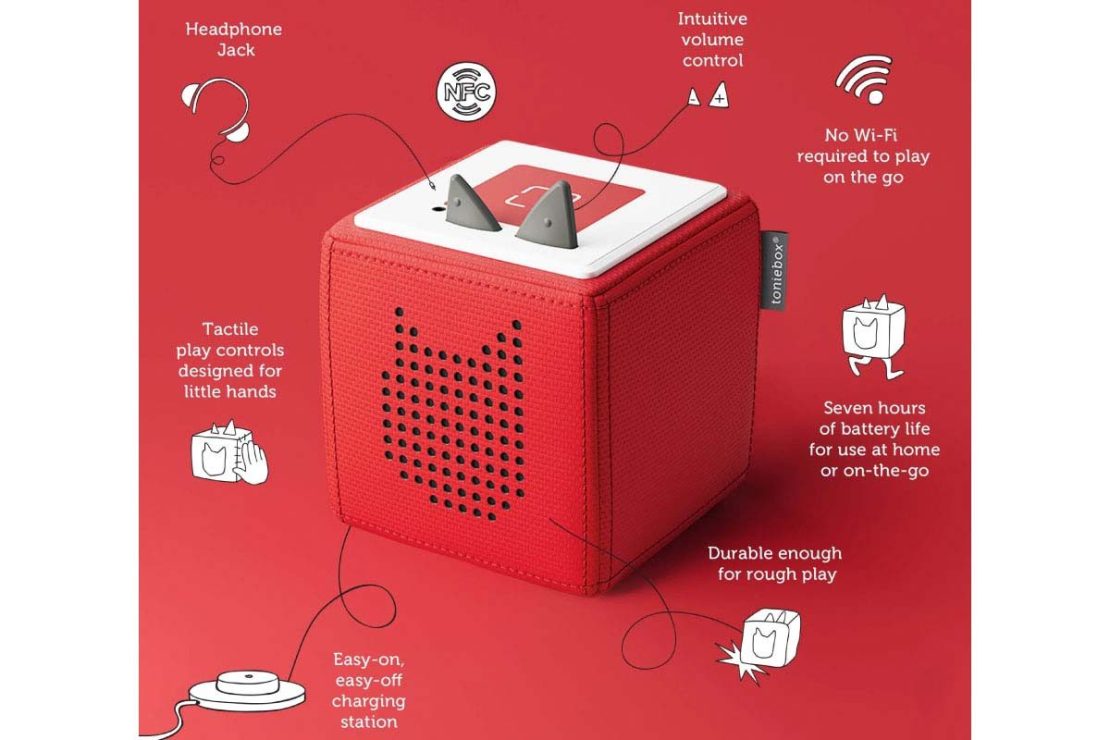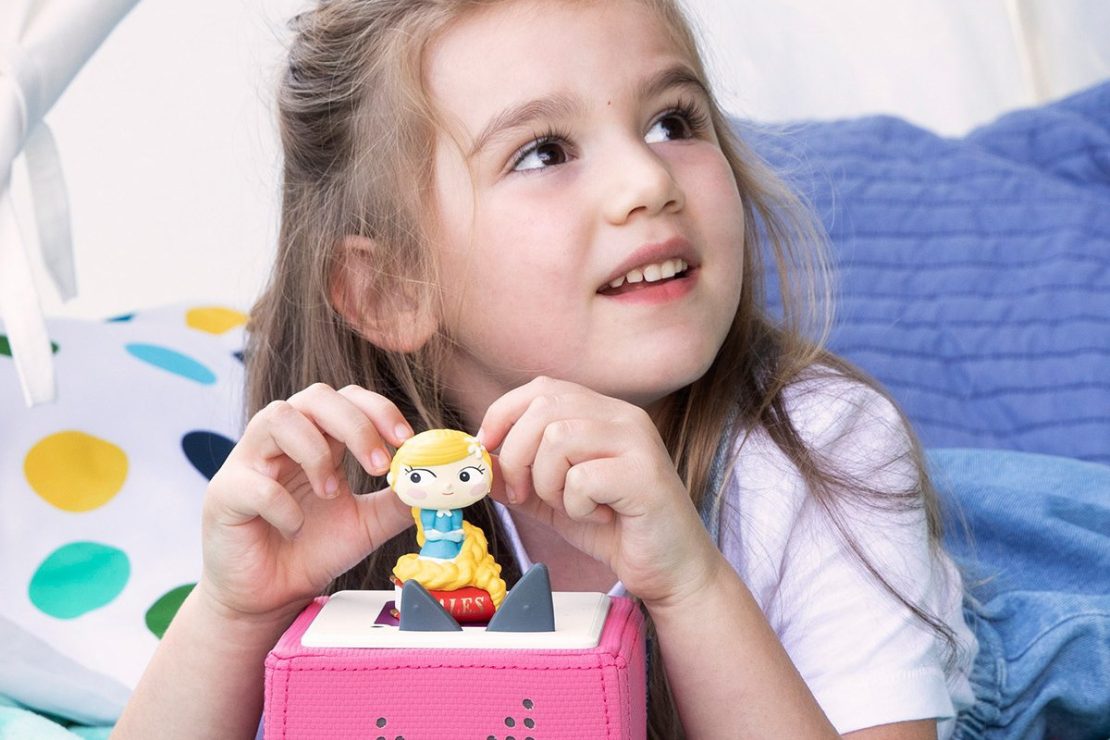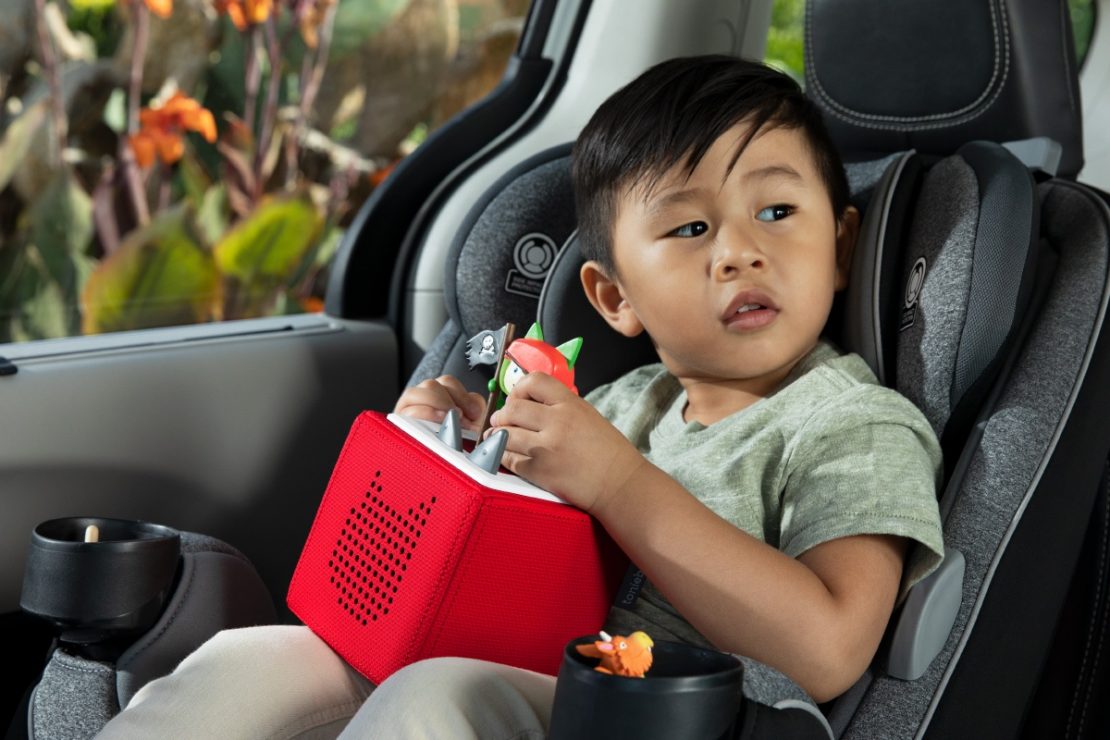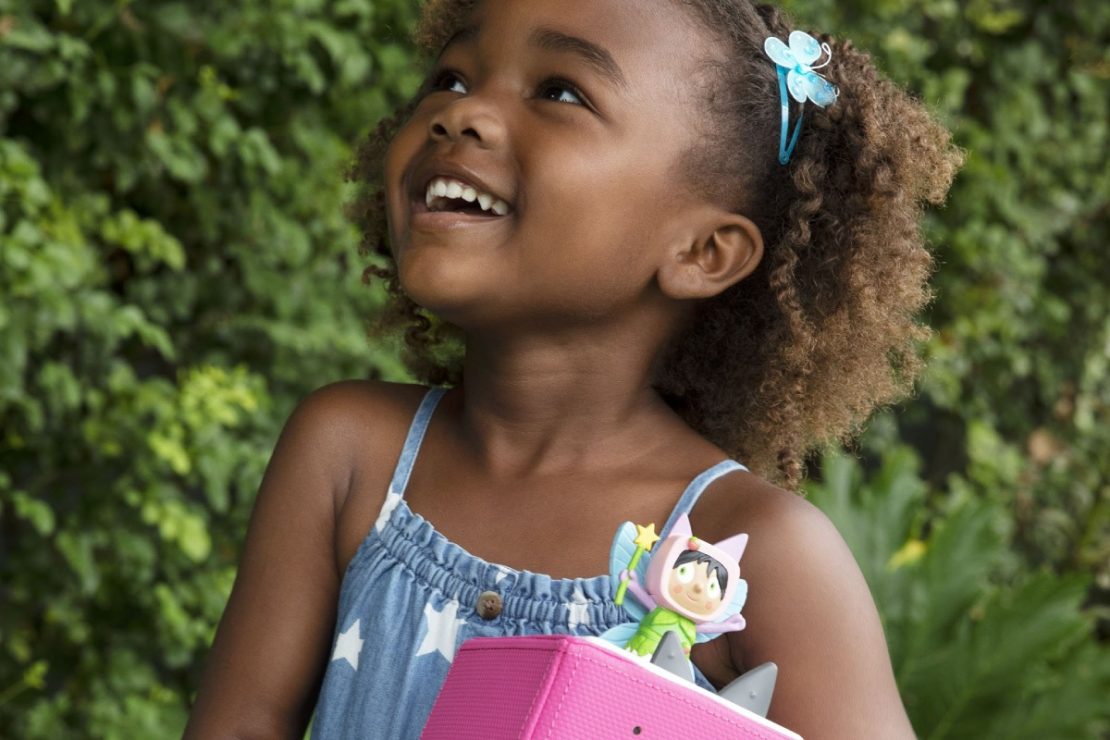 Little ones LOVE the Tonies figurines and quickly learn how to switch tracks and control the volume on the Toniebox.
The padded Toniebox can handle bumps and small drops, so it is not a delicate piece of tech. The bright colors of the Toniebox make it a cheerful addition to any room. The Tonies figures securely connect to the Toniebox through magnets. If a child is carrying the Toniebox around, the Tonie won't fall off in the middle of a track.
The Tonies library includes all sorts of familiar and favorite stories, books, and songs.
Read all about the Tonies system in our blog post from October 2020:
Play on Heavy Repeat!


Our Thoughts on the Yoto Player: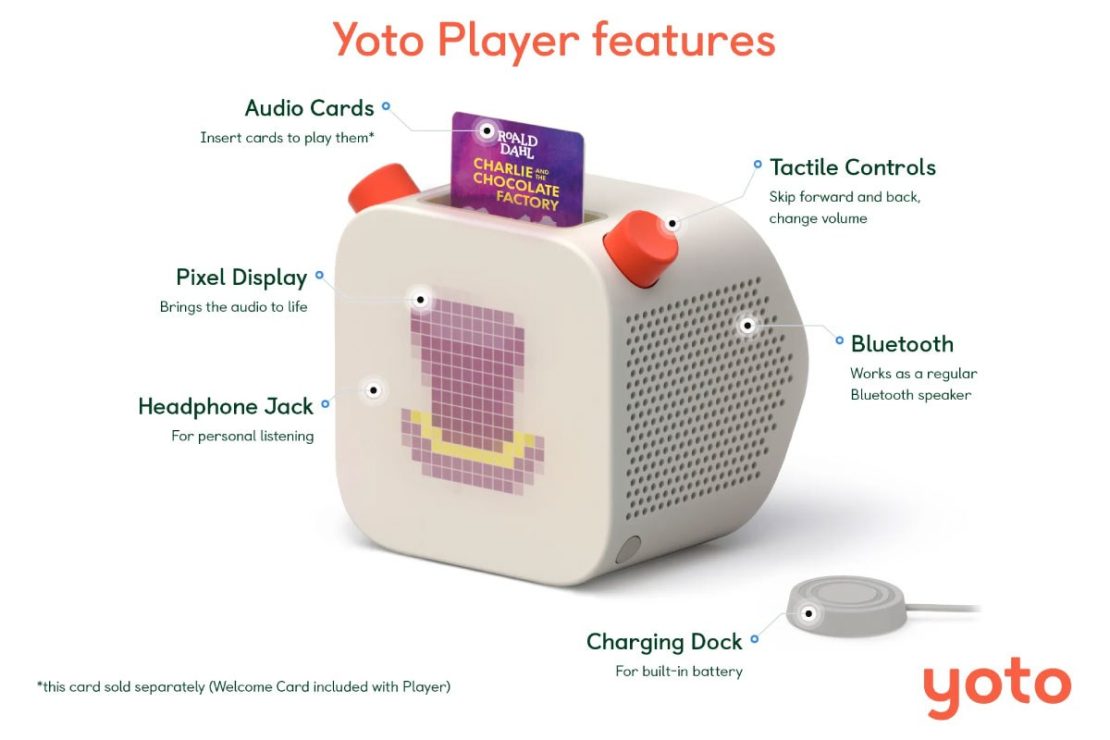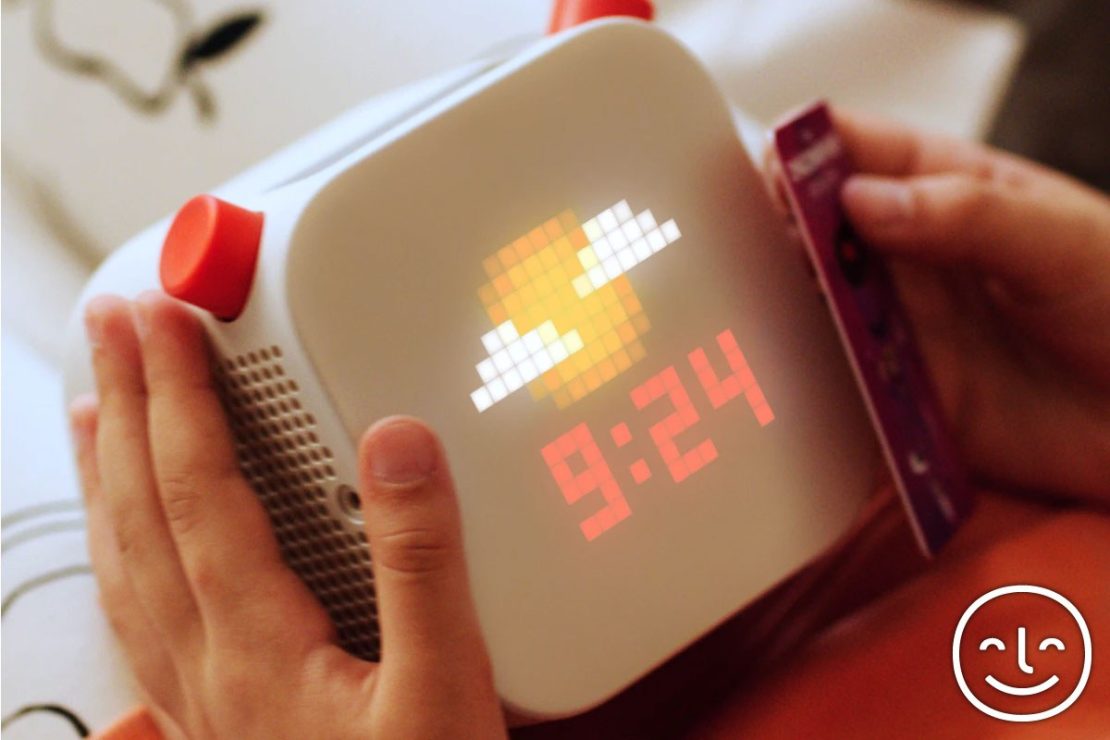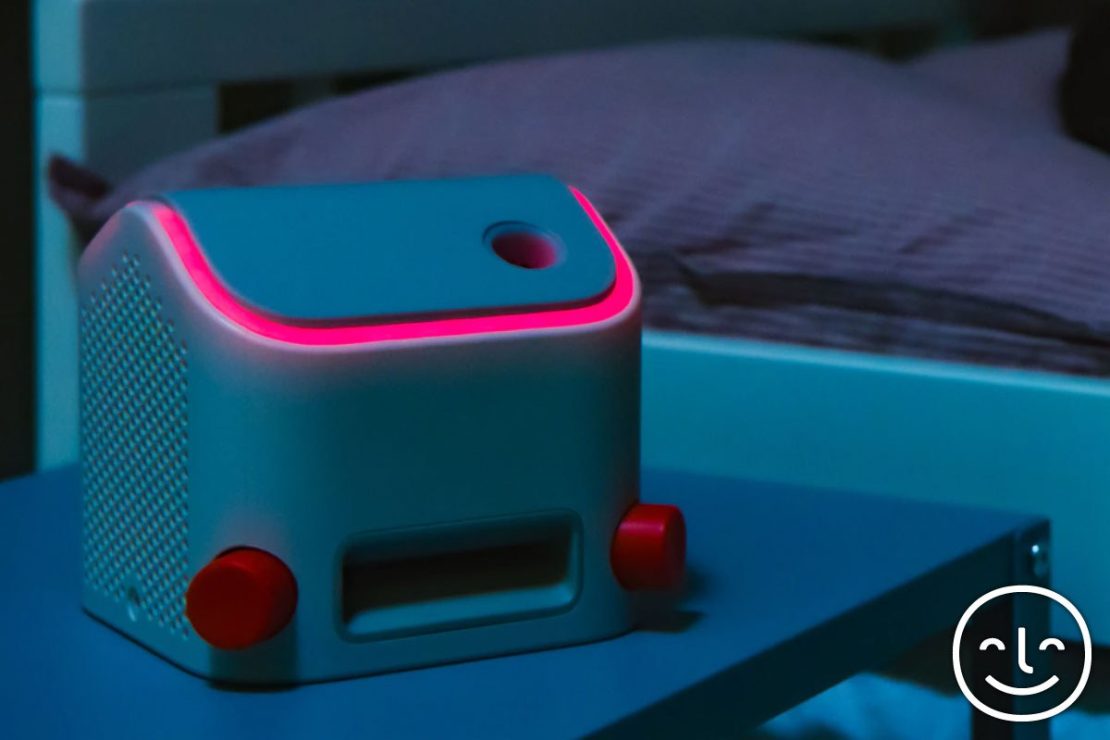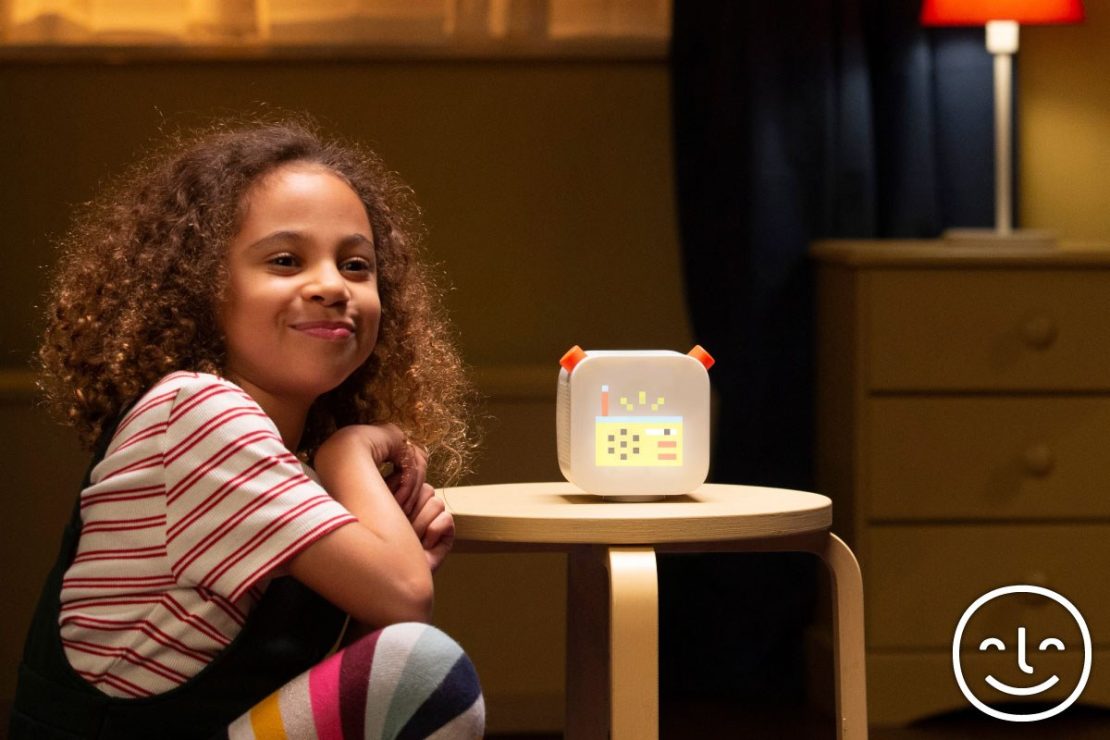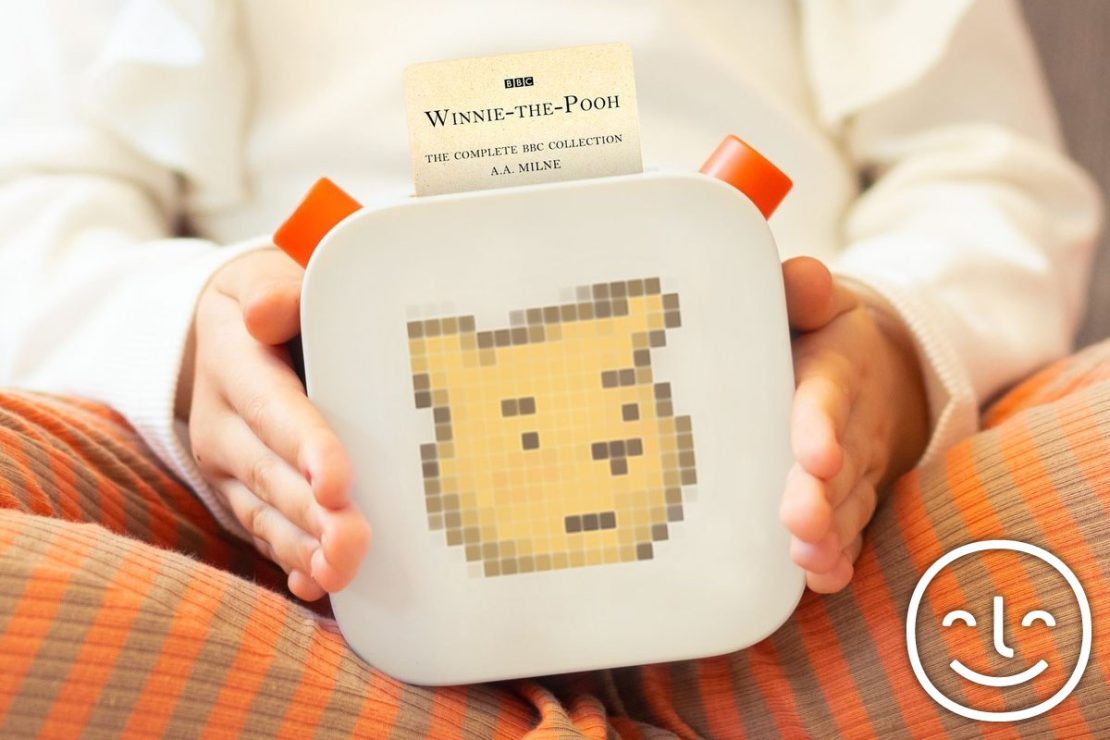 The pixel display, nightlight, and streaming content are all winning features.
We also really like that it has an "ok to wake" setting to help your early risers know when their grownups are ready for them to pop out of bed. It also has a "sleep" streaming channel to help littles nod off at naptime or bedtime.
The chunky knobs are easy for kids to manage, although it may take them a little bit to get the hang of it. Luckily, the large pixel display helps them see what's playing. We also really like how easy it is to organize and store the content cards. They can easily be stashed in a small zipper bag, a fun box, or credit card wallet!
For a closer look at the Yoto Player and how it compares to the Yoto Mini, see our blog post from October of 2022:
Hello, Yoto!


Summing Up the Toniebox and Yoto Player:
While the Toniebox and the Yoto Player can travel, their size and their battery life make them more suitable for use in one location or after you've arrived at your destination.
Both Tonie and Yoto systems have lots of listening choices younger children will love. They both offer favorite stories and novelizations of beloved Disney and Pixar movies. There are sing-alongs and soothing lullabies, too.
Both systems also offer ways to record your own content through their apps. You can even have family and friends that live far away record content, so a child can hear their voices whenever they want.
.
We love the Yoto Mini for older children.


Our thoughts on the Yoto Mini: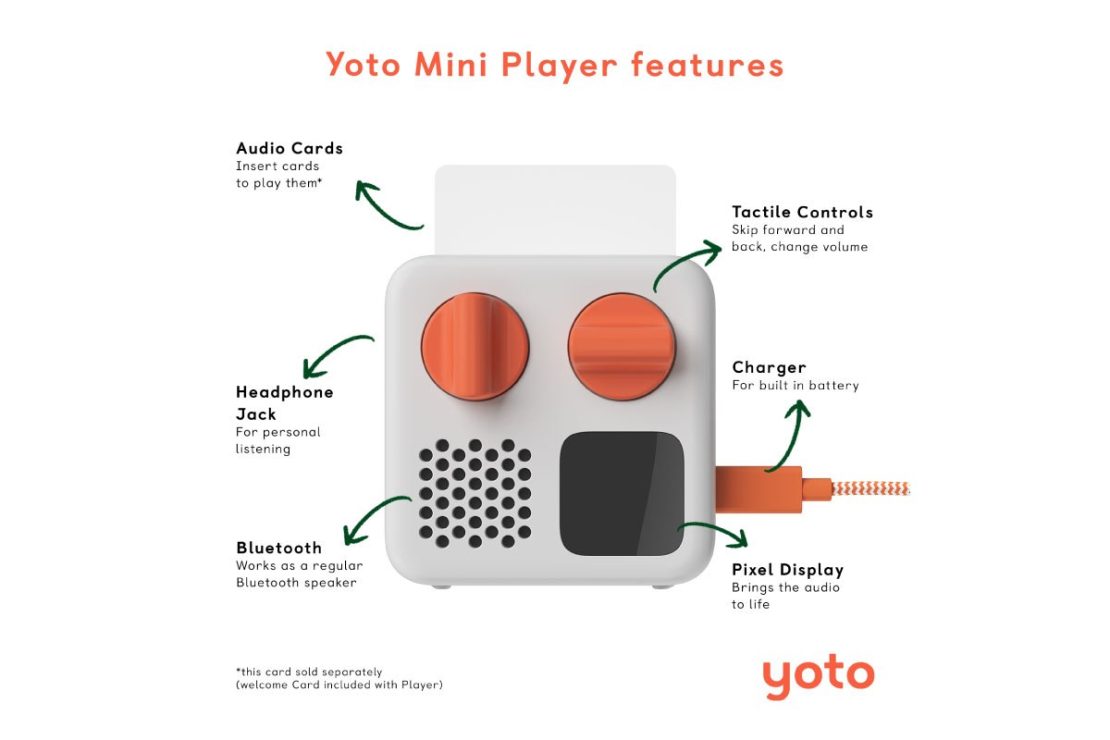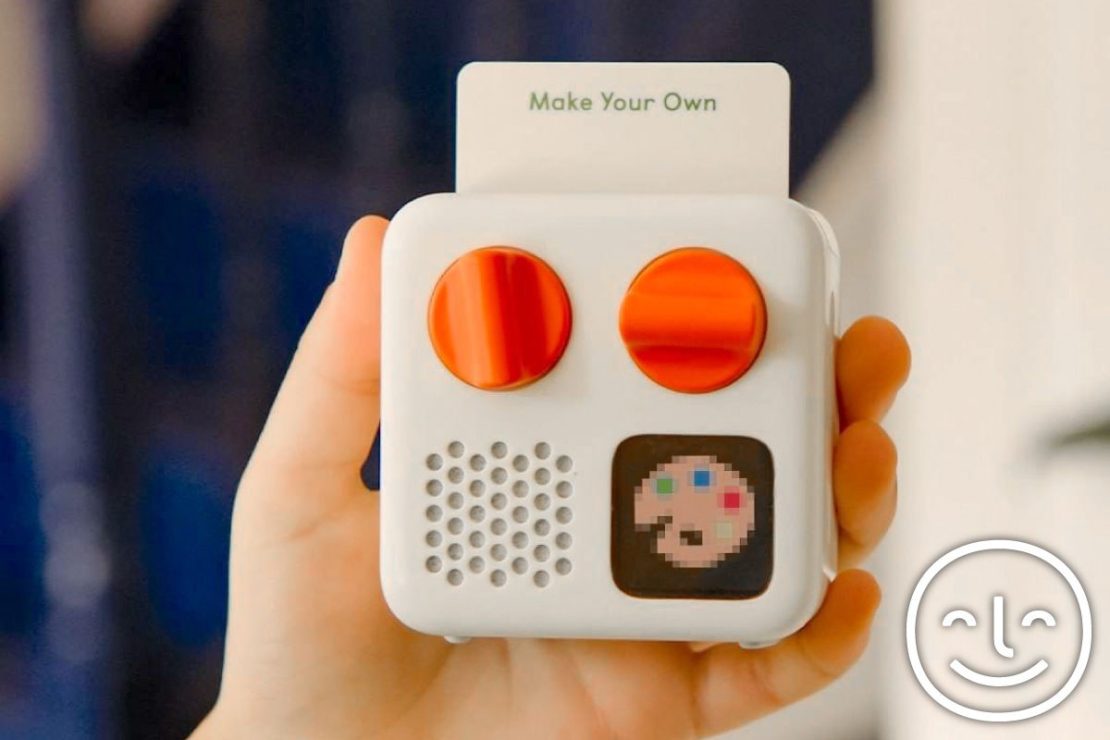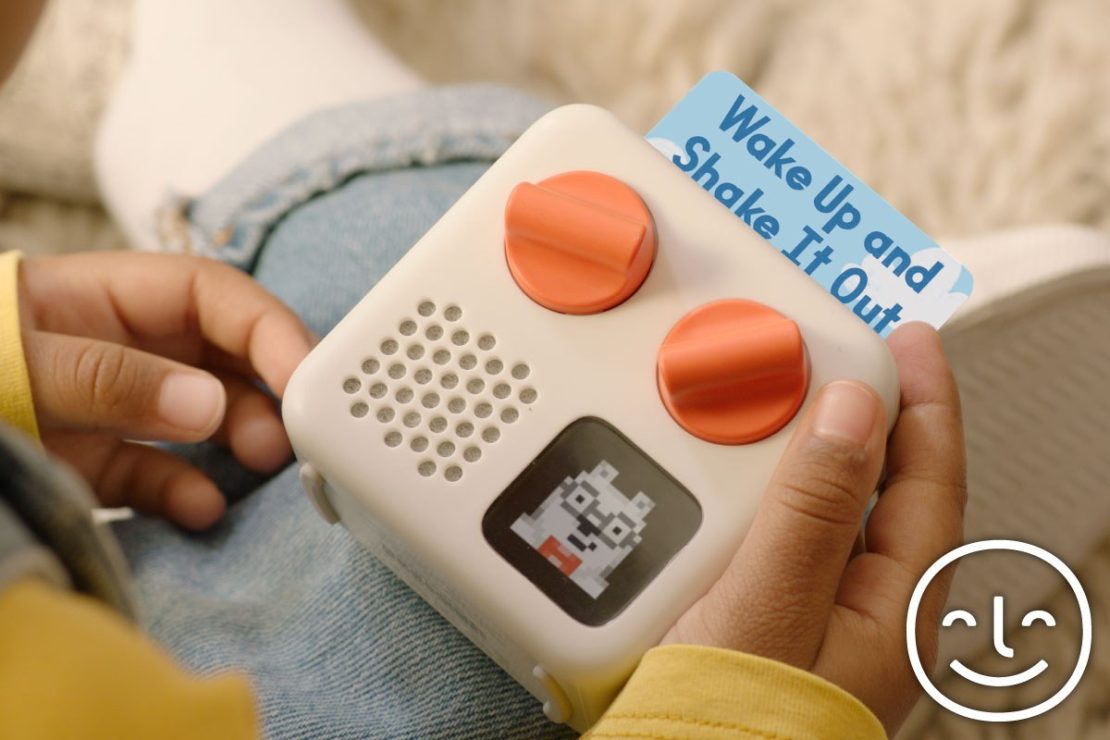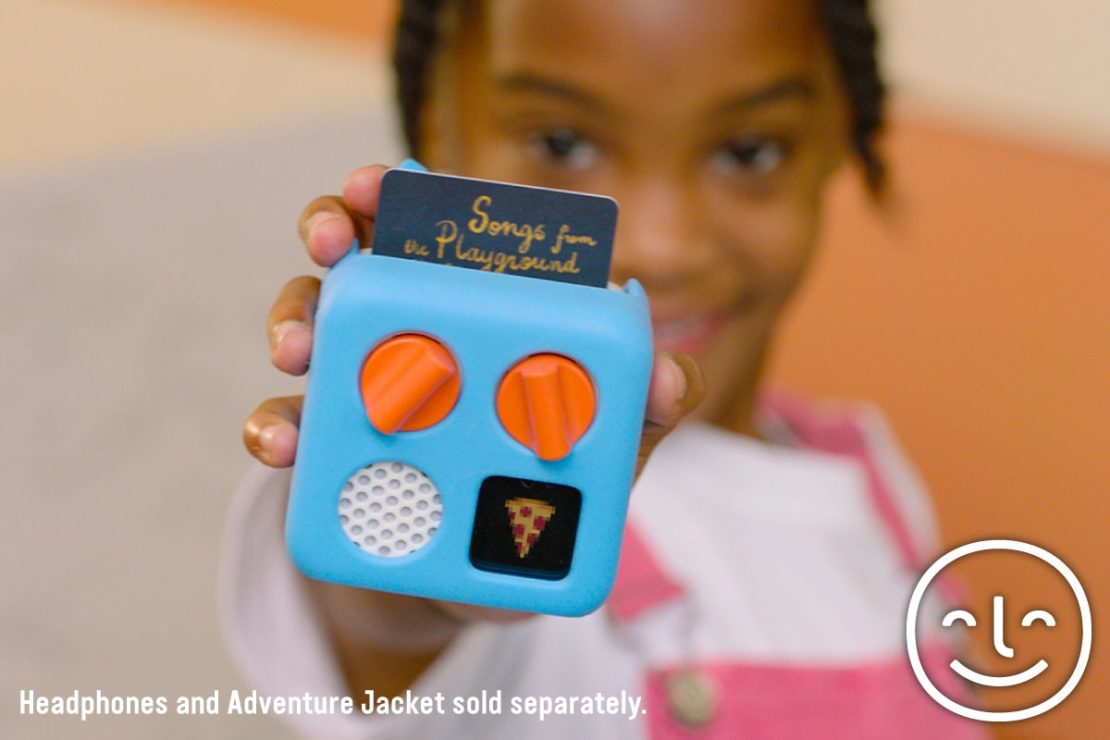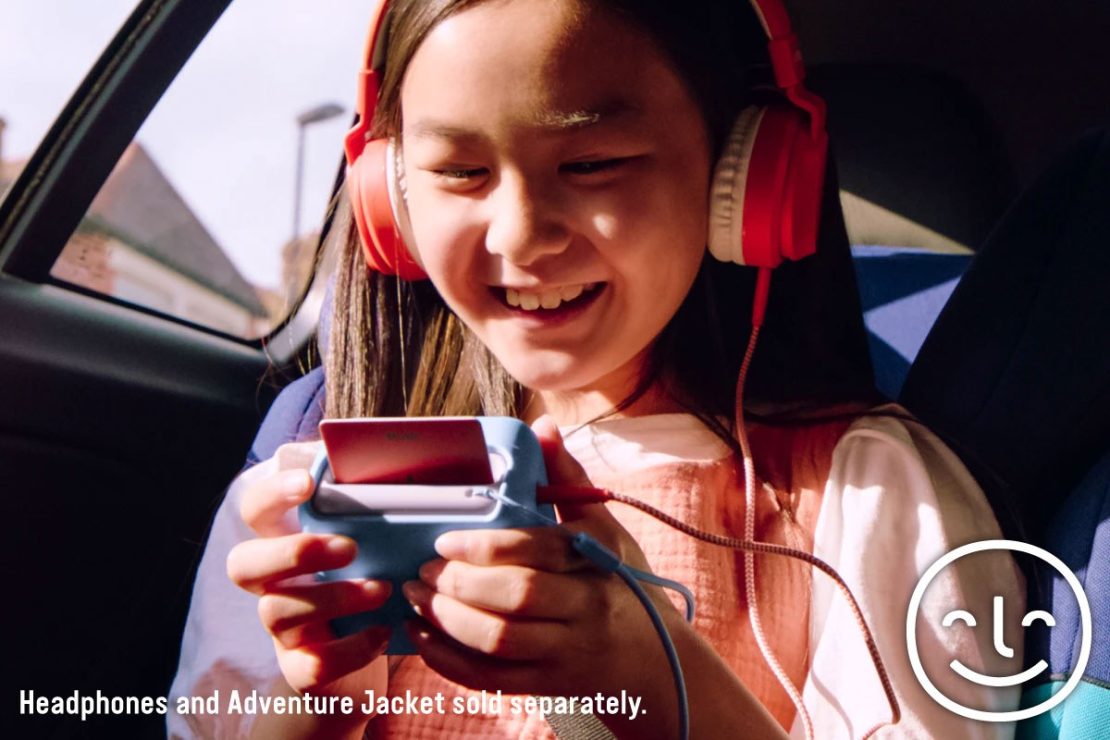 Older kids really appreciate the size and portability of the Yoto Mini Player. They also like the size of the content cards. Since they're so similar to credit cards, they feel *important* in their hands.

One thing that sets the Yoto system apart is the streaming content. To listen, the player will need to be on WiFi or connected to the parent's app via Bluetooth. The streaming content includes a joke of the day, a kid's podcast, and a family-friendly radio station.

The Yoto library includes content that will appeal to older kids. Titles include classics like The Wind in the Willows and modern favorites like the Star Wars movie novelizations. There are also chapter books like Magic Tree House and the Ramona series!
Read more about the Yoto Mini in our blog post from June 2022.
Audio to Go? It's a Yes with Yoto!
---
Still not sure which one is best for your family?
Stop by your favorite Happy Up and we'll help you talk it through!